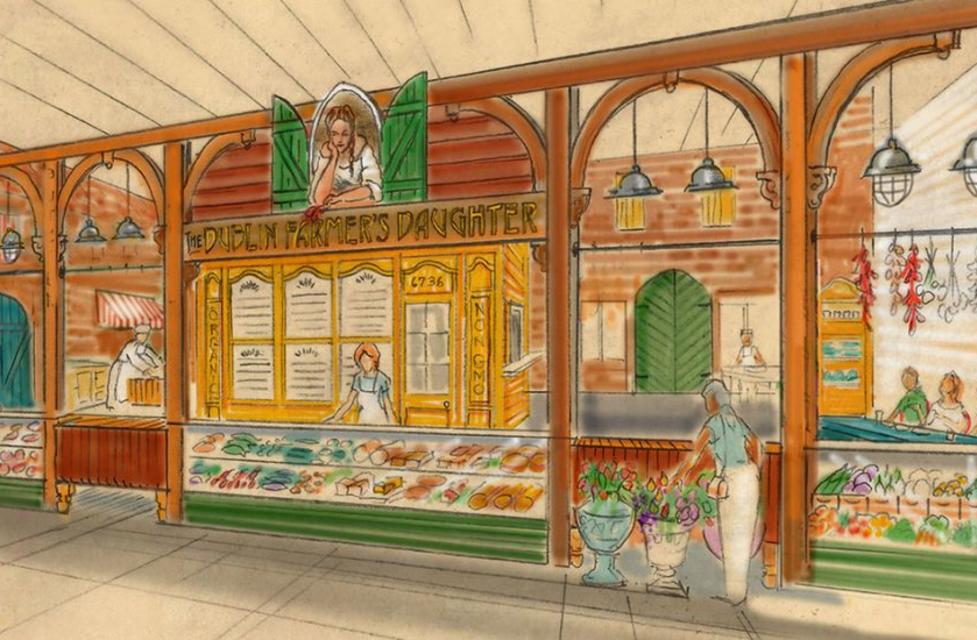 The first five of North Market Bridge Park's eventual 19 purveyors have been announced.
The historic Downtown market is adding a second 30,000 square foot location at 6736 Longshore St., curating a lineup of vendors unique to the Dublin location. The first five vendors include The Dublin Farmer's Daughter, Coastal Local Seafood, MoMo Ghar, Dough Mama and Market Bar.
Frequenters of the original North Market will recognize one purveyor. MoMo Ghar will bring its Tibetan eats to Dublin, operating stalls at both locations. The Dublin Farmer's Daughter and Coastal Local Seafood represent the first ventures into retail locations for locally established brands, while Dough Mama will add its second spot in Central Ohio. The Market Bar will be a new concept tailored to the space.
The Dublin Farmer's Daughter
From the owners of Copia Farms comes The Dublin Farmer's Daughter. Since 2013, Copia Farms has seen its pasture-raised eggs on restaurant menus and grocery store shelves around Central Ohio, but they'll bring a new retail concept to the North Market Bridge Park that's part grocery, part eatery.
"The Dublin Farmer's Daughter will feature all of our local, premium pasture-raised, regenerative, meats and eggs along with an artisanal rustic eatery that will serve farmhouse-style comfort food – gourmet burgers and steaks, french style sandwiches, and brunch with Copia eggs," says Copia Farms Owner Dan McLeod.
The Dublin Farmer's Daughter will also offer produce, butcher services, provisions and fast-casual prepared foods.
Coastal Local Seafood
Coastal Local Seafood will open its first retail location at North Market Bridge Park. Home chefs will now get to enjoy the same fresh seafood that Owner Ian Holmes has been supplying to professional chefs since launching his business in 2014.
Coastal Local Seafood will not only offer fresh seafood, but include a New England-themed raw bar serving up oysters, and a menu of eats including lobster rolls, crab cakes and more.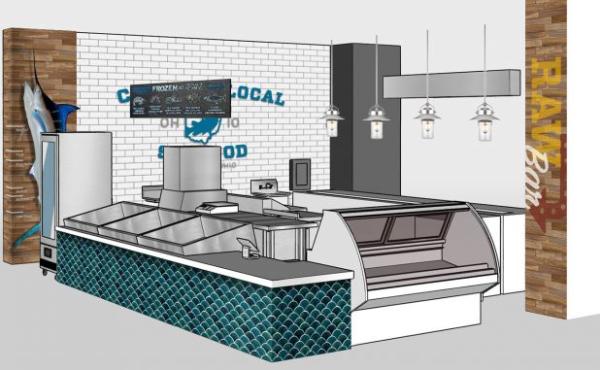 Rendering provided by North Market
Market Bar
New concept Market Bar will serve as the beverage merchant for North Market Bridge Park.
Offering local spirits, craft beer, best-in-class wines and craft sodas, patrons can sip and stroll or park on the adjacent outdoor patio with both indoor and outdoor services available. Market Bar will also feature a retail component focused on local craft beer and independent wines.
"Our vision for Market Bar is that it will be the hub and gathering place for market patrons and market merchants alike," says Owner Pete Volker. "We are looking forward to collaborating on innovative programming, including pairings, tastings, and samplings that reflect the Market community. We will feature best-in-class cocktails crafted with high-quality local spirits, and a wide variety of wine and Ohio craft beer to enjoy at Market Bar or to take home."
Since putting out a call for applications in April of 2019, over 100 Ohio-based businesses have applied to be a part of the new North Market.
"From the very beginning of the application process, we have been extremely impressed with the quality and caliber of businesses that wanted to be part of North Market's historic expansion," says North Market Executive Director Rick Harrison Wolfe. "Like we have done for 143 years at our Downtown location, we are successfully curating the best-in-class fresh meats, seafood, bakery, and produce categories for the Bridge Park facility that will provide a unique experience for visitors."
Additional vendors will be announced in the coming months. Bridge Park North Market is expected to open in spring 2020.
For more information, visit northmarket.com.
* This article originally appeared on Columbus Underground. Click here to view.