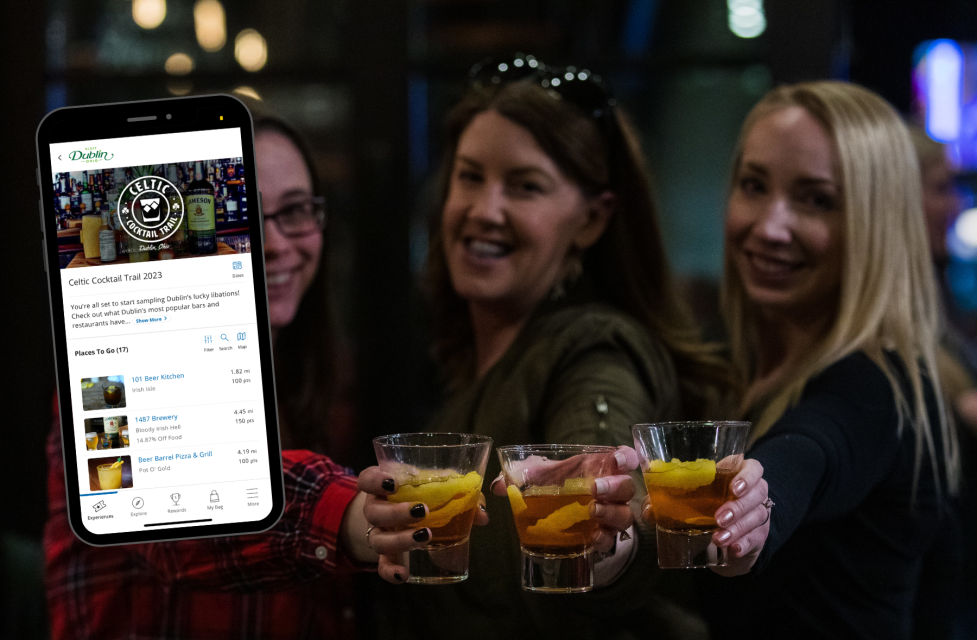 Sip, sip, hooray! The new digital Celtic Cocktail Trail pass has dropped in Dublin, Ohio and we can't wait to show you the best of Dublin's dining and craft cocktails with a wee bit of an Irish twist.
Check out three reasons you need to get your pass today. 
1. It's free and delivered directly to your mobile device.
No app, no fees, no problem! There's no need to carry around a passbook and hope you have it when you visit a Dublin restaurant. The digital Celtic Cocktail Trail pass is delivered instantly via text and email and can be easily added to your home screen for quick retrieval. So if you have your phone, you can easily sip through Dublin's dining scene. 
2. Win cool prizes and redeem discounts along the way.
Who doesn't love free swag? Complete three Celtic Cocktail Trail stops and redeem for a koozie, complete 10 and redeem an exclusive Celtic Cocktail Trail t-shirt and claim all the bragging rights. Plus, you'll already have something to wear to your next St. Patrick's Day party. On top of prizes, many restaurants offer exclusive discounts only available to trail users. Buy one, get one free appetizers, 10 percent off your food order or free cheese curds will save you some green and be just the thing to get your group ready for a day of dining exploration in Dublin.
3. Support local restaurants while checking out Dublin's dining scene.
Sip and support. With the Celtic Cocktail Trail digital pass, you can enjoy a night out and support Dublin's local restaurants and bars. A win, win! The trail includes 17 Dublin restaurants with everything from Irish pubs and Italian restaurants to fine dining and breweries, making it easy to find your next favorite hang out.
Bonus: It feels like St. Patrick's Day, every day!  
If St. Patrick's Day is one of your favorite holidays, you're in luck! You can celebrate year-round with different Irish-themed spirits in Dublin. Slainte!