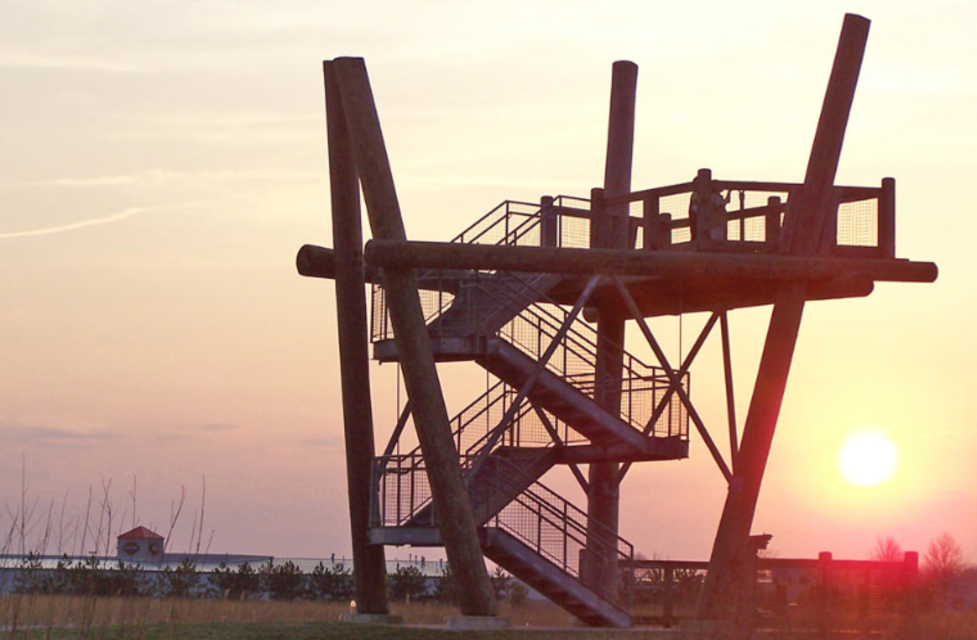 If you're like us, you know that time with family and friends is precious. Sometimes, the best memories are made outdoors. That's why, here in Dublin, our parks and open spaces percolate with warm community spirit. You'll find us downright neighborly. Dublin welcomes you to enjoy a gentle getaway where you'll have room to roam, creature comforts close by, and fresh air for miles. Curious?
Here are five ways to relax outdoors with family and friends in Dublin.
1. Embark on a waterfall adventure at Hayden Run Falls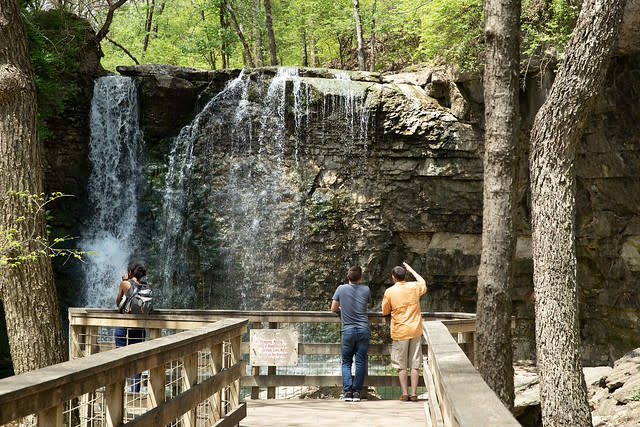 Feel the mist rising below the oh-so-photogenic 35-foot waterfall at Hayden Run Falls Park, nestled near the banks of the Scioto River. When you've got a treasure like this in your backyard, you want to savor it. That's why Dubliners built the wooden boardwalk and observation platform. It keeps the area accessible while protecting the ecosystem, including the rare species of plants you'll see. A gentle 10-minute walk leads to the falls, an ideal spot to catch your breath, stretch your legs, and enjoy the beauty.
This park is only a few minute's drive south of downtown. There's more where this came from; take a self-guided waterfall adventure: Dublin, Ohio Waterfall Tour
2. Go Riverboxing with family and friends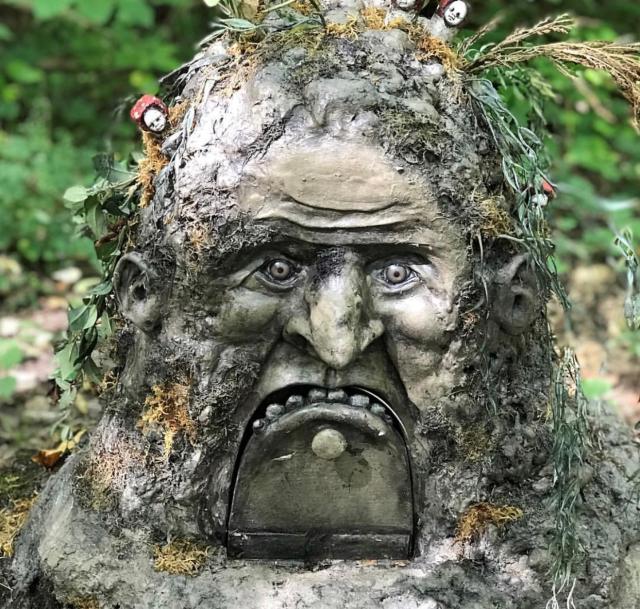 It's geocaching, the Dublin way. Since 2007, Dublin Arts Council has commissioned artists to create one-of-a-kind Riverboxes that are waiting to be found along the Scioto. House of the Rising Water, Big Turtle, and D'art's No-Litter Cat Box are among the 12 Riverboxes currently in the great outdoors. Each contains a unique artist-made stamp, a journal, and historical and environmental information.
Collect all 12 stamps! Here's your packing list for this treasure hunt:
- A journal
- An ink stamp
- The clues from Dublin Arts Council (Hint: You'll find the first Riverbox on the DAC grounds.)
- A picnic to enjoy at one of the many area parks
​3. Revel in the sunset on the observation tower at Glacier Ridge Metro Park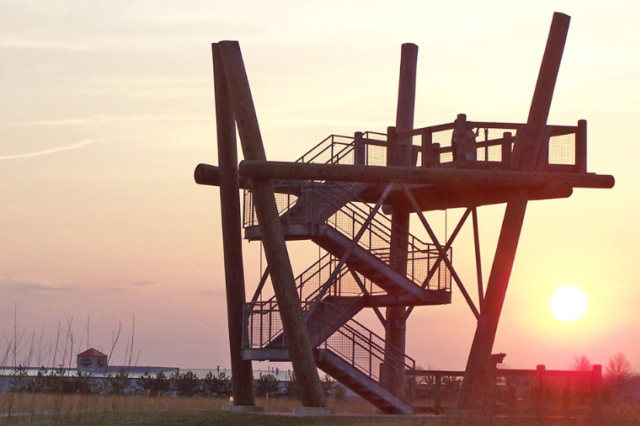 Seeking wide open spaces? This 1,037-acre park makes the family picnic in Dublin an easy endeavor. You'll find some new additions like the one-of-a-kind obstacle course designed by students at Ohio State University, where kids can climb ropes, scale walls, and speed down the zip line. Afterward, have a leisurely bike ride or afternoon stroll down the Marshhawk or Ironweed Trails. This park is also full of family-friendly amenities like a picnic shelter and tables, restrooms, and an 18-hole disc golf course. 
Beyond these attractions, Dubliners visit this park to connect with nature. Avid birdwatchers have spotted at least 208 species here. We recommend binoculars. Depending on the time of year, you could see chickadees, woodpeckers, pheasants, doves, starlings – even a great horned owl. As night falls, witness the sunset over the wetlands from the 25-foot-high observation tower.
Learn more about Glacier Ridge Metro Park.
4. Let us do the dishes for you in Downtown Dublin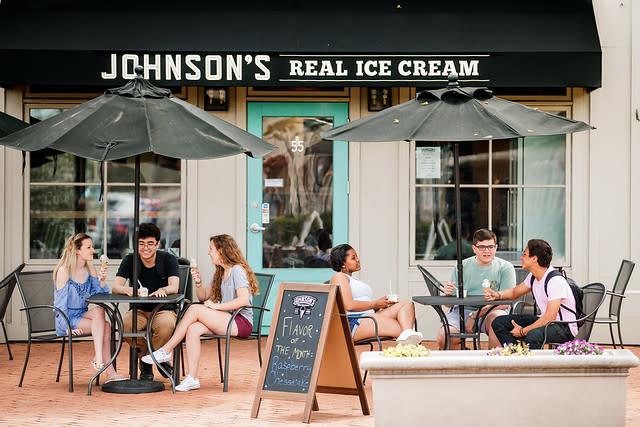 All that outdoor serenity will make you hungry, but downtown Dublin has you covered. You'll find more surprises in our highly walkable historic district, like the Daily Chores sculpture (at the corner of Bridge and High Streets, the site of our old town pump), but not to worry. Here in Dublin, we've done the chores for you.
Have dessert first at Johnson's Real Ice Cream, or keep your priorities straight and find comfort food at a downtown restaurant with a patio like Condado Tacos or Dublin Village Tavern. Looking for a nightcap? Take the elevator to VASO Rooftop Lounge.
5. Say hello to Leatherlips at Scioto Park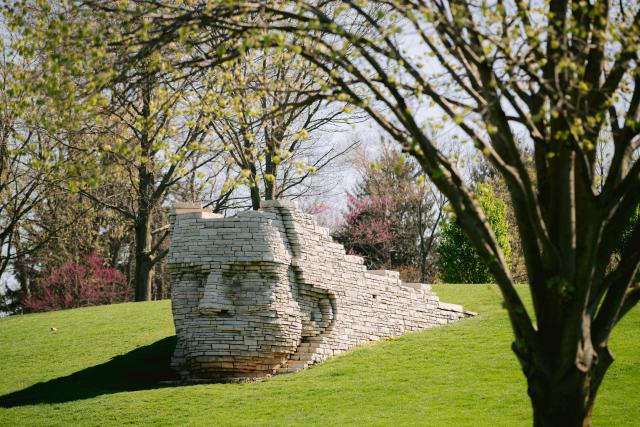 It's the perfect finale to a leisurely Sunday. One of Dublin's most popular outdoor areas, Scioto Park is home to a striking limestone monument dedicated to Wyandotte, Shateyaronyah, aka Leatherlips, remembered by Ohioans for the strength of his word. While you're there, be sure to check out the amazing views of the Scioto River. If you're lucky, you may even see wildlife making their way down to the river for a cool drink of water!
To recap, here are five ways to find outdoor bliss in Dublin:
Embark on a waterfall adventure at Hayden Run Falls
Go Riverboxing with family and friends
Revel in the sunset on the observation tower at Glacier Ridge Metro Park
Let us do the dishes for you in Downtown Dublin
Say hello to Leatherlips and take in river views at Scioto Park
Find more inspiration and share your outdoor Dublin adventures on social media with #SoDublin.