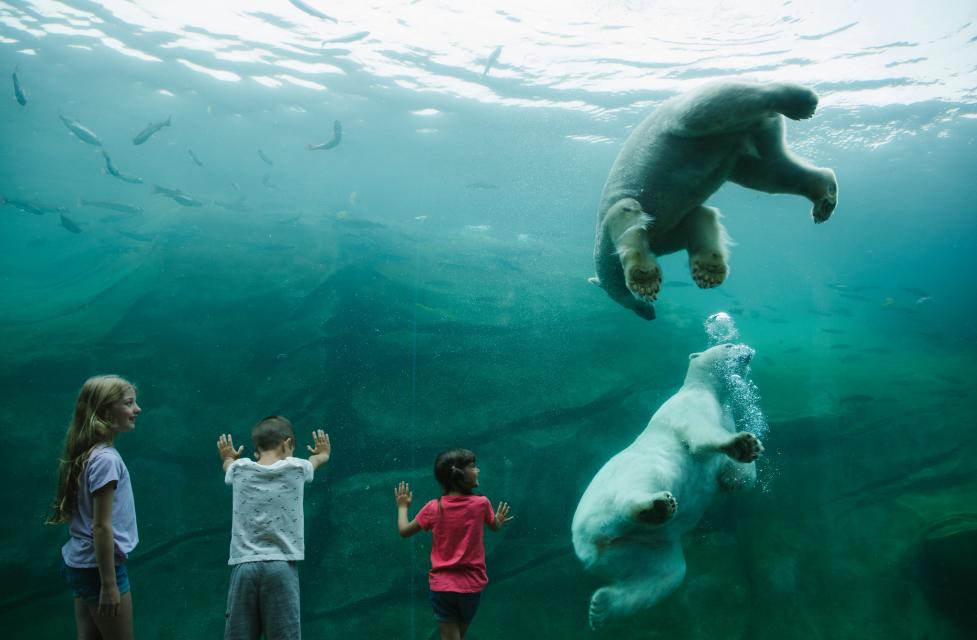 Kids looking bored? Need a break from routine? Right here in Dublin, Ohio, you'll find all the makings for a fun-filled and safe family getaway, only a short road trip away from home. We've asked our locals and real travelers for Dublin, Ohio recommendations and travel tips, and we're sharing them in this weekend itinerary your whole family will love. Ditch home for family fun, right here, right now, in Dublin. 
FRIDAY
After checking into your hotel, head to the Dublin Village Tavern nestled in our historic downtown for your first taste of Irish hospitality. "The Tavern," (as locals call it), is a place where friends gather and visitors are welcome.  
*TIP: Try to arrive at the Tavern before 6 pm to catch Happy Hour specials on both food and drinks. 
After dinner, walk around the corner to Johnson's Real Ice Cream for dessert. Our travelers highly recommend their Irish Sundae: mint chocolate chip ice cream and hot fudge topped with Oreo pieces, whipped cream, and gold sprinkles. It's exclusive to our Dublin location, so you won't find it anywhere else! For a taste of fall, try a scoop of pumpkin ice cream or a delicious pumpkin ice cream sandwich.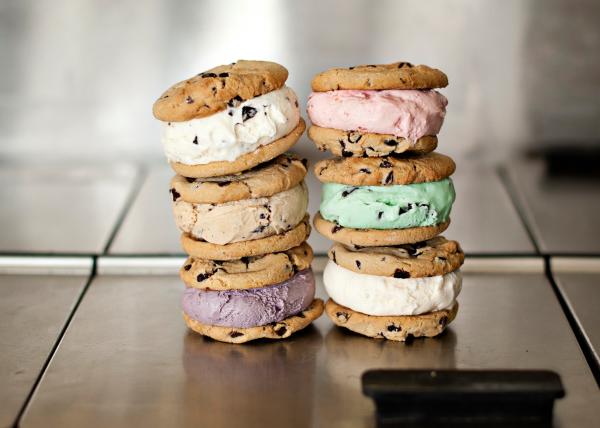 Trip Advisor Review: BethanieTilley from Columbus, Ohio shares, "We are huge ice cream people and we finally found our new spot. We've tried ice cream all over the city and I truly can say Johnson's is the best hands down. Prices are very reasonable and the service is excellent. They let you try as many flavors as you need to find that perfect one. I LOVE the inside decor and atmosphere and LOVE, LOVE the outdoor courtyard seating!"
Walk off your dinner and dessert with a trip over the Dublin Link pedestrian bridge that connects all of Downtown Dublin. You'll be met by Riverside Crossing Park where you can take in some of the best views of the Scioto River and the longest single tower S-shaped suspension bridge in the world.
Tip: Public restrooms are available at Riverside Crossing Park's pavilion.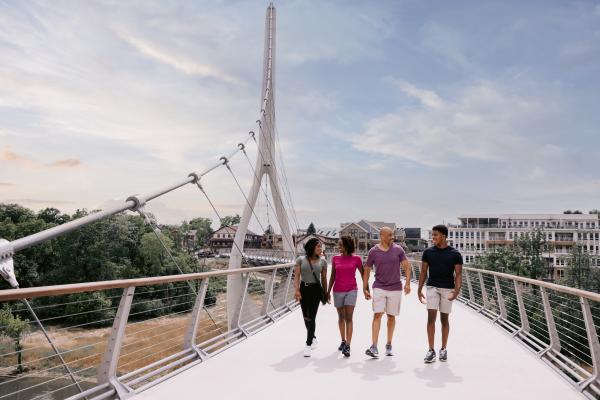 Saturday
This Saturday, join our friendly community at The Dublin Market, located in Bridge Park on Longshore Street. This market runs from 9 am - noon, rain or shine. Here you'll find local vendors selling fresh baked goods, local produce, flowers and unique boutique items from artists and craftsmen. Grab a coffee and a sweet or savory treat for breakfast, and enjoy the live entertainment at this community market. Still hungry? Stop by North Market, right here in Bridge Park. They open at 9 am and offer 17 different food vendors that will please even the pickiest eaters. Each member of the family can choose from sushi, BBQ, pizza, tacos, and more, then all meet to swap favorites.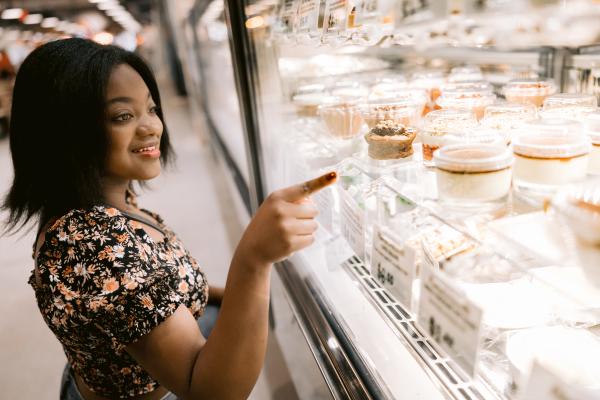 Next, take a short 10-minute drive to the Columbus Zoo, which has been voted one of the best zoos in the nation, and is always a huge hit with families! You can feed giraffes, take camel rides, and watch polar bears swim. And if you visit during fall, expect to see even more far from ordinary things! Boo at the Zoo is a chance to gather the family and your best costume for a "merry-not-scary" Halloween event. Located right on the same grounds as the zoo, Zoombezi Bay Waterpark turns into ZOMBIEzi Bay with four haunted houses, two scare zones, the Sea Dragon roller coaster, other non-water rides, and plenty of sinister surprises - if you dare. 
Trip Advisor Review: Caroldabro from Erie, Pennsylvania says: "Excellent staff, tons to see and a great value. I've been to zoos all over with my kids, this is definitely one of the nicest ones. We did the Zoo-it-All passes for $14.99 to add on the rides and special activities like riding camels and ponies, the boat ride and the movie theater. My kids had a blast. Very clean, well taken care of, very knowledgeable staff was available everywhere for questions and interesting conversation about the animals."
For dinner tonight, head to 101 Beer Kitchen, a Gastropub, for some ultimate comfort foods. To drink, local favorites include their craft beers and wines. To eat, we recommend the loaded housemade tater tots, ale & cheddar soup, or the 101 burger. Little foodies get their very own menu to color. Bonus, every kid meal includes dessert for your little ones.
Sunday
Rise and shine! Start the day with breakfast on La Chatelaine French Bakery and Bistro's quaint patio. Locals go here for their French pastries, various quiches or a traditional full breakfast.
Nature is right outside your door here in Dublin and we love to relax outdoors. Some of our favorite places to wander are through a handful of Dublin's 70 public art installations. Our community recommends the Dancing Hares, Chief Leatherlips, the Field of Corn, and Exuvia. Have fun and take some creative family photos at each sculpture.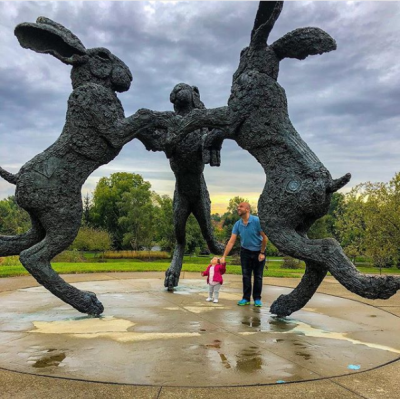 Photo Credit: Instagram User @consistently_curious​
Instagram Review: Stephanie of @Consistently_curious from Columbus, Ohio shares: "Taking in the Bunny Sculpture during our Art in Public Places Tour. This sculpture was a family favorite, especially since all three bunnies are made from repurposed materials. We found a chainsaw, a garden glove and pliers to name a few. The art tour was made simple thanks to a handy cell phone tour that gave the history and location of each piece! "
Next, we're off to Coffman Park, which our locals claim to be one of the best parks in town. Pack a picnic to enjoy at one of the many undercover picnic pavilions. After, admire beautiful river views while your kids play on one of the two playgrounds, or catch and release fish in the stocked pond outside the Recreation Center. From here head to PINS Mechanical, a kid-friendly gaming bar (until 8 pm), for some old-fashioned fun including bowling, life-sized Jenga, ping-pong or bocce.
Tip: Sign up for the free Dublin Parks Pass and filter through Dublin's 60+ parks and their amenities. Find public art, historical assets, playgrounds, and much more. Get yours here.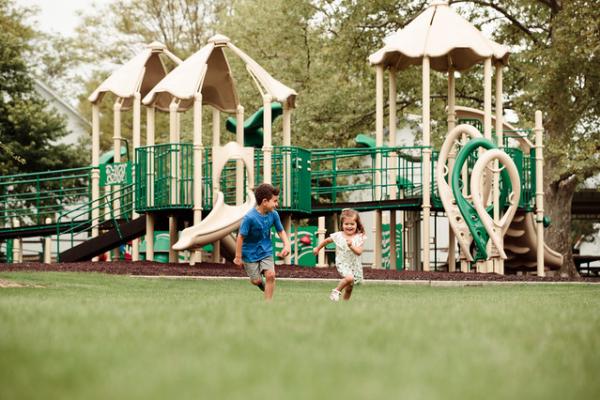 Trip Advisor Review: John_B_263 from Dublin, Ohio shares that Coffman Park " is a nice place to take children. There are two playground areas for children. There is a skate park semi-attached across the street with its own parking. The Dublin Recreation Center is located in Coffman Park. There is a stocked pond or fishing (catch and release). Paved multi-use trails run thru the park."
End your stay with a super sweet experience at Kilwins, just up the road from PINS in Bridge Park. From their shop window, watch as they whip up gooey caramels, homemade fudge, and their famous chocolate from their original recipes created in 1947.  Choose from 32 flavors of ice cream and pick up a box of your favorite treats to enjoy on the ride home, or to give as a gift. While you're there, see if your kids can find the hidden Fairy Door that is part of our Irish Fairy Door Trail that runs through multiple shops in Downtown Dublin. They'll take home a free t-shirt and memories that will last a lifetime.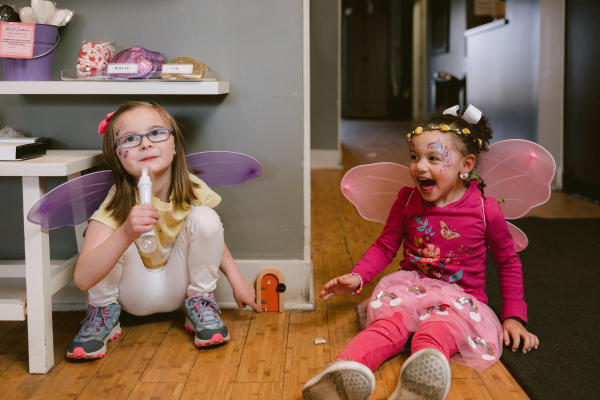 That concludes our weekend itinerary in Dublin, Ohio. Our community is happy to share this with you and we hope all these local tips and recommendations are useful when planning your next family adventure. If you have any questions, feel free to ask them in the comments below, and we hope to see you in Dublin soon!
For more trip inspiration, click here.