Each year, the Memorial Tournament brings along a busy and exciting couple of weeks in May for the staff here at the Dublin Convention & Visitors Bureau. In preparation for this year's tournament, our staff compiled their list of tournament "favorites" from years past. We hope you enjoy and we look forward to making some wonderful memories this year as well!
Scott Dring—CDME, APR, CTA, Executive Director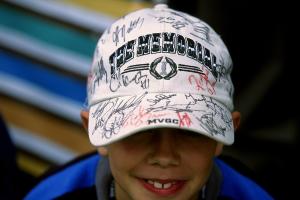 Several years ago, I took my sons (Tyler and Aidan) to their first Memorial Tournament. I still remember attending my first one with my grandfather back in the late 70s and watching Tom Watson win the tournament, so I knew the boys would be excited and remember the experience for a long time. We sat behind the ninth green among hundreds of others on a nice, sunny day in Dublin. My young sons were shy, so they were not among the numerous autograph hounds that lined the ropes as the players left the green. As Retief Goosen and Jose Maria Olazábal, both renowned international players, left the green, they noticed the boys. They stopped, signed their balls and threw them to the boys. I was particularly impressed because Retief had just double-bogeyed the hole. The balls still sit in the boys' rooms these many years later.
Samantha Kennedy—SMERF/Group Tour Sales Manager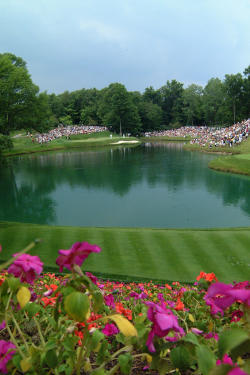 The week of the Memorial is one that I look forward to each year. Although I love being out at the course and seeing the golfers play, my favorite stories come from hearing what the golfers do around Dublin while they're here. A couple of years ago, Phil Mickelson was eating at one of our Partner restaurants, Sunny Street Café, and left a $100 tip on a bill that was less than $15. His waitress was a high school girl who had no clue who he even was! He was upset that year because of the number of cell phones being used on the course during tournament play (he even withdrew early), but at least we know that he REALLY enjoyed his breakfast. My other favorite story is the time when Rory and Jack were being interviewed in our villa and I asked Rory's bodyguard if I could tackle him. He gave me the go ahead, but that's a story for another time…
Josh Bricker—Sports/Leisure Sales Manager
Aside from the amazing golf, I'm a really big fan of the ceremony held Wednesday afternoon.  I think it's great that they honor and "memorialize" those in golf who have made it what it is today.  As an OSU alum, I also think it's particularly cool to watch the OSU Marching Band come down the 18th fairway. Experiencing that is one of the many things that brings back my Buckeye pride and reminds me how special it is that the Memorial is held right here in Dublin.
Katie Rich—Visitor Experience Manager
Growing up in Dublin, the Memorial Tournament always meant that spring was here and that school was almost over. I used to hang out at the practice range early in the week to try and get as many autographs as possible in my autograph book—I wonder if they even still make those! Some I have collected include: Arnold Palmer, Bob Hope, Calvin Peete, Payne Stewart, Tom Watson and of course, Jack Nicklaus. Nowadays, I watch my kids get that same thrill when a PGA pro takes some time to sign their golf flag with a sharpie. It's pretty amazing that these players that you watch on TV every week are so approachable and giving of their time. For those of you who will be attending, try spending time at the practice range early in the week—you never know who might be there!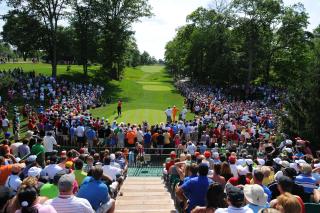 Sara Blatnik—Communication Manager
This will be my first year attending the Memorial, so I don't have a favorite thing or memory, but I did have the chance to attend The Presidents Cup this past October and learned a few things to carry over to my first Memorial experience.
1) Do NOT wear white. Rain is common in Central Ohio and you don't want to end up in a translucent outfit.
2) Go every day. You don't want to miss Tiger with a squirrel on his shoulder or an overly patriotic fan with only a flag for clothing.
3) Some like to follow a certain golfer from hole to hole. I enjoyed picking a nice grassy area and posting up to see all the players come through. (Choose a spot close to concessions and bathrooms.)
4) I'm normally a dress and heels kind of girl, but for this, go casual and wear good, comfortable shoes that you don't mind getting a little scuffed up.
What's your favorite memory from the Memorial?