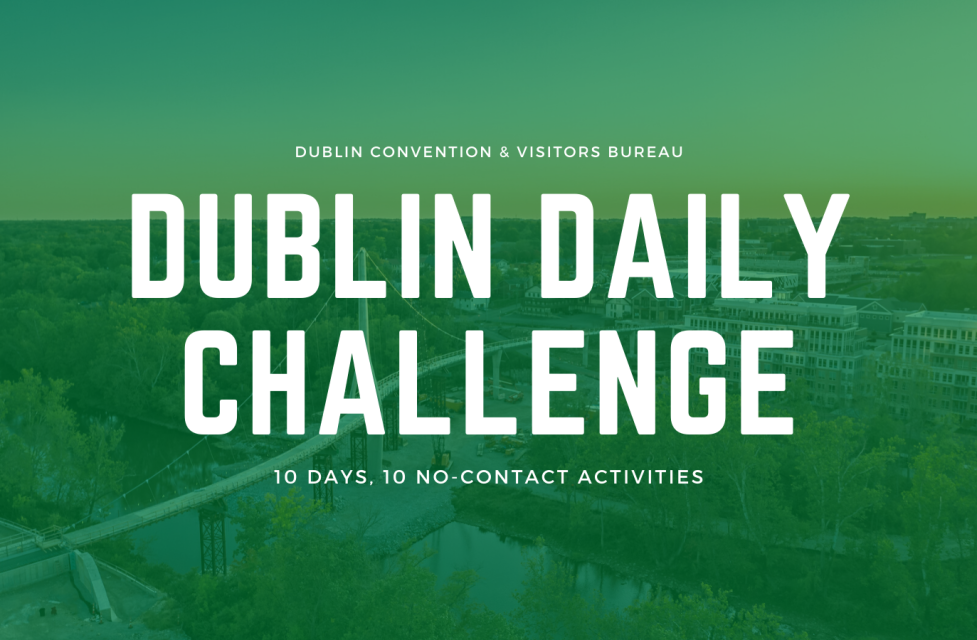 Start the Dublin Daily Challenge today with 10 local, no-contact activities.
Here's how it works. 
1. Download and follow this checklist.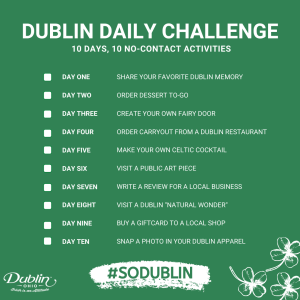 2. Select one of the daily activities to complete. 
3. Take a photo of your daily challenge activity and post on Facebook or Instagram using #SoDublin and tag @visitdublinohio
4. Repeat until you have completed all 10 of the Dublin Daily Challenges! 
The Checklist:
Day 1: Share your favorite Dublin memory. Check out our Instagram for some inspiration.
Day 2: Order dessert from a local ice cream or sweet shop. Here are some great spots offering delivery or curbside pick up. 
Day 3: Create your own fairy door at home. Use this template to keep the kids occupied for another day!
Day 4: Order carryout or delivery from a local Dublin restaurant. Here is a list of Dublin pick-up and delivery options. 
Day 5: Celebrate the weekend by making your own Celtic Cocktail at home. Follow us for weekly recipes posted every Friday or download the Celtic Cocktail Trail Guide here to see all recipes. 
Day 6: Visit a piece of Dublin's public art. Download this guide or click here to see some of the most popular pieces. 
Day 7: Write a review for a local business on Yelp or TripAdvisor. 
Day 8: Visit one of Dublin's "natural wonders". See a list of some of our favorites here. 
Day 9: Buy a gift card for a local shop. Use this list of how to shop small (and contact-free) in Dublin right now. 
Day 10: Snap a photo in your favorite Dublin-themed apparel. Or shop a few online here.