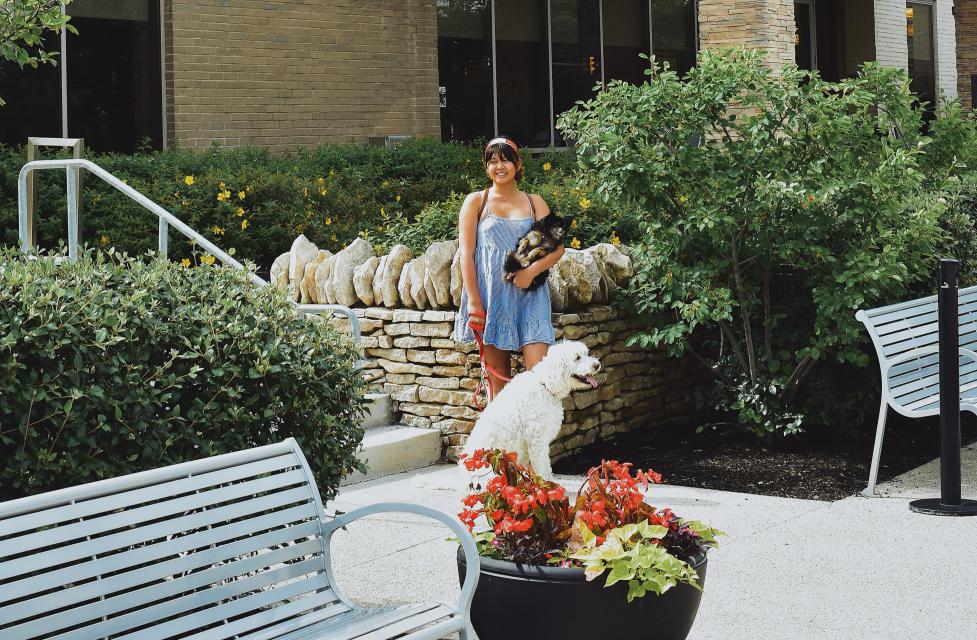 As summer officially makes its way into this year, I find myself planning more road trips for myself and my pup. This means a big portion of the planning for my destinations will revolve around my dog, Phebes. Thus making a pet-friendly city like Dublin the perfect place for us to stop for the weekend. I decided to stay near Historic Dublin, the center of the city, also home to many shops, restaurants, parks, cafes, a beautiful Saturday market, and to my absolute delight, stunning waterfalls that can be accessed via easy-to-walk trails. While not all of these places are pet friendly, I created a pawsome Phebes-approved itinerary that you can follow for your next pup getaway.
Stay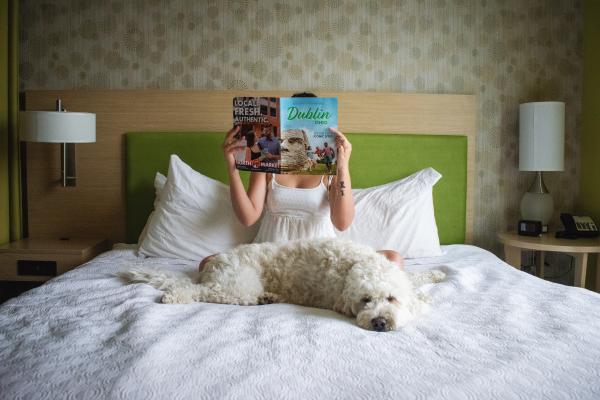 I absolutely love staying at Home2 Suites by Hilton and was so excited when I saw there was one right off the main street of Historic Dublin. The hotel itself has all the amenities you need, and this one's also within walking distance to Kroger and many fast food chains. It's also only a 10-minute walk into town, which came in handy at 10 PM when I took a walk to buy myself two scoops of ice cream from Jeni's. I also thoroughly enjoyed the warm continental breakfast that was available to all guests in the morning. The warm made-to-order waffles and a cup of coffee was the perfect combination to kickstart my day. The hotel also offers a beautiful outdoor grilling area as well as lots of grass and a doggy poo station for guests like me who are traveling with their furry friends. When it comes to convenience, Home 2 Suites Dublin Columbus has everything you need.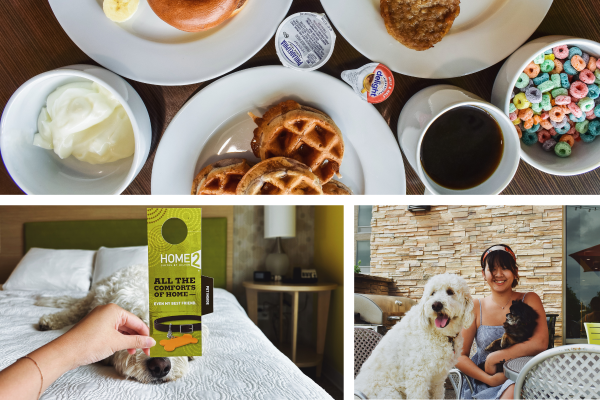 Eat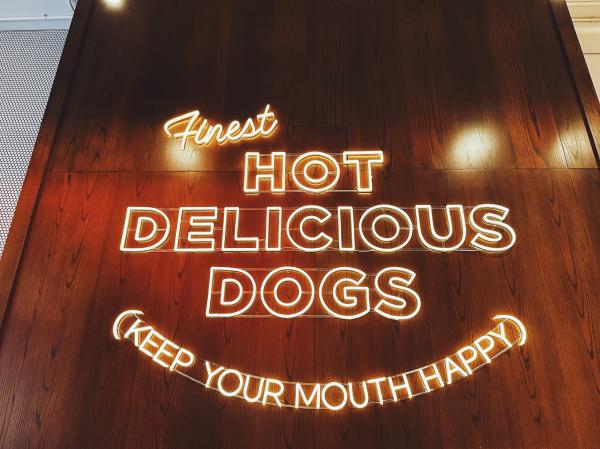 When it comes to restaurants, Dublin is one of the most diverse cities in the area. From the North Market in the newly developed Bridge Park to contemporary wine bars in Historic Dublin, there's something for everyone and for every occasion. Since I haven't been to coastal California in a while and wanted to do a little wine and oyster combination, I was happy to see that the weather was in my favor and booked a couple of patio experiences that I could also take Phebes with me on throughout the evening. I loved that this allowed her to be able to enjoy being with me outside, while I simultaneously enjoyed dining.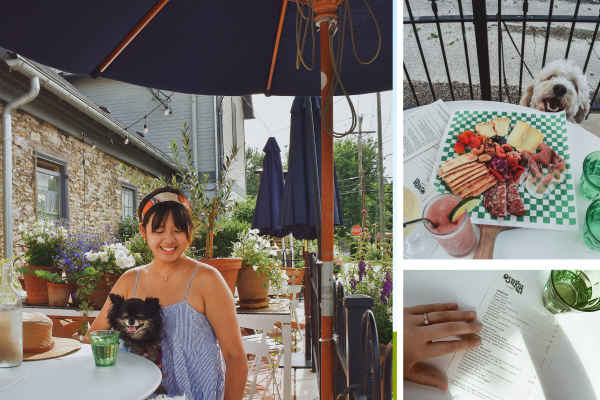 Coast is a contemporary wine bar and retail concept inspired by the spirit of coastal California. I loved the outdoor patio space and how aesthetic everything was. We ordered a plate of charcuterie and a couple of drinks. Phebes may have successfully asked for a couple of bites of cheese from me too.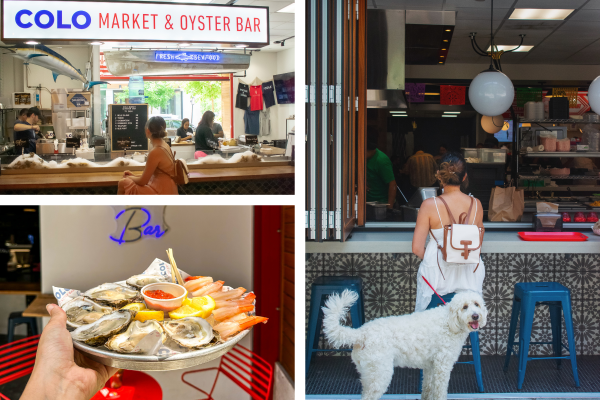 We wandered around the extremely dog-friendly Bridge Park area and saw a couple of stalls in North Market Bridge Park that had an open concept/street access. Pets are not allowed in the market so an open concept made enjoying my bite with my pup possible. After my glass of wine, I wanted to indulge in a plate of oysters and shrimp cocktails. COLO's Blue Point oysters were delicious and definitely hit the spot for my cravings.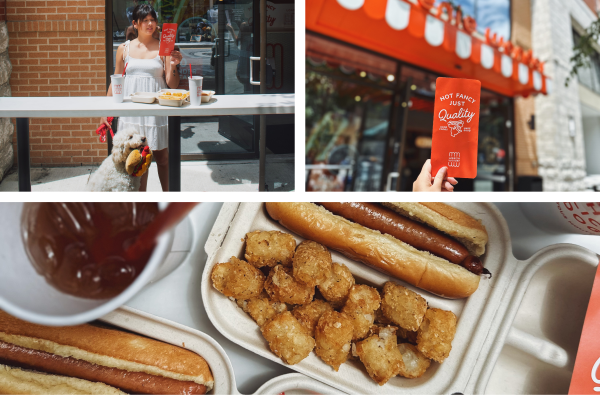 Sticking with the "dog" theme, we went to Weenie Wonder for a night of delicious hot dogs and shakes. Though your pet can not sit with you inside the restaurant, there were lots of patio space outside as well as tables in Pins Mechanical Company which welcomes leashed dogs in their establishment. I chose to eat outside due to the phenomenal weather we were blessed with. I think Phebes enjoyed this decision too.
Discover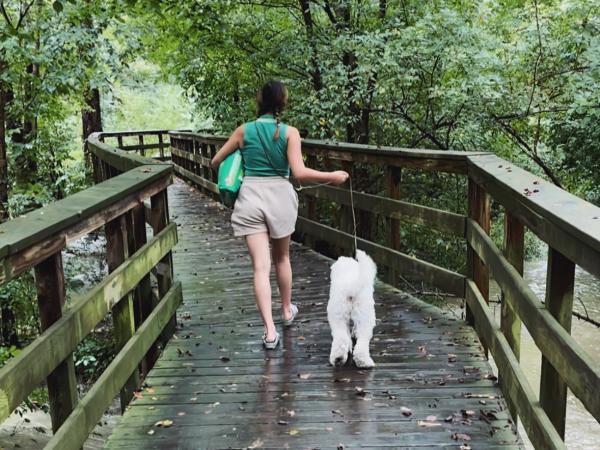 What ultimately made my trip was the exciting nature walks and parks in the area. Scioto River cuts through Historic Dublin and Bridge Park, I saw many people kayaking and a couple even had their dogs aboard! Unfortunately, we didn't have time to take part in water activities, but we did get to go around and enjoy the parks. Here are a few of my favorites.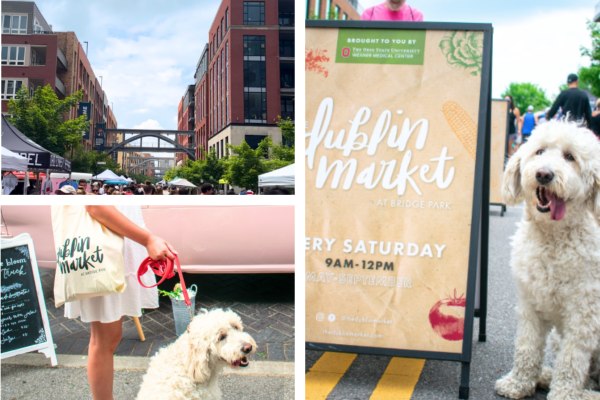 The Dublin Market happens every Saturday from 9AM-12PM and is about as dog friendly as you can get. With over 100 vendors every week, you can enjoy everything from apparel to baked goods, flowers, and more! There are even treat and apparel stalls for your pet. Phebes also said hi to so many new furry friends.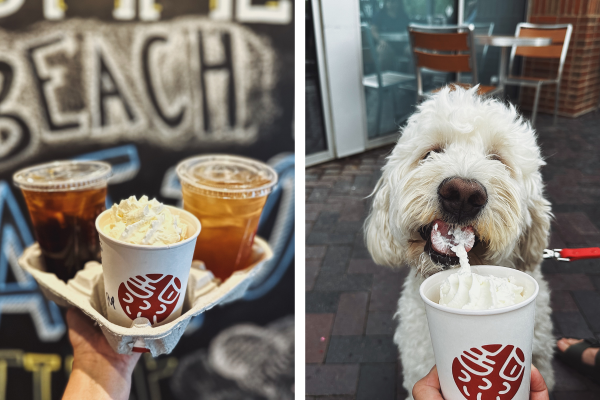 Our last stop before our departure was at Sweetwaters to re-up on some coffee and of course, to grab a pup cup for Phebes. They sure know how to find the key to your dog's heart.
Check out our Instagram to follow our trip on video! 
For more Dublin travel inspo, click here.