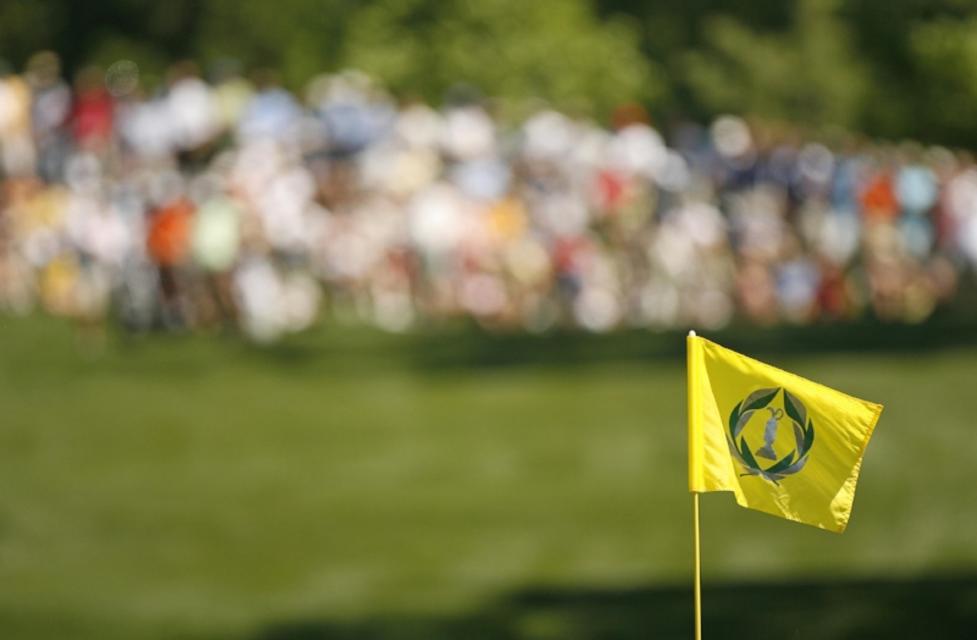 It's that time of year again! The Memorial Tournament presented by Workday is back, May 29-June 4. Are you ready to be a fan? Check out our guide full of know-before-you-go information to make your Memorial Tournament experience a great one. 
What to wear
Before you head to the tournament, be sure you're dressed the part! The course is hilly, outdoors and the weather can't be predicted. Be sure to remember these things to have the best Memorial experience:
- Casual golf attire
- Display Patron Badge
- Hat/Visor
- Comfortable walking shoes (soft spikes, Sperry's, tennis shoes)
- Sunscreen
- Umbrella
- Remember! Purse restrictions limit your bag to 6 x 6 or smaller. View restrictions here.
- Need something extra special? Head to the Memorial Golf Shop at Bridge Park. Located inside North Market Bridge Park, you can find all your Memorial Tournament gear there. Everything from shirts and activewear to pin flags and golf chairs are available so you can get your tournament swag on.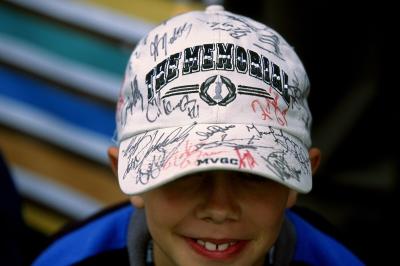 Where to park
Plan your parking options before you arrive to maximize your time on the course. Free public parking is available to patrons. Locations vary based on entrance preference.
6th Tee Lot - Located off State Route 745/Dublin Road at 10569 Dublin Rd. Patrons who park in the Main Parking Area near the sixth tee should use the "Back Gate" exit behind the Bogey Bar & Grill when leaving the lot. This exit empties out directly onto the O'Shaughnessy Bridge, eliminating the need to wait at the intersection of Glick Road and State Route 745/Dublin Road. Please note that Thursday through Sunday of Tournament week the O'Shaughnessy Bridge is limited to one-way eastbound traffic from 3:30 pm to 7:00 pm daily.
Reserved Parking - Service is available Wednesday - Sunday (pre-paid only), in the 6th Tee Lot. Reserved parking service is limited and sold separately each day. Entrance #6 is directly across the street from the 6th Tee Lot.
Columbus Zoo - Located at 4850 Powell Road, Powell, OH 43065, the Memorial Tournament has partnered with the Columbus Zoo and Aquarium to offer free public parking for Tournament patrons Thursday (6/1) through Sunday (6/4) from 7 a.m. until one hour after the completion of play. Complimentary shuttles will run continuously to and from the Memorial's main entrance gate. 
Ashbaugh Lot - Located off Brand Road just east of Muirfield Drive.
Disabled Parking - 10569 Dublin Rd., Dublin, OH 43017 (6th Tee Lot) State-issued placard required.
Taking an Uber or Lyft to the tournament? You can be dropped off at the following locations.
19th Hole Lot (10569 Dublin Rd., Dublin, OH 43017)
Gate #15 (8668 Muirfield Dr., Dublin, OH 43017)
Find further details on parking here. 
Where to go 
Here are some of the places you can enjoy golf, friends, family, food, and fun. Find the perfect viewing spot in any of these destinations around the course created just for you, the fans. Please note: All onsite merchandise and concession locations will be operated as cashless for the 2022 Memorial Tournament, with required credit card swiping or tap technology in place. All major credit cards are accepted.
- The Patio at Patron Village
Between 10th fairway and 14th green- Open to all tournament goers, The Patio at Patron Village is an ideal spot to hang out, enjoy a game of corn hole and have your chance to play like the pros at the "Bunker Challenge."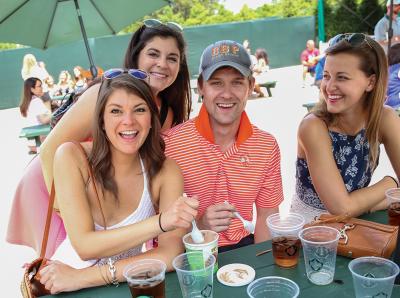 - Out of Bounds Bar 
Enjoy one of four full bars on course when you visit this hot spot on the front nine. Visit the Out of Bounds Bar behind No. 6 green.
- The Hill on No. 12
12th Hole - Enjoy golf from one of the best spots on the course in the comfort of an Adirondack chair - this spot was so popular last year that more chairs are being added for this year's Tournament. Chair-side service included!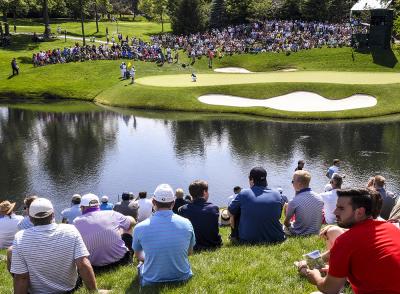 - Pub 18
Located in the heart of the back nine crossroads, Pub 18 is a great place to pick up your favorite beer or a bite to eat so you don't miss any of the action. 
- Tito's Stillhouse Lounge 
This new on-course location on the exciting 14th hole is a perfect place to sample custom cocktails made with Tito's Handmade Vodka and hang out between groups.
Open for patrons 21 and over.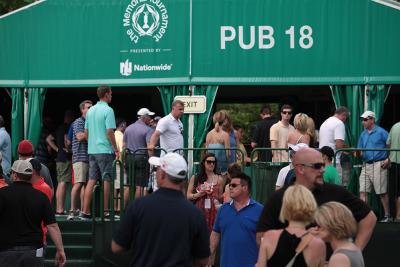 - Champions Pavilion
One word, SHADE! This covered venue offers a pro-shop, TVs, seating, food and full beverage service. 
- Vizzy Villa
The Vizzy Villa will feature 20 different flavors of hard-seltzer for purchase. This new on-course destination is located along the 17th fairway and offers views of 17 green and 18 tee box.
This venue is open to patrons 21 and over.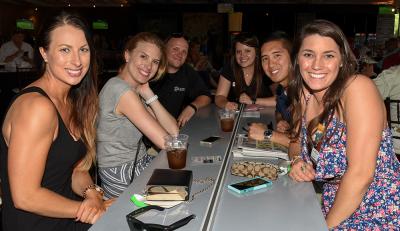 - Memorial Park
No. 1 fairway- Learn about the greats of the game and enjoy 3 full bars at Memorial Park.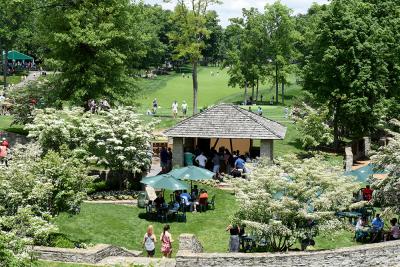 Where to eat
A day on the course can make you hungry. Inside the gates, there are multiple stops where you can purchase food and beverages to carry with you along the course. No outside food or drinks are permitted.
Looking for something off the course? Here are some suggestions.
- Pub Fare
- Bar & Grill
- Upscale Casual
- Italian
- Fine Dining
- Kid-Friendly 
Check out a list of all of Dublin's restaurants here. Take your drink to go and explore Dublin's DORA District, now including Riverside Crossing Park. 
Other Memorial Events
- Giant Golf Balls in Bridge Park
It's no secret that Bridge Park likes to go all out for the Memorial Tournament. To add to the festivities, 4 giant golf balls have been installed around Bridge Park, talk about a stellar photo opp! 
- Disc Golf in Riverside Crossing Park
The Memorial isn't just about traditional golf! A brand new disc and footgolf course has been installed in Riverside Crossing Park! The course is open to the public through June 4 and offers complimentary discs available on the honor system and a first come, first served basis. "Play for a Purpose" QR codes are posted throughout the course, allowing participants the opportunity to donate to Nationwide Children's Hospital and Eat. Learn. Play. Foundation, the Tournament's collaborating charitable partners.
- The Dublin Cup: Play 9 
Grab your friends and take on The Dublin Cup from May 8 - June 4! Pick up a scorecard at the Dublin Visitors and Information Center or at the Memorial Tournament Golf Shop at North Market Bridge Park. Once you complete 9 of the 18 stops, return your card to the Tournament's Bridge Park Golf Shop to claim a Dublin Cup koozie and be entered to win the grand prize.
- FORE! Miler
The FORE! Miler is a 4-mile road race open to runners and walkers benefiting Nationwide Children's Hospital and Eat. Learn. Play. Foundation. The 2023 event will be held on May 25 and will start and end at Muirfield Village Golf Club. 
The official after-party of the Memorial Tournament! Sponsored by Rise Brands, FORE!Fest brings a lively, street party to Downtown Dublin's Bridge Park on June 2 & 3. Once you've had your fill of the tournament, head down to this free, family-friendly event for live music and community spirit. 
- The Bogey Party
Coming out of retirement for a limited time, The Bogey Party is back! Visit The Bogey June 1-3 during the Memorial Tournament for live music, drinks, & food trucks! Find the full schedule here. 
For more information about players, ticket sales, course maps and the history of the tournament, visit www.thememorialtournament.com.