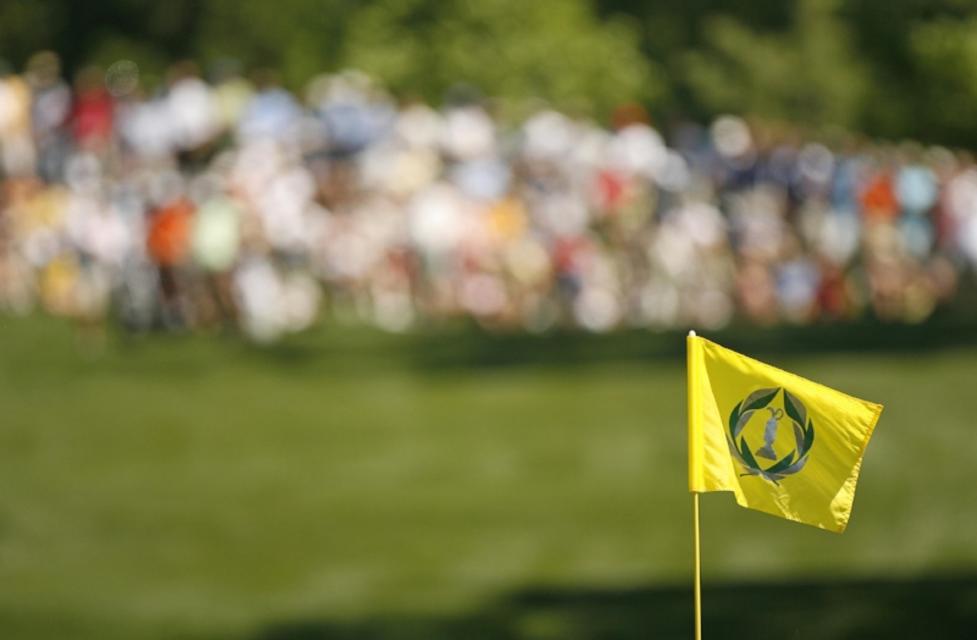 It's that time of year again! The Memorial Tournament presented by Nationwide is back, July 13 - 19. Are you ready to be a fan? Check out our guide, full of know-before-you-go information to make your Memorial Tournament experience a great one. 
Click here to view all safety protocols to observe at all time at the 2020 Memorial Tournament. 
What to wear
Before you head to the tournament, be sure you're dressed the part! The course is hilly, outdoors and the weather can't be predicted. Be sure to remember these things to have the best Memorial experience:
- Masks are required upon entry. Please bring a mask or one will be provided at the point of entry. 
- Casual golf attire
- Display Patron Badge
- Hat/Visor
- Comfortable walking shoes (soft spikes, Sperry's, tennis shoes)
- Sunscreen
- Umbrella
- Remember! Purse restrictions limit your bag to 6" x 6" or smaller 
- Need something extra special? Head to the Memorial Golf Shop at Bridge Park. Located at 6564 Longshore Street in Bridge Park, you can find all your Memorial Tournament gear there. Everything from shirts and activewear to pin flags and golf chairs are available so you can get your tournament swag on.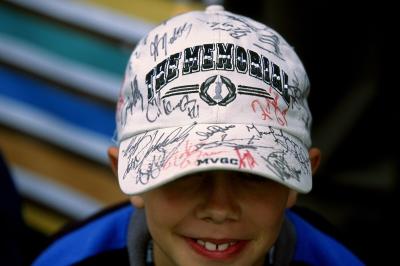 Where to park
Plan your parking options before you arrive to maximize your time on course. Free public parking is available to patrons. Locations vary based on entrance preference.
19th Hole Lot - Located off State Route 745/Dublin Road at 10569 Dublin Rd.
Valet Parking - Service is available Wednesday - Sunday (pre-paid only), in the 19th Hole Lot. Valet parking service is limited and sold separately each day. Entrance #6 is directly across the street from the 19th Hole Lot.
Columbus Zoo Lot (Thursday – Sunday ONLY) 4850 W Powell Rd., Powell, OH 43065
 - Shuttles run: Thursday - Sunday: 6:45 am - 7:00 pm (or one hour prior/after play)
Disabled Parking - 6189 Memorial Dr., Dublin, OH 43017 (Muirfield Square) State-issued placard required
 - Shuttles run: Monday & Tuesday: 7:00 am - 5:00 pm; Wednesday: 7:00 am - 6:30 pm; Thursday - Sunday: 7:00 am - 7:00 pm (or one hour after play)
Taking an Uber or Lyft to the tournament? You can be dropped off at the following locations.
19th Hole Lot (10569 Dublin Rd., Dublin, OH 43017)
Gate #15 (8668 Muirfield Dr., Dublin, OH 43017) 
Where to go 
Here are some of the places you can enjoy golf, friends, family, food, and fun. Find the perfect viewing spot in any of these destinations around the course created just for you, the fans.
*Several of these areas will be closed for the 2020 Tournament. Cash will not be accepted on course. 
- The Patio at Patron Village
Between 10th fairway and 14th green- Open to all tournament goers, The Patio at Patron Village is an ideal spot to hang out, enjoy a game of corn hole and have your chance to play like the pros at the "Bunker Challenge."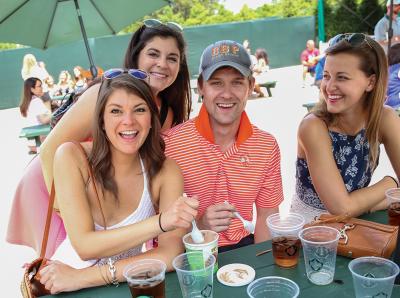 - The Hill on No. 12
12th Hole - Enjoy golf from one of the best spots on the course in the comfort of an Adirondack chair - this spot was so popular last year that more chairs are being added for this year's Tournament. Chair-side service included!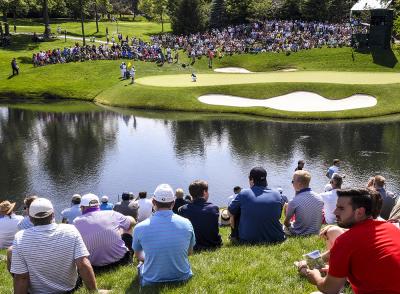 - Pub 18
Located in the heart of the back nine crossroads, Pub 18 is a great place to pick up your favorite beer or a bite to eat so you don't miss any of the action.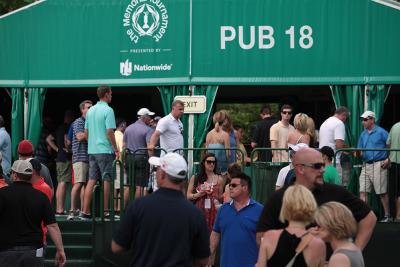 - The 19th Hole
Sixth tee entrance/exit- No Tournament badge is needed to enjoy this fan destination. Enjoy the sports bar vibe complete with a beer and wine patio, food trucks and live music.
- Champions Pavilion
One word, SHADE! This covered venue offers a pro-shop, TVs, seating, food and full beverage service. Visit Monday-Wednesday between 10:30 a.m. -2:00 p.m. to have your picture taken with the Memorial Tournament Trophy.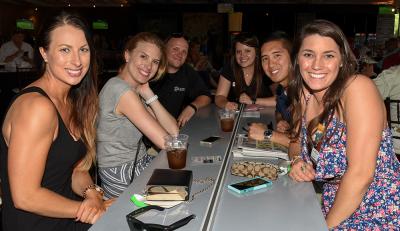 - Memorial Park
No. 1 fairway- Learn about the greats of the game and enjoy 3 full bars at Memorial Park.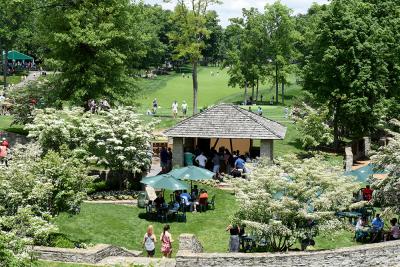 Where to eat
A day on the course can make you hungry. Inside the gates, there are multiple stops where you can purchase food and beverages to carry with you along the course. No outside food or drinks are permitted.
Looking for something off the course? Here's some suggestions.
- Pub Fare
- Bar & Grill
- Upscale Casual
- Italian
- Fine Dining
- International Eats
Check out a list of all Dublin's restaurants here.
Other Memorial Events
- Virtual FORE! Miler
The FORE! Miler is a 4-mile road race open to runners and walkers benefiting Nationwide Children's Hospital. The 2020 event will be held virtually July 9-19 through the week of the rescheduled Memorial Tournament presented by Nationwide.
- Live entertainment at The Bogey
The Bogey will be hosting a variety of live entertainers throughout the week, so you can keep the Memorial fun going after you leave the course. 
For more information about players, ticket sales, course maps and the history of the tournament, visit www.thememorialtournament.com.