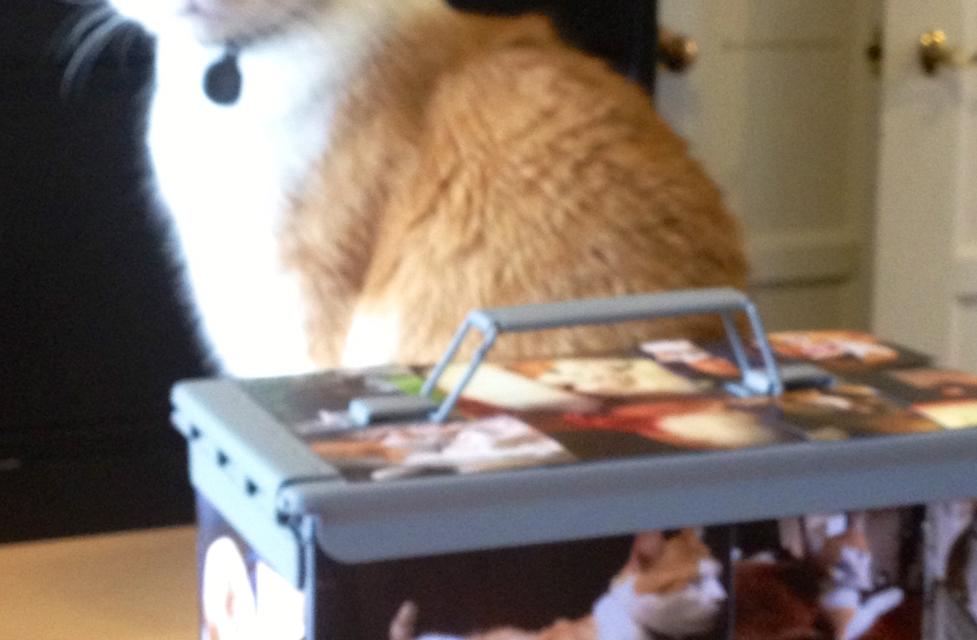 Hi Dublin. D'Art, the Dublin Arts Council (DAC) Gallery Cat here. I'd like to thank the Dublin CVB for letting me share some news with you. But first, for those of you who haven't met me, let me bring you up to speed. I used to be what they call a "stray" before I moved to the Dublin Arts Center. Long story short, about four years ago I found myself on a farm in Pennsylvania with a bunch of other not-so-friendly cats. I must have won the kitty-karma jackpot, because my luck quickly turned when I made friends (Yes. I'm a social butterfly) with a friend of a friend at DAC. One thing led to another and before I knew it I was traveling to Dublin, Ohio (In a car with a D-O-G. Enough said) to live in my very own castle with my very own staff. The rest is history. I lead a pretty good life for a cat that was initially down on his luck, right? Well I'd have to agree. And the perks come with welcomed responsibilities, which is why I'm writing to you now.
Besides greeting arts patrons of all ages when they visit DAC, I'm also a part of the marketing team -- whatever that means. All I know is that ever since they started clicking photos of me and talking about Facebook, DAC visitors ask for me by name and I've had to make a number of appearances. From what I can tell, I might be famous. Being a celebrity has its advantages. Lots of belly rubs, 'oohing' and 'awing' when I enter a room and the best treats ever. But don't worry, I don't let the fame go to my head. In fact, I like to put the focus back on the arts in my city.
Which brings me to my news: D'Art's no-litter cat box. My box is what they call a cache and it holds important information about the arts in Dublin. More specifically, it serves as an introduction to our Riverboxes™ Series (artwork hidden in parks around Dublin) and the Riverboxes Challenge. Although I haven't been riverboxing (10 riverboxes = 3.15 miles of walking … and I prefer lounging on my office couch) I've flopped over on many pictures and heard lots of stories, so I'm practically an expert. You can visit our website (www.dublinarts.org) to get clues and GPS coordinates to each of the Riverboxes. In fact, you can even download a DAC Passport and enter in the Riverboxes Challenge to collect all 10 artist-created stamps and earn a geocoin. I'm told this coin can be kept as a reward to commemorate your adventure or you can drop it in other caches and track its travels online.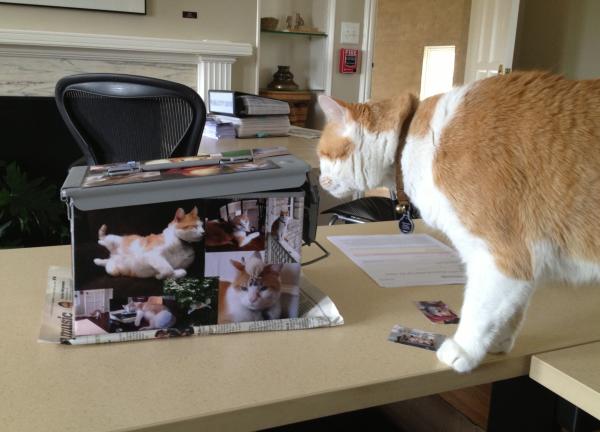 You can start your journey at any Riverbox if you download and print a passport, but I'd recommend starting at my box. I even have passports already there waiting for you. My staff created this cache under my strict supervision and I'm quite pleased with how it turned out. They even took my paw print and made it into an ink stamp so that all of my fans can have my autograph.
Here are the clues and GPS coordinates for my box:
Clues:
·         Pull in to the drive of the "castle" along the river
·         Stop and park your vehicle at the barrier to entry
·         Look to the north where the arts flourish in Dublin
·         Walk forward several paces
·         Look to the base of the trees that stand tall and stay green year-round
GPS Coordinates:
N 40° 06.746
W 083° 06.625
I hope you'll go out, find my cache and then pay my staff and me a visit. There's always a lot of interesting artwork in the gallery. Next up is Glass Axis on June 18, which I've heard is hand-blown glass.  Although I am an excellent gallery docent, I might not be able to give you a proper tour this time (my staff worries that my physique makes me a bit clumsy) but I'll be happy to welcome you at the door.
Happy Riverboxing! See you soon.
-D'Art