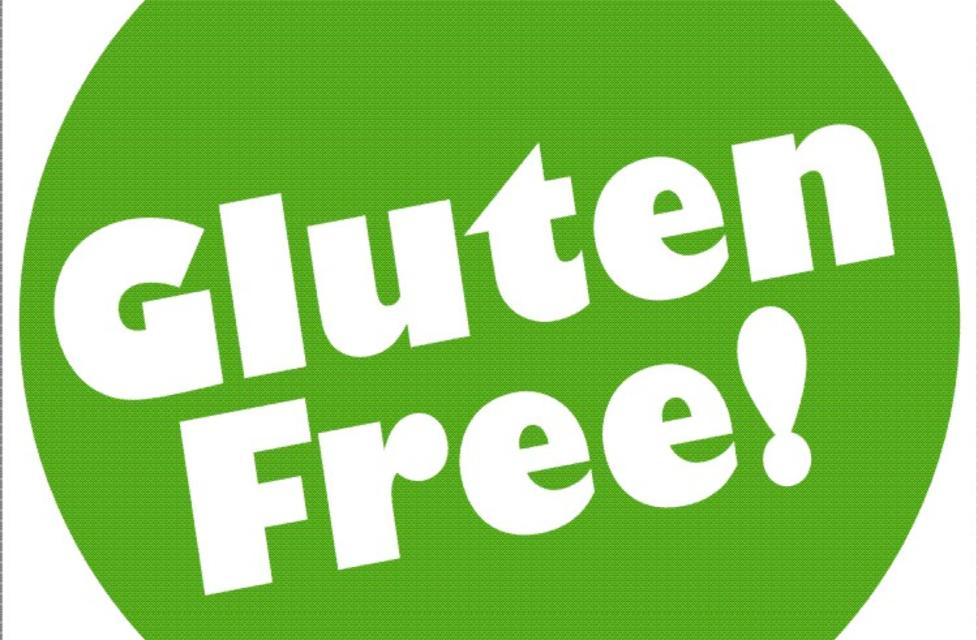 Eight months ago, I honestly didn't care what gluten was. I had seen the words "gluten free" on various restaurant menus and on a few products at the grocery store but that was the extent of my knowledge.  When our son was diagnosed with Celiac disease last September, my days of ignoring food labels were over. Celiac disease is the body's auto-immune response to gluten, causing problems with the digestive system and leading to the loss of essential nutrients. The only cure for Celiac disease is to completely eliminate gluten from your diet. This is easier said than done since gluten is found in everything containing wheat, barley, malt, rye and modified starches. So, not only are breads and other baked goods dangerous, but items you wouldn't think of such as vinegar, chicken broth and even Twizzlers can cause undesirable symptoms for someone with Celiac disease. Even worse, if foods are not carefully prepared in designated gluten free areas, there is a risk for cross-contamination for those with increased sensitivity.
All of this makes for quite the adventure, especally when our family decides to eat away from home. How do you find food that is safe but still enjoyable to a 13-year-old's palate? How can you make a server with the same mindset that I had eight months ago understand that gluten free is not just a fad diet, but an essential way of life for my son? Much of what we have learned is through trial and error. We have found that there are establishments here in Dublin that have "gluten friendly" menus, but that we must be careful to make sure that the food is prepared in a safe cooking area. We have also found that there are dangers in cross-contamination by common dispensing machines, such as those found in soft-serve yogurt stores and even pop machines around the city. Even though the product may be labeled gluten free, unless the device was cleaned thoroughly after the last flavor switch, it can still contain gluten.
Not all, though, is doom and gloom. We have found several restaurant choices that meet the dietary needs of our son while still providing enjoyable offerings for the rest of our non-Celiac family. By all means, this list does not include all of the gluten free options that the city has to offer. I'm sure that Tucci's has some great Pacific-Rim items that are safe for Celiac customers with more discernible tastes, but this is from the perspective of a father whose 13-year-old boy had his favorite Papa John's pizza taken away from him. When visiting these establishments, be up front with your needs and hopefully you will receive the same, wonderful customer service that we have.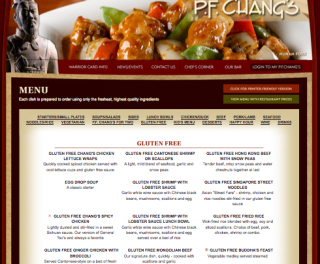 PF Changs/Pei Wei – PF Changs has the most extensive gluten free menu that we have found. There are over 30 different offerings and each order comes served on plates dedicated specifically to gluten free entrees. For a less expensive option, Pei Wei (owned by PF Changs) offers many of the same dishes and also takes special care with food allergy orders.
Chick Fil-A – Chick Fil-A offers grilled chicken breasts and grilled nuggets that do not have the breading found on their original sandwiches. They recently changed the seasoning on these grilled items, making them more flavorful. The waffle fries are made in a designated fryer and do not come in contact with the breading, making them safe for Celiacs to eat.
Five Guys – The only thing harmful at Five Guys are the buns, but they will allow you to bring in your own gluten free bread to use for your hamburger or hot dog. You just need to ensure that they don't put your bread on the same counter as their buns.  The fries are not cross-contaminated, but you do have to be careful with the multi-flavor dispensing Coke machine.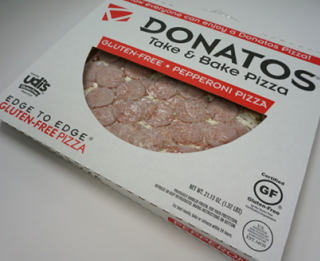 Donatos – Donatos offers a gluten free pizza made with Udi's dough. Though the pizza is better when hot from their ovens, Celiacs and those with high gluten sensitivities need to be careful because the same utensils can be used to cut both the gluten free and regular pizzas. We find it much safer to get the Donatos gluten free take-n-bake from Kroger.
Buffalo Wild Wings – My son's favorite. Though most items are off-limits to him, the traditional wings are not breaded and they reserve a separate fryer for preparing these.
Graeters – Another favorite in our house. If you tell the staff up front that you need a gluten free offering, they will open a new tub of ice cream for you and use a new scoop to avoid any possible cross-contamination from previous contact with cones or "cookie" flavors. 
For more information on Celiac disease, visit www.celiac.org.