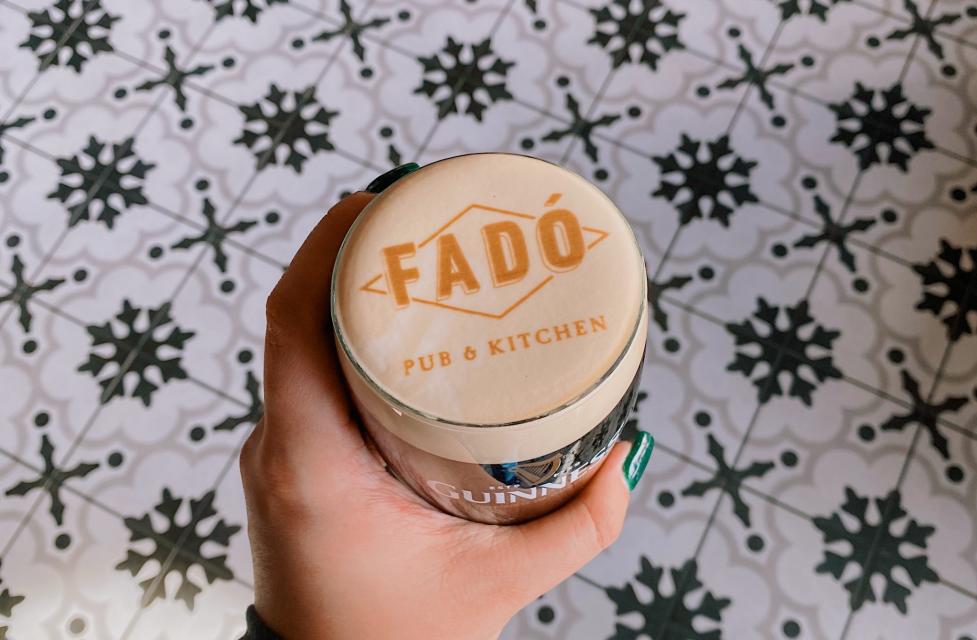 St. Patrick's Day means parades, parties, green beer and of course, delicious food! Dublin's menus are filling up with traditional fare and unique takes on the Irish flavors you know and love.  
Check out these 6 must-try Irish foodie finds you can find right here in Dublin:  
Bangers and Egg Breakfast Bagel – Frank & Carls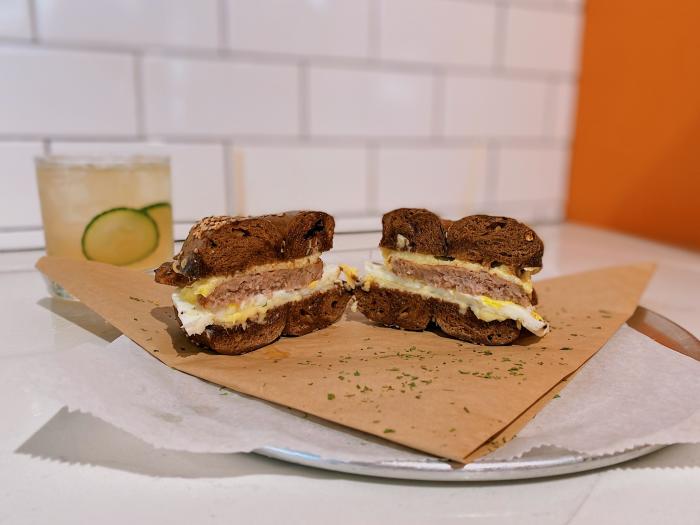 Fuel up for your St. Paddy's Day shenanigans with a hearty breakfast. Frank & Carl's Bangers and Egg Breakfast Bagel is everything you need to start your day. Filled with Irish sausage, more traditionally known as Bangers, Sharp Irish Cheddar and egg on a warm Pumpernickel Bagel. Grab your friends, grab a breakfast bagel and start hitting some of the best pubs that Dublin has to offer.  
Other Irish Options: Colcannon Mac N Cheese & Rowan the Boat Tuna Melt 
Irish Eggrolls – Dublin Village Tavern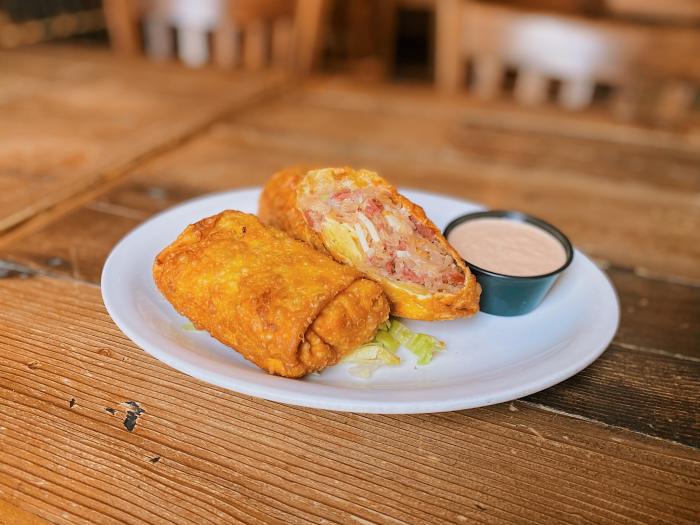 What happens when you take a corned beef sandwich, wrap it in an egg roll wrapper and fry it? You get an Irish Egg Roll! Dublin Village Tavern took the classic corned beef sandwich and gave it a unique spin. These award-winning eggrolls are filled with corned beef, sauerkraut & Swiss cheese, then served hot with house-made 1000 Island dressing. One bite of these crispy morsels, and you'll understand why locals and visitors alike come back to DVT  time and time again. 
Other Irish Options: Irish Kettle Dinner, Braised Beef Sheperd's Pie, Irish Whiskey Glazed Salmon & Triple Irish 
Guinness Beef Stew – Fado Pub & Kitchen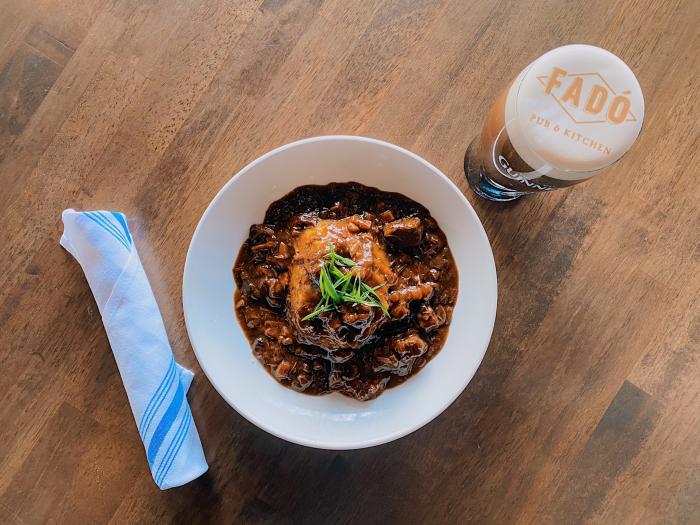 With an owner from Dublin, Ireland, you can count on authentic Irish eats at Fado Pub & Kitchen. (Not to mention, décor made and imported from the Emerald Isle) While the daily menu is full of European-inspired fare, it's the limited-time St. Paddy's Day menu that you won't want to miss. Served for a limited time, the Guinness Beef stew is the ultimate comfort food. Settle in with a big bowl of tender beef stewed with carrots, celery and Guinness served hot over a pile of Irish mashed potatoes. Try the Guinness Beef Stew and the rest of this limited-time menu at Fado's St. Patrick's Day Party, March 11 & 17.
Other Irish Options: Drunken Mussels, Irish Coffee, Irish Breakfast and Bacon & Cabbage 
Fish & Chips – Matt the Miller's Tavern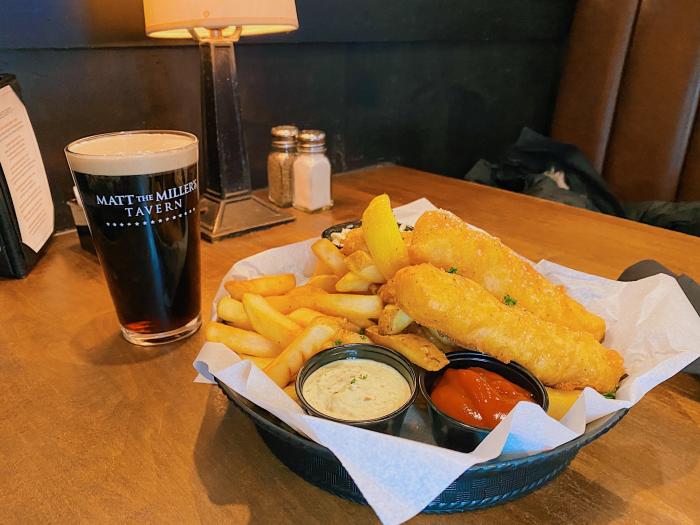 There's nothing wrong with the classics, and Matt the Miller's Fish & Chips is as classic (and delicious) as it can get. Dive into three pieces of beer-battered North American Cod, crispy fries, creamy slaw and tartar sauce. Wash it down with a pint of Guinness or their Irish Maid Celtic Cocktail and enjoy the warm, cozy atmosphere of this tavern born out of a visit to Kilkenny, Ireland.  
Other Irish Options: Portobello Reuban, Tavern Fish Sandwich & Herb-Roasted Half Chicken 
Dublin Irish Crème Cupcake – Our CupCakery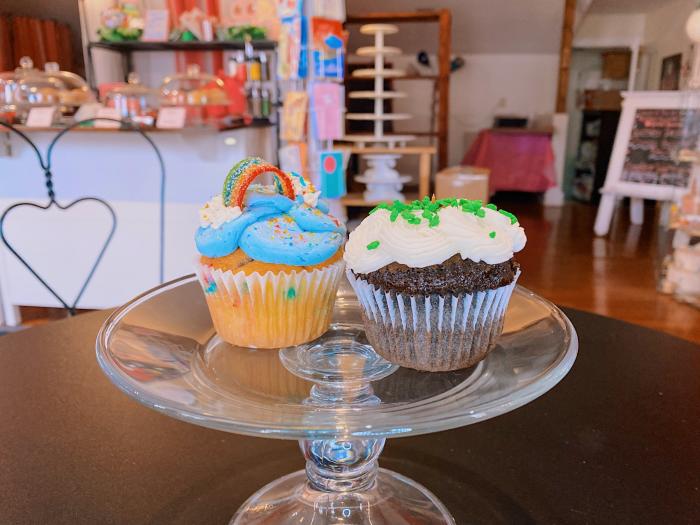 Bring on dessert! Our CupCakery has taken the flavors of an Irish coffee and turned them into a decadent cupcake. The Dublin Irish Crème Cupcake features a dark chocolate cupcake filled with coffee frosting and topped with Irish Crème flavored frosting. Add a dash of shamrock sprinkles, and you have yourself a delicious Dublin treat. If coffee's not the flavor for you, then try the Rainbow Cupcake. This funfetti cupcake, iced with sky blue frosting, topped with a candy rainbow and showered in rainbow sprinkles, will leave you feeling as lucky as a leprechaun. (And the wee ones will love it!).  
Not sure what you want? Build the cupcake of your dreams with Our CupCakery's variety of cupcakes, fillings, frostings and sprinkles.
Irish Sundae – Johnson's Real Ice Cream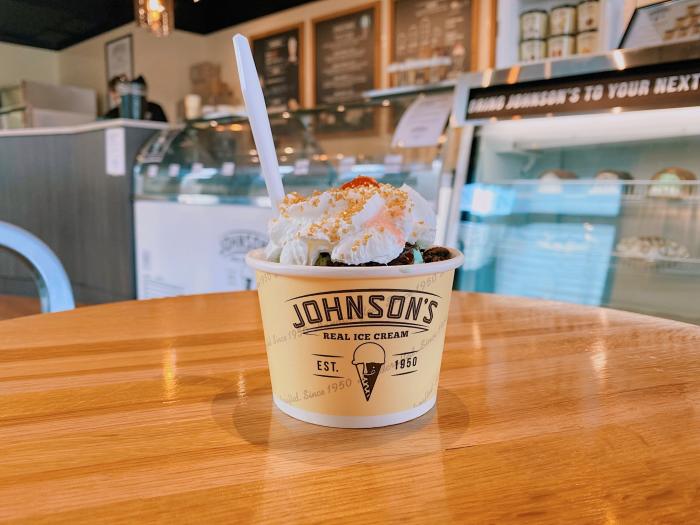 This Irish-approved ice cream shop is in the spirit! Celebrate St. Patrick's Day with an Irish Sundae from Johnson's Real Ice Cream in Historic Dublin. One scoop of Mighty Mint and Chip Ice Cream topped with Hot Fudge, Oreo pieces, Whipped Cream, and a Cherry. 
Take some treats home for later with their variety of ice cream sandwiches, cones and specialty snacks. 
Sláinte! Give these Irish eats a try before they're gone, and share your flavorful memories with us using #SoDublin. 
Find more St. Patrick's Day fun here.