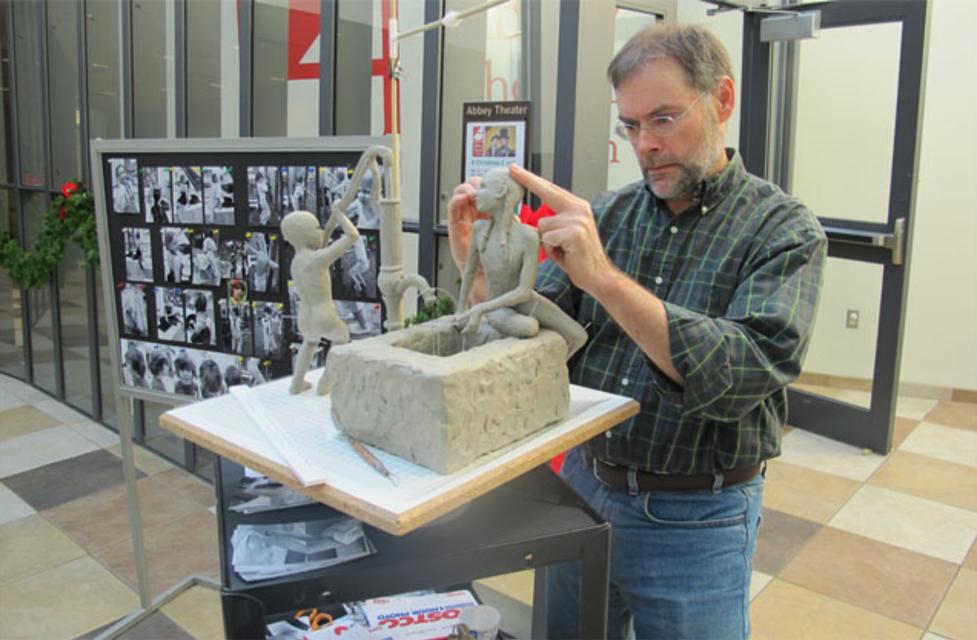 When I first began my work as an intern with the Dublin CVB, I had never even been to the city of Dublin before, except when I came to interview for the position. Since then, I have learned a lot about the area and all that it has to offer both to residents as well as out of town visitors. One of the city's most unique features is its Art in Public Places program, which has grown from one sculpture in 1990 to over 70 structural elements today. From Leatherlips to the Field of Corn to Watch House and beyond, the works extend all throughout Dublin and the collection continues to grow.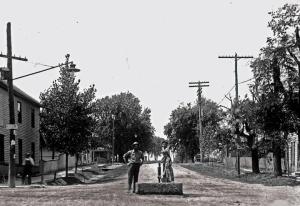 After exploring the city and passing through the many artworks, whether by car or on foot, I have come to a conclusion on what my personal favorite work is: Daily Chores. Although Daily Chores is one the newest public artworks, it has a surprisingly rich history. Its inspiration is rooted in old pictures and memories of a town pump that sat right in the middle of the road where Bridge St. and High St. intersect. As times began to change and technology advanced, the town pump became a safety hazard for cars trying to navigate through the intersection where it stood. As a result, it was removed from the road. Although locals hoped that it would just be moved to a new location, there was a disagreement on where it would be relocated and it was, instead, discarded. But its memory lived on…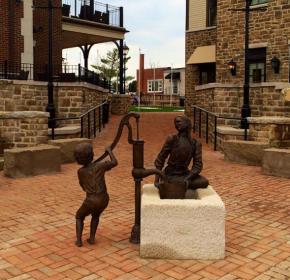 Now, over a century later, Daily Chores stands just a few feet away from where the original town pump resided in Historic Dublin. Aside from the unique history that inspired this work, I can't help but favor it simply because of what it signifies: a local meeting place where, years and years ago, people would come to gather and exchange news. The modern day version of the pump welcomes the same type of environment. Located in the heart of the downtown Dublin area among restaurants, sweet shops, stores and even our own Visitors Center, Daily Chores not only exists in an area where people can gather and chat, but the sculpture itself has the potential to spark a conversation between strangers!
To be honest, getting out and exploring the city of Dublin's Art in Public Places isn't something I would have thought to do on an ordinary day, but after seeing the works in person and learning about their meaning, I have to say it is definitely worth your afternoon. The Dublin Arts Council even offers a free cell phone tour of the works that gives you insight from the artists themselves. Next time you're looking for a free activity that is fun for you and a friend or even for the whole family, I suggest you keep the Art in Public Places program in mind.