Grab your cooking utensils and put on your green apron because we've got the best St. Patrick's Day dishes to bring some Irish Attitude to your gathering. Celebrate the greenest, grandest day of the year with Shamrock punch, traditional Irish recipes and green treats that are sure to have your guests feeling lucky! Thanks to our Pinterest page and all the helpful blogger's we have an Irish themed menu for your St. Patrick's Day celebrate.
Drinks:
Kid Friendly- Shamrock Punch: Combine 1 Liter of Gingerale + 1 Gallon of Lime Sherbet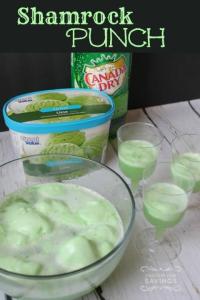 Adults Only- White Leprechaun: Combine 1 shot of Jameson Whiskey + 1 shot of Kahlua + 2 shots of creamer (Half & Half works great)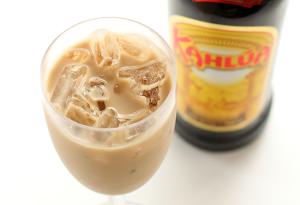 Appetizer: Hot Reuben Dip with Pumpernickel Bread
Ingredients you need: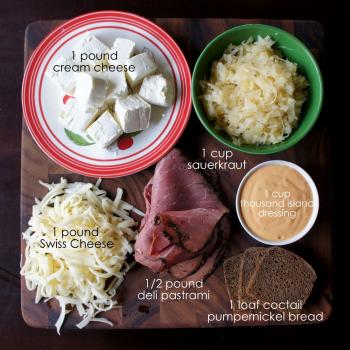 Cooking Instructions: 
Preheat oven to 415 degrees
Combine cream cheese, sauerkraut, thousand island dressing, pastrami and Swiss cheese in large bowl and mix
Pour mixture into an oven-safe dish and bake for 10 minutes, remove from oven and stir then return to oven for an additional 10 minutes
Serve with warm Pumpernickel loaf cut into slices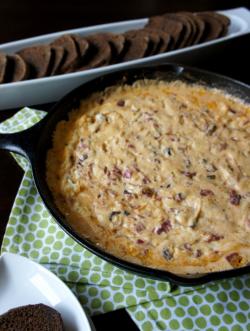 Main Meal: Option #1- Slow-Cooker Corned Beef & Cabbage
Ingredients you'll need:
4.5 lbs. corned beef brisket
2 medium onions, quartered
1 head cabbage, cut in small wedges
1/2 teaspoon pepper
3 tablespoons vinegar
3 tablespoons sugar
2 cups water
Cooking Instructions:
Combine ingredients in crock pot with cabbage on top
Cover and cook on LOW 10-12 hours & on HIGH 6-7 hours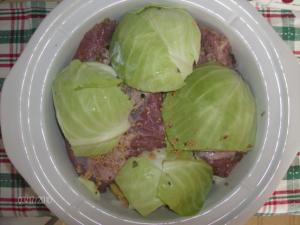 Option #2- Easy Sheppard's Pie
Ingredients you'll need:
1 lb. lean ground beef
2 cups hot mashed potatoes
4 oz. cream cheese
1 cup shredded Cheddar cheese
2 cloves garlic, minced
4 cups frozen mixed vegetables
1 cup beef gravy
Cooking Instructions:
Preheat oven to 375 degrees
Brown meat in skillet; drain
Mix potatoes, cream cheese, 1/2 cup cheese and garlic until blended
Combine meat, veggies and gravy; spoon into 9-in. pan, cover with potato mixture and remaining cheese
Bake 20 minutes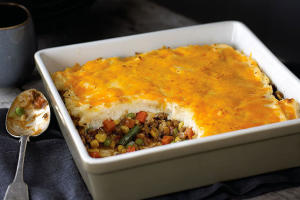 Dessert: Irish Cream Mini Brownie
Ingredients you need:
For Brownies-
For Irish Cream Frosting-
1.5 cups of confectioners' sugar
2 tablespoons butter, softened
1/4 cup Bailey's Irish Cream
Baking Instructions:
Bake brownies according to box instructions in mini cupcake pan
Combine confectioners' sugar, butter and Irish cream in small bowl, stir until smooth (not runny)

If mixture is dry add additional Irish cream teaspoon at a time
If mixture is wet add additional confectioners' sugar tablespoon at a time

Cut corner of Ziploc bag
Scrape icing into bag, squeeze and ice brownie tops
Add green sprinkles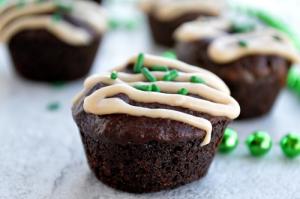 Snacks: Luck of the Irish Party Mix
Combine the following in a serving dish: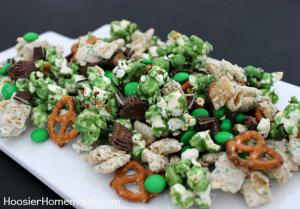 1 lb. bag mini pretzel twists
1 cup popped popcorn
1 bag green M&M's
1 King-size Reese's bar; chopped into pieces
5-10 Andes Mints; chopped into pieces
2 cups Chex-Mix drizzled in white chocolate

Layout Chex-Mix on cookie sheet, melt white chocolate, drizzle over Chex-Mix, let cool and combine with other ingredients

Any other assorted green candies
These great party dishes will fill your guests with Irish Attitude. Visit our Pinterest for more great Irish recipes, and tag all your photos with #SoDublin to be featured on our website! Happy *early* St. Patrick's Day!