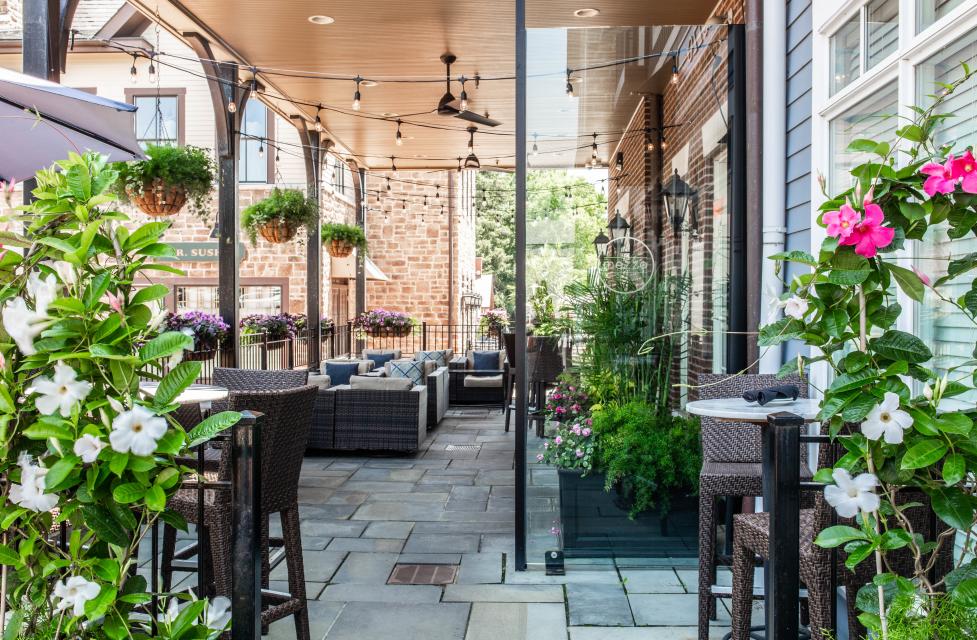 Nothing says, "Happy Summer!" quite like a refreshing beverage on a beautiful patio. Whether you're looking for something quaint and quiet or hustling and bustling, Dublin is home to your new favorite outdoor dining spot. Treat yourself to one of these top 10 Dublin patio dining locations.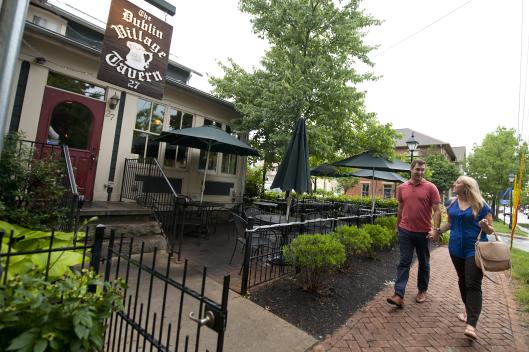 Dublin Village Tavern
Style: Irish Pub
Price: $$
Dublin Village Tavern offers a cozy environment, perfect for locals and visitors alike. There is plenty of people watching to do, as the patio sits just next to South High Street, among some of Dublin's most beloved local businesses. The juxtaposition of the hustle of High Street and the serenity of the patio offers something for everyone.
If you're looking for something relaxing, yet bustling, the Dublin Village Tavern is your go-to spot. You are sure to enjoy some of their Irish inspired menu items and imported draft beers - to enjoy them at a discounted price, stop in for happy hour, Monday through Friday from 3 pm to 7 pm.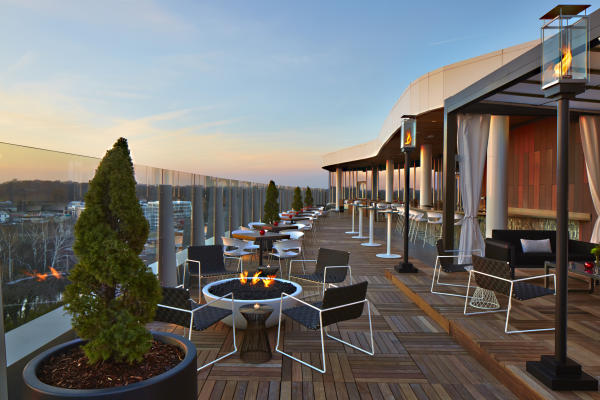 VASO Rooftop Lounge
Style: Spanish Tapas
Price: $$$
In search of the best rooftop view in Dublin? Look no further than VASO Rooftop Louge. High atop the AC Hotel, VASO serves up hand-crafted, unique cocktails and Spanish style tapas. Visit during happy hour (weekdays from 4 pm - 6 pm) for discounted food and drinks to pair with your amazing view!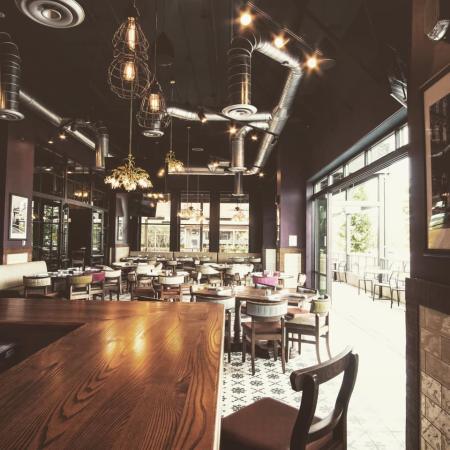 Fado Pub & Kitchen
Style: Irish/European
Price: $$
Enjoy your evening meal with an Irish twist at Fado Pub & Kitchen. Located at Bridge Park, Fado's patio is home to one of the best views of the new Dublin Link Pedestrian Bridge. Some of our favorite menu items include their Fried Goat Cheese appetizer and their Fish & Chips entree. Be sure to head there during happy hour, Monday - Friday 4 pm - 7 pm. 
101 Beer Kitchen
Style: Seasonal & Handcrafted
Price: $$
101 beer kitchen offers seasonal, handcrafted menu items with a unique twist and a friendly smile - there is truly something for everyone. Don't let the name fool you, your kids will love it too! Their patio, which sits in front of the restaurant, is covered yet feels open - perfect for the hot summer months and keeping your family close.
If you're looking for a fun night out around Dublin, 101 Beer Kitchen often hosts local breweries on their patio for some craft beer and food pairings by their very own Chef. Keep up with their website to buy a flat rate ticket for these special events before they sell out!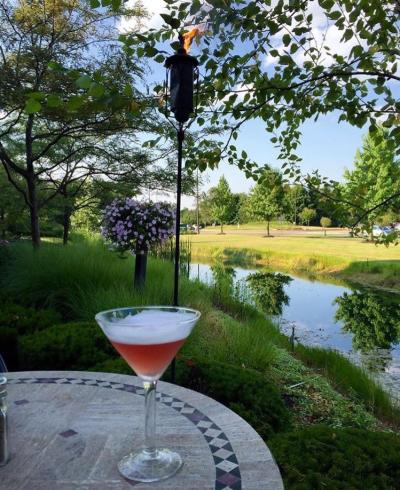 @khook19 enjoyed a martini on Matt the Miller's patio with her mom.
Matt the Miller's
Style: American Traditional
Price: $$
Matt the Miller's is well known for offering fresh, high-quality food, but they also offer great service in a beautiful atmosphere. The patio at their Dublin location is one of the most Instagram-worthy views in town. While lunch and dinner are always fantastic at Matt's, their brunch is one of the best meals to enjoy on the patio. Grab yourself a drink from their "Ultimate Bloody Mary Bar" and enjoy!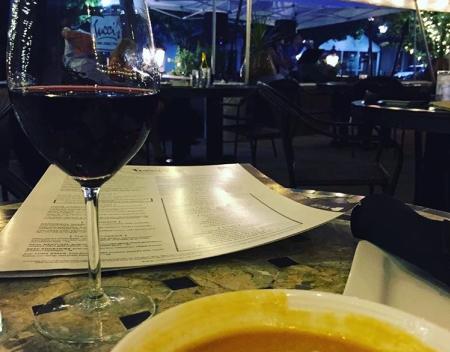 @olgaisaimo enjoyed a glass of wine on the beautiful Tucci's patio.
Tucci's
Style: Seafood & Steakhouse
Price: $$$
Tucci's is of course well known for their upscale dining experience, but possibly their biggest claim to fame is their patio. It is one of the largest on the list and the only one that offers live music 7 nights a week. For this reason, the atmosphere is more bustling than perhaps any other location in Dublin. If you're looking for a lively atmosphere with quality food and wine options, Tucci's is the way to go. Their happy hour extends to the patio, so stop by for deals on cocktails, wine, beer, and appetizers, Monday through Saturday from 3 pm to 6 pm.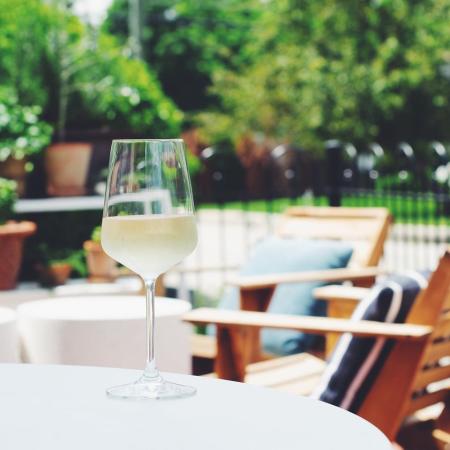 Coast Wine House
Style: Small Plates/Wine Bar
Price: $$$
Coast Wine House is home to one of Dublin's newest patios located right in the heart of Historic Dublin. Serving up a rotating menu made up of locally sourced, seasonal small plates and wines from across the globe, Coast is bound to be your new favorite spot for sips and sunshine.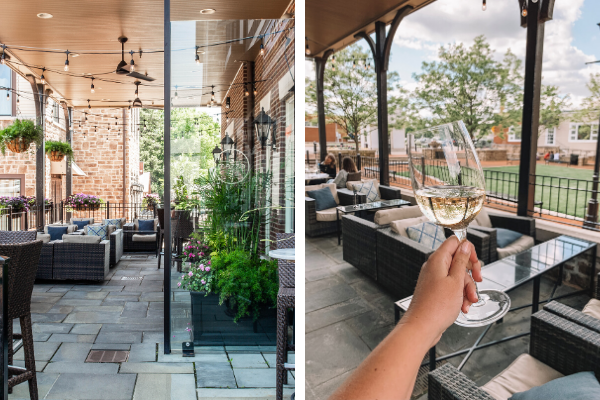 Mezzo
Style: Italian
Price: $$$
Mezzo is one of the most unique locations on the list, as it is not only two stories, it also has 3 patios! Each one offers slightly different views and scenery, but all 3 are open for happy hour, so you can't go wrong. Strung up lights and chandeliers give it a warm, cozy feeling, perfect for date night. Happy hour is available Monday through Friday, 4 pm – 7 pm, featuring beer, wine, cocktails, small plates, and pizzas.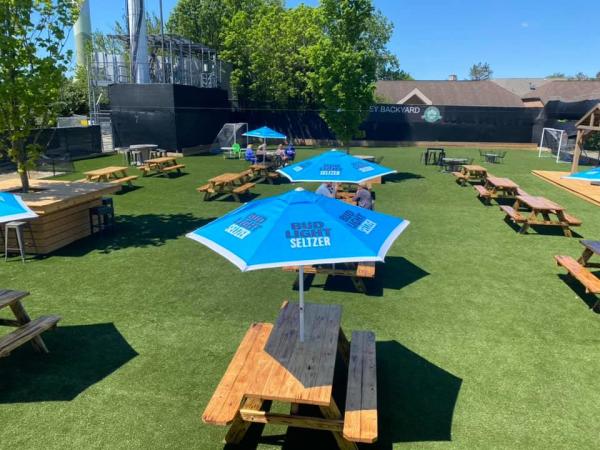 The Bogey Bar & Grill
Style: American Cuisine, Pizza
Price: $
The Bogey offers a fun and upbeat atmosphere with their daily dining specials, live music, and open sand volleyball on the weekends. In the summertime, outdoor events at the Bogey are the place to be! Keep up with their line-up of musical acts and events on their website, linked above. This location is perfect for a night out to happy hour or dinner with friends – get there between 3 pm and 6 pm, Monday through Friday to catch great deals like half-off appetizers and $4 local drafts.
Sunny Street Café
Style: Breakfast Café
Price: $
Sunny Street Café is the best destination for fresh and wholesome food with friendly service. Their Dublin location offers a patio, perfect for brunching on a beautiful day. Their patio, similar to 101 Beer Kitchen's in set up, sits in front of the restaurant and is partially covered and enclosed without feeling cramped.
Hit the patios and share your memories with us using #SoDublin. For more dining options in Dublin, click here.