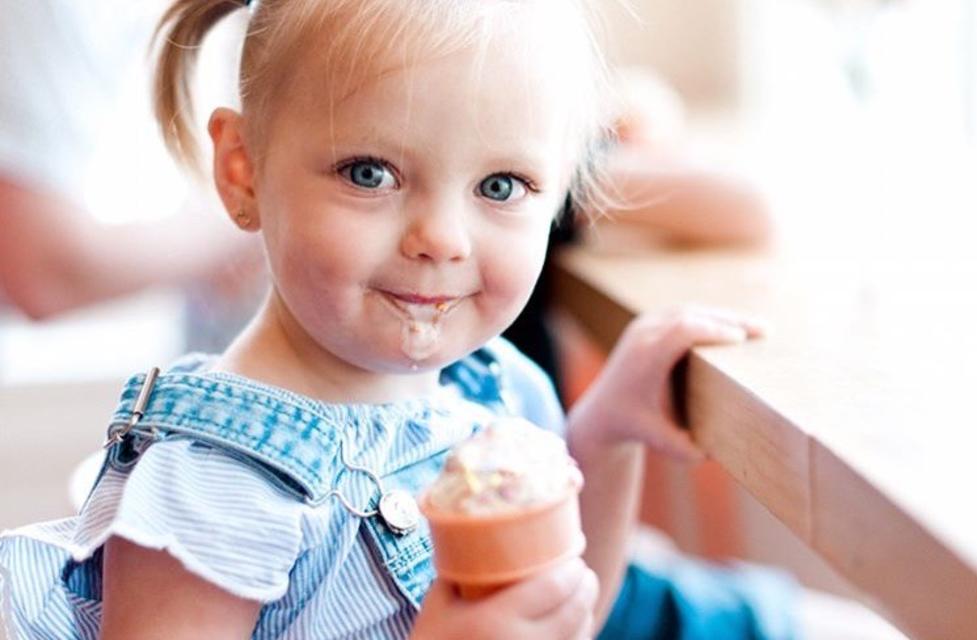 Fill your cone in Dublin, Ohio at some of the most unique, locally owned ice cream shops you could ever hope to enjoy. For locals and visitors alike, grabbing a scoop at any one of these locations is sure to give you a taste of some of the best frozen delights Dublin has to offer.
Jeni's Splendid Ice Creams
Situated in the heart of Historic Dublin, Jeni's is the perfect spot to stop for a treat after you enjoy dinner at one of Downtown Dublin's many restaurants. Jeni's is well known for offering unique flavors such as goat cheese with red cherries, churro, and middle west whiskey and pecans, but something that really stands out about them is the absence of stabilizers and emulsifiers from their label. Jeni's prefers a more complex process that builds texture and a wide variety of flavors. If you're not an ice cream risk taker, don't worry. Jeni's does the classics just as well as they do Riesling poached pear sorbet. The more conservative ice cream eater will love their milkiest chocolate, salty caramel, and mint chip.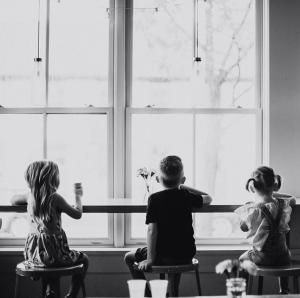 @alexwrightphotography captured this shot of these cuties enjoying some Jeni's Ice Cream.
Preview photo credit: @alexwrightphotography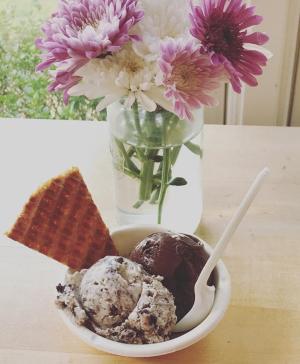 @sefokerth snapped this picture-perfect photo of her Jeni's dish.
Graeter's
While Graeter's now has storefronts in more than 50 neighborhood locations, each one will make you feel as though you are in a small-town ice cream parlor. Graeter's is famous for flavors like black raspberry chocolate chip and butter pecan pie, which Oprah Winfrey herself has professed is her favorite ice cream! You really can't go wrong with anything on the menu, but some additional local favorites are the buckeye chocolate chip (a tribute to the famous Ohio buckeye candy) and salted caramel chocolate chip.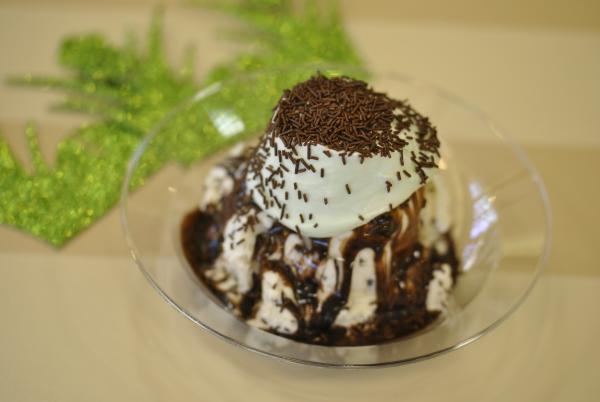 Johnson's Real Ice Cream
Johnson's is a 4th generation, family-owned ice cream shop with two locations in Central Ohio. Their Dublin shop carries on their commitment to the area and offers some traditional flavors while branching out into specialty flavors like lemon cha cha and coffee and cool beans.  Like some of the other locations on our list, Johnson's embraces Ohio State pride by offering a flavor called buckeye fever, featuring the classic peanut butter and chocolate pairing that Central Ohioans love. These classic flavors along with local favorites are a must-try for those visiting Dublin, Ohio!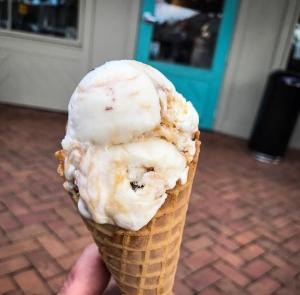 @jasonjosephphotography rewarded himself for a hard days work with a cone from Johnson's.
Kilwins
Kilwins offers everything sweet you could possibly want and let's be honest, we love it all. Travel towards the back of their Dublin location to find some of their original recipe ice cream that they have been making since 1985. With flavors like peanut butter pie and turtle cheesecake, you really can't go wrong.
Insider tip: the Dublin location offers Muirfield Mud, a flavor unique to just this location, which pays homage to Muirfield Village Golf Club, home to the Memorial Tournament. 
For more sweet reasons we know you will love Kilwins as much as we do, click here.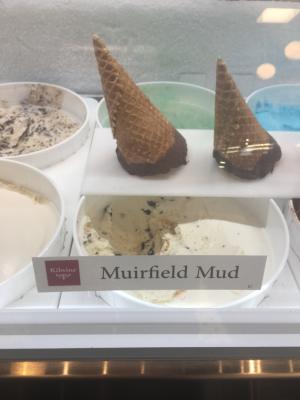 Diamonds Ice Cream
Diamonds has a wider variety of options than possibly any other shop on this list. Their ice cream is one of the best, only to be rivaled by their wide variety of homemade paletas and milkshakes. Paletas are Mexican ice pops – usually full of fresh fruit, but Diamonds also offers a cookie dough option. Locals describe the mango paleta as "refreshing", saying that they enjoy the authenticity of Diamond's. If you can't decide, given the vast number of menu options, do a little taste test to find your favorite! You are sure to love their unique offerings and friendly service. Now available for take-out only!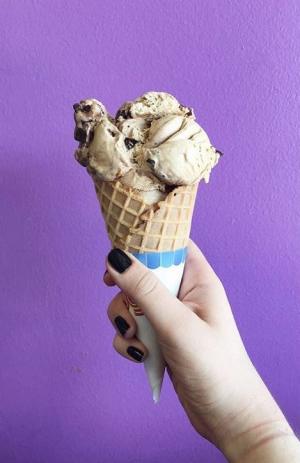 @rachelfarber enjoyed a cone Diamonds.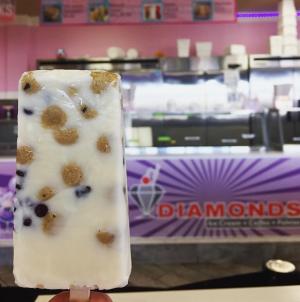 @whatshouldwedotoday_cbus enjoyed a cookie dough paleta at Diamonds.
Dell's Homemade Ice Cream & Coffee
Dell's does the classic flavors with a little twist. Flavors like caramel chocolate covered pretzel and E.T. (vanilla ice cream swirled with peanut butter and packed with peanut butter candies) are sure to satisfy the savory lover. For those that prefer something sweeter, try their pink and blue cotton candy or the strawberry flavor. Make sure to ask about their flavor of the month as well! Dell's is unique in that they offer great coffee and teas in addition to ice cream. Locals love their espresso, lattes, and iced drinks. Look out for their healthy treat options while you're getting your morning coffee, too. Their flax muffins and real fruit smoothies are sure to get your day off to a great start.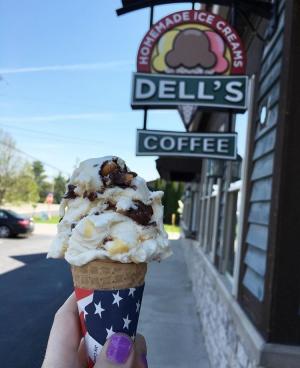 @alicia.wanders can't get enough of Dell's Homemade Ice Cream.
Menchie's Frozen Yogurt
While Menchie's is a frozen yogurt shop, it most definitely belongs on this list of our favorites! This location is unique in this list, as it is a self-serve setup. They offer a variety of fro-yo flavors with what seems like an endless selection of toppings to add. Whether you want classic vanilla, peachy keen, or cookie dough monster, you will certainly find something to satisfy your craving. Menchie's also offers a wide variety of low carb and no sugar added options; something for everyone! Don't forget to ask about their custom cakes with all your favorite flavors and toppings for your special events.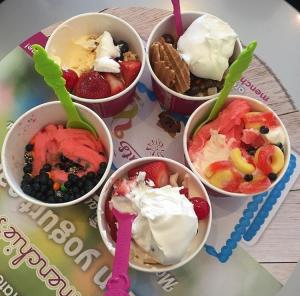 @lisa2555 & crew enjoyed all kinds of toppings at Menchie's.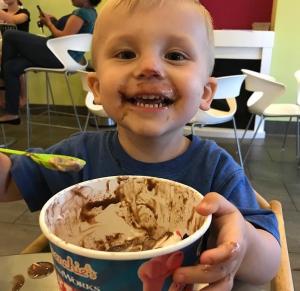 @jwestrick captured this shot of his son loving his Menchie's Fro Yo!
Share your sweet memories with us using #SoDublin and for more Dublin dining, click here.