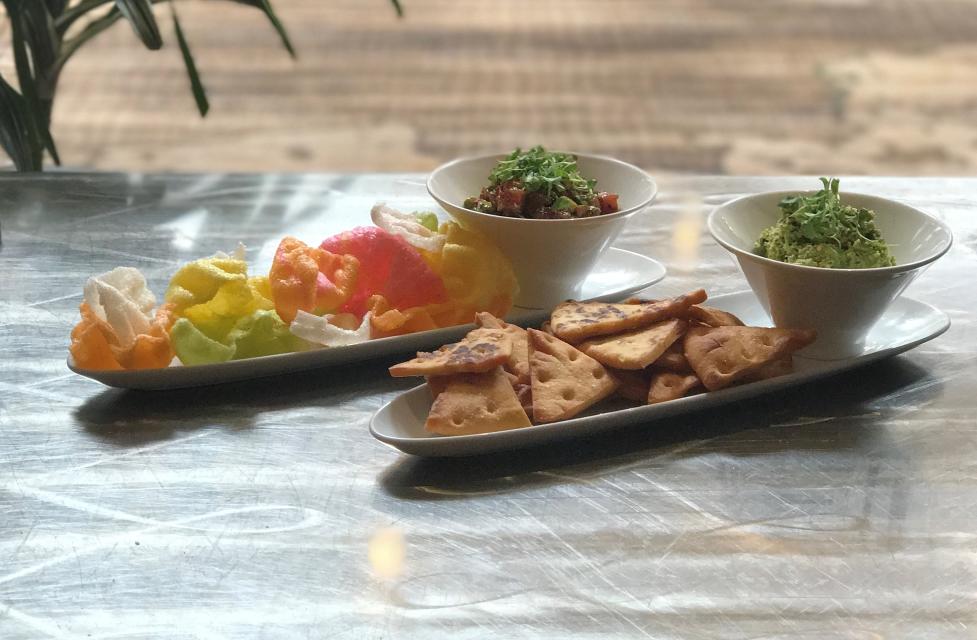 The Columbus Marriott Northwest has not only reinvented their look, but the reputation of hotel cuisine as well. Their brand-new restaurant, Two Brother Bar & Kitchen, is giving a whole new look to hotel dining and embracing some of Dublin's history. With their focus on freshness, innovation, and local pride, the Columbus Marriott Northwest is a wonderful place to hang your hat during your visit to Dublin.
The Meaning Behind the Name
The name Two Brother pays homage to some of the original settlers in Dublin. In 1801 Peter and Benjamin Sells came to the region and purchased land on the back of the Scioto River that would ultimately become home to their family. The Sells family asked the surveyor of their land to name their new home. He responded that it reminded him of his home, Dublin Ireland, and thus, Dublin, Ohio was born. While the City of Dublin has certainly changed quite a bit since then, the Marriott Northwest embraces the history of their home city and decided to pay homage to its roots in naming their restaurant.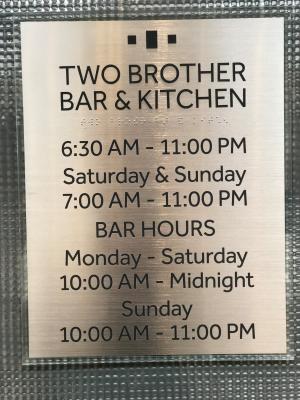 Looking to incorporate a bit of Ireland into your visit? Two Brother offers Guinness on tap, an Irish classic or the Dublin Mule, a traditional mule beverage, but made with Jameson Irish Whiskey.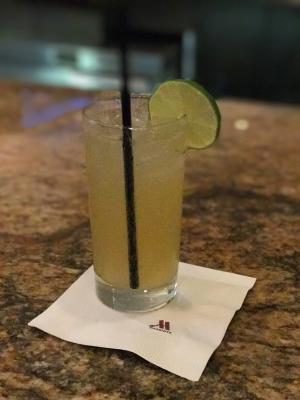 Why is it Unique?
Chef Tyler has masterfully crafted a menu full of unique, colorful, vibrant options. The food is colorful and creative, with options like guacamame with pita wedges and an ahi poke dish with multi-color chips as appetizers.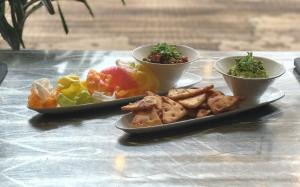 It is all the things you normally love with a bit of a twist. If you're looking for something a bit heartier, we recommend the bleu cheese steak fries, the only fry we've ever seen that is big enough to require a knife and fork. Another favorite is the crispy pork belly, served in a bowl with balsamic brussels sprouts - a must try.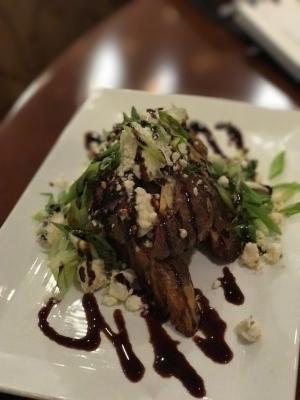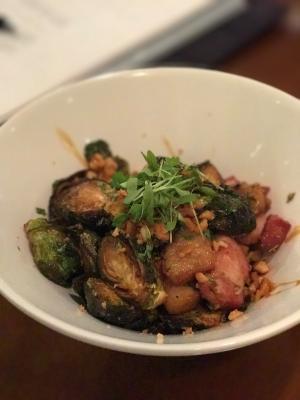 Looking for something to share? We loved the house made sausage and aged gouda flatbread. If you're looking for something a bit lighter, try the quinoa ancient grain salad with goat cheese; it offers plenty of favors and texture.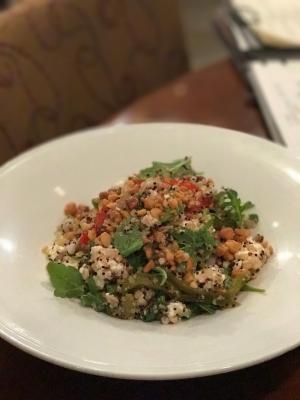 Elements of the décor like the buffet wall and bar also incorporate texture and juxtapose nicely with one another.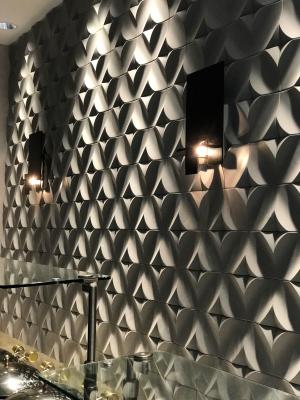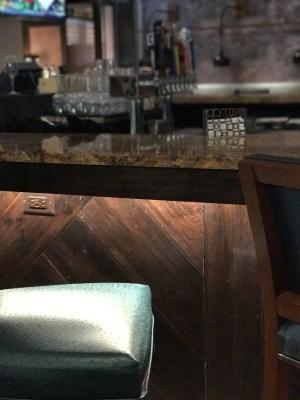 Local Love
Beyond just embracing the history of Dublin, Two Brother has really embraced what Ohio has to offer. You will notice that Watershed Distillery and OYO liquors are featured prominently on the cocktail menu. Watershed even has multiple lighted displays throughout the restaurant.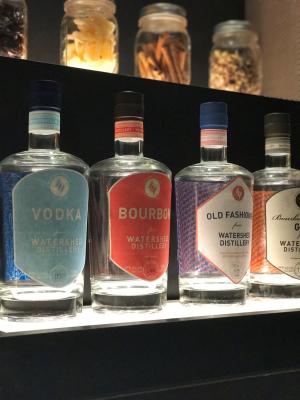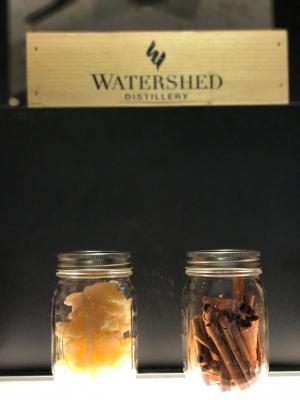 On tap you will find local breweries like Columbus Brewing Company, Great Lakes Brewing Company, and Land Grant.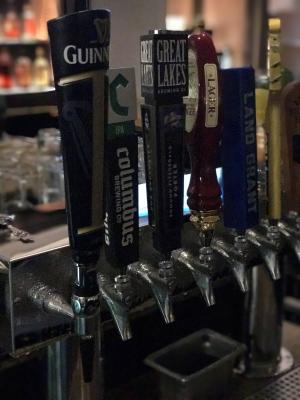 While Two Brother has certainly brought some new flair to this Marriott location, the entire hotel got a new look! The first thing you see when you enter the lobby is this modern chandelier, incorporating both lights and gears into it's design. Different types of sound barriers throughout the lobby/atrium space give hints of the types of textural elements that you will also see throughout the restaurant.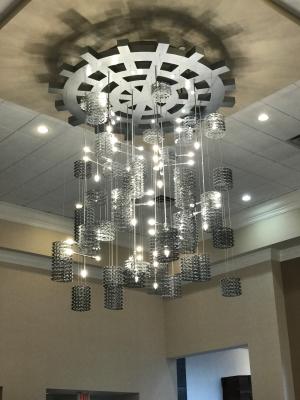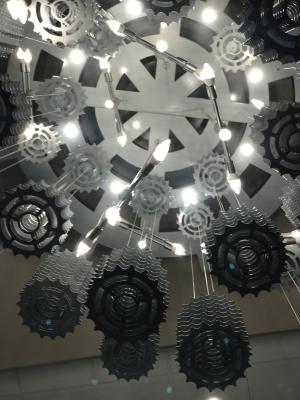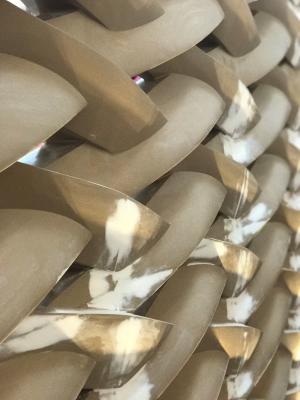 The guest rooms were renovated with a clean and modern look that will make you feel at home. Metal, bed-side light fixtures mirror the mechanical look that you saw in the lobby chandelier. Guest rooms offer mobile desk spaces, comfortable living spaces, and smart TV's for those who love their Netflix.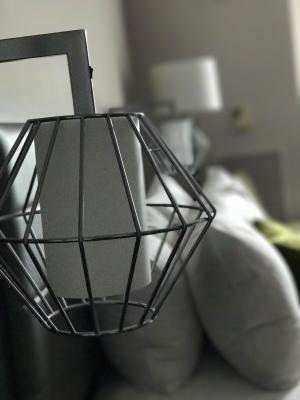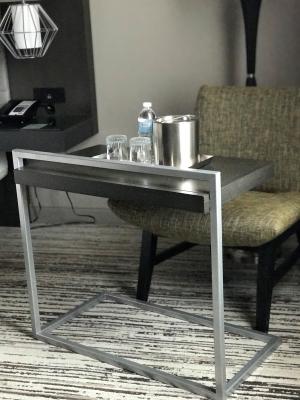 Want to have a comfortable night in after a long day of exploring Dublin? No problem. Check out the Marriott's new Fresh Bites menu, with all the classics like pizzas, sandwiches, soups, and salads, but in a way you've never seen a hotel do it before. Stay comfortable in your room, the food will come right to your door in a take-out style bag. Already know what you want the day before? Fill out the menu provided in your room and hang it on your door, it will arrive as requested to you room. No more having to worry about what to do with that room service cart the next day. Hungry late at night? No problem. Their late night menu offers things like a House Roasted Turkey BLT or a chicken Cobb Salad, offered from 11:00 PM to 6:00 AM.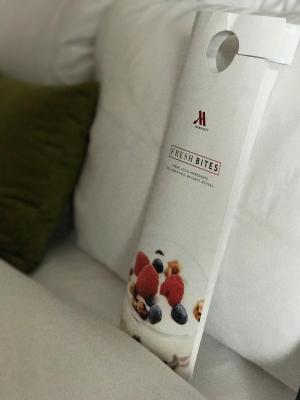 Looking for more dining in Dublin? Click here.