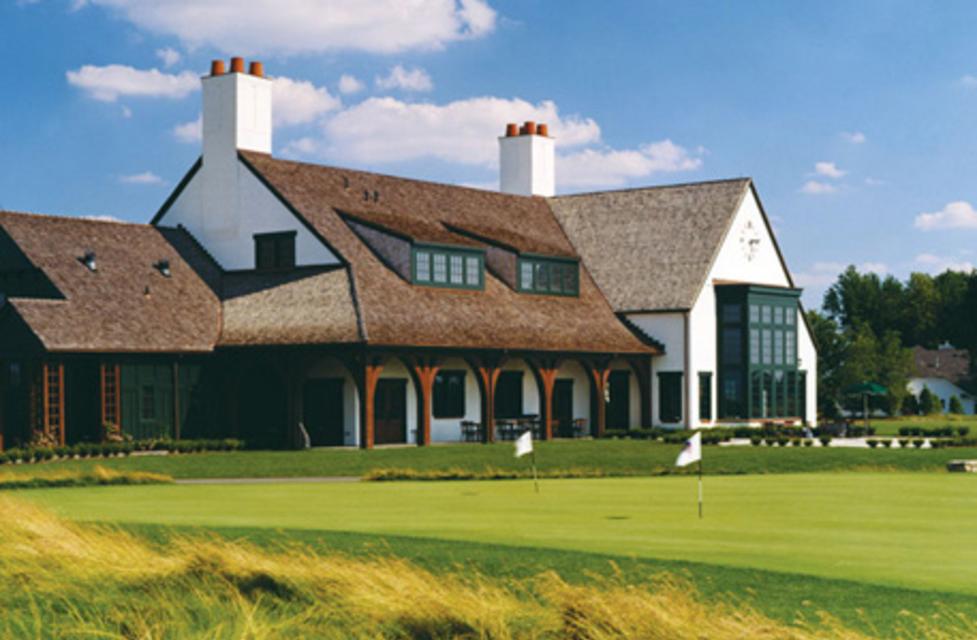 It's true. The Memorial Tournament presented by Nationwide will have limited fans this year but that doesn't mean you can't celebrate! Golf is our thing here in Dublin and not just during Tournament Week.
To get you inspired, we've rounded up some alternative ways to best celebrate the Memorial Tournament right here in Dublin.
Scoop Up the Muirfield Mud
We promise it is much more delicious than it sounds! The Muirfield Mud ice cream flavor at Kilwins is the sweetest way to celebrate Tournament Week at Bridge Park. Enjoy vanilla ice cream mixed with caramel and chocolate.
Learn more about Kilwins here.   
Golf Shop Pop Up At North Market Bridge Park
Get your Tournament gear right here in Bridge Park. The Memorial Tournament Pop Up Shop is a temporary retail location inside North Market Bridge Park and is open for business selling the best swag around. Shop shirts, hats and activewear, pin flags, golf chairs, drinkware, sunglasses and more. Be sure to grab a limited-edition Teddy Bear, with all proceeds being donated to Nationwide Children's Hospital.
Learn more about the Golf Shop here.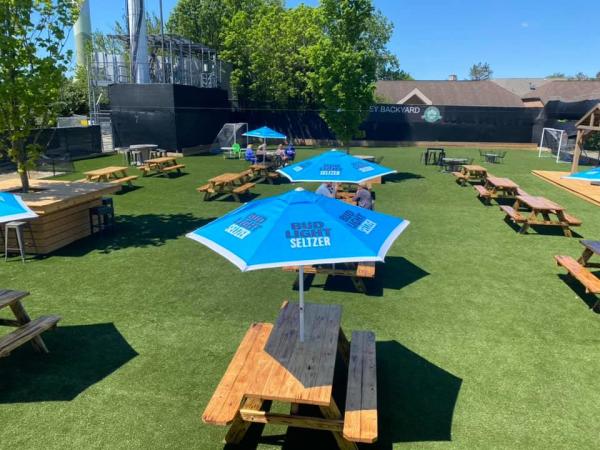 The Bogey Inn Watch Party
The watch party traditions live on at The Bogey Inn. This year might look a little different but you can rest assured the same golf-loving spirit will be brimming at Dublin's favorite watering hole. The Bogey Inn is hosting live music and serving up spirits, and food while following all social distancing and CDC guidelines.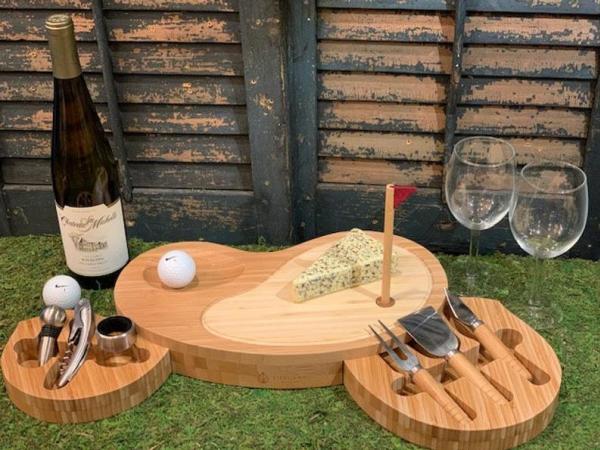 Grab a Golf Gift
Heading to a small tournament watch party? Having one of your own? Grab all your golf-themed gifts and home décor right here in Dublin. Impress your guests with items like this Putting Green Cheese Board and other golf-themed items from Extravagifts.
For more shopping in Dublin, click here.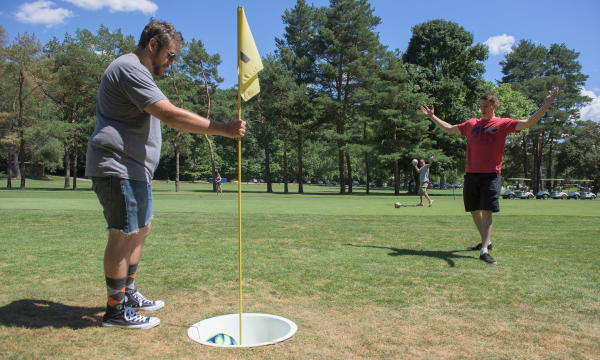 A New Game at SportsOhio
Not only does SportsOhio have a driving range and miniature golf course, but this 100-acre sports park is home to a new kind of game: FootGolf. Instead of clubs, you use your feet and a soccer ball to enjoy the best of both sports.
You can learn more about SportsOhio and FootGolf here.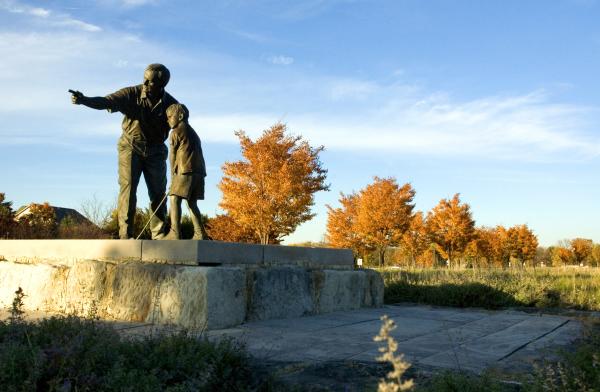 Jack Nicklaus Public Art
Dublin is home to more than 70 public art pieces, but did you know there is one that pays tribute to Jack Nicklaus? This larger-than-life-sized piece depicts Jack Nicklaus as a master of his game and also a mentor to the next generation of golf pros! You can view this sculpture in the Muirfield Drive median at Brand Road.
Learn more here.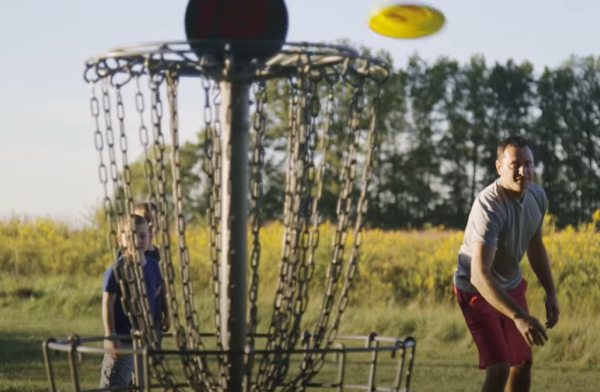 Disc Golf
All of the excitement at zero cost! Disc golf is alive and well in Dublin. Head outdoors to one of our courses for some free family fun. Here are our favorites:
Glacier Ridge Metro Park
Indian Run Methodist Church by Avery Park
Balgriffin Park on Woerner Temple Road
Don't forget to bring your own frisbee! Learn more here.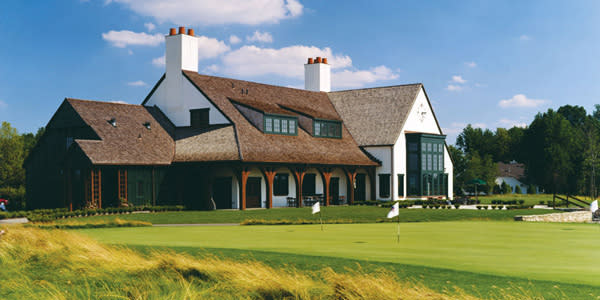 Get a Hole in One at Golf Club of Dublin
Play a round with an Irish twist at Dublin's public golf course, Golf Club of Dublin. Whether you're there for a quick nine holes or the full 18, Golf Club of Dublin will keep your game on par. Check out The 19th Hole restaurant for some post-round refreshments.
Learn more about the Golf Club of Dublin, here.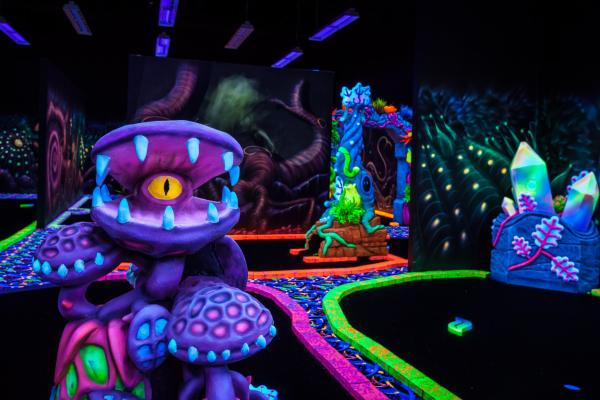 Glow Putt-Putt at Scene75
Head to the largest indoor entertainment center in the country for some good old-fashioned fun! Scene75 hosts a large array of games and activities. During Tournament week, we recommend checking out their themed blacklight mini-golf courses featuring Monsters and Creatures Under the Sea! Scene75 is open on weekends and is located inside Tuttle Mall.
Learn more here.
Aida Garrity: Dublin Golfscapes Exhibition
Head to the gallery at the Dublin Arts Center near Scioto Park to view golf-inspired landscapes on display. As a Dublin resident, Aida Garrity brings some of Dublin's iconic golf landscapes to life in this exhibit on display through June 7.
Learn more here.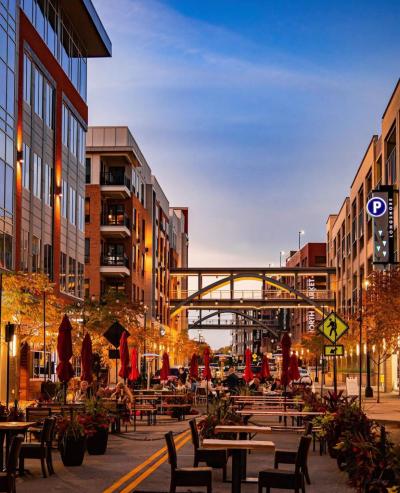 BONUS: Patio Season at Bridge Park
All that activity makes us hungry! The restaurants at Bridge Park are taking full advantage of patio season and have extended their outdoor seating in the street. Head to Longshore Street where your favorite local eateries like Z Cucina, Hen Quarter and Urban Meyer's Pint House are serving up deliciousness, al fresco. Also, don't miss Dublin's Designated Outdoor Refreshment Areas, active Thursday-Saturday 5 pm - 10 pm. 
Read more here.
Golf is our thing here in Dublin. Get out and enjoy these activities inspired by the greatest game ever played.
For more things to do in Dublin, click here.