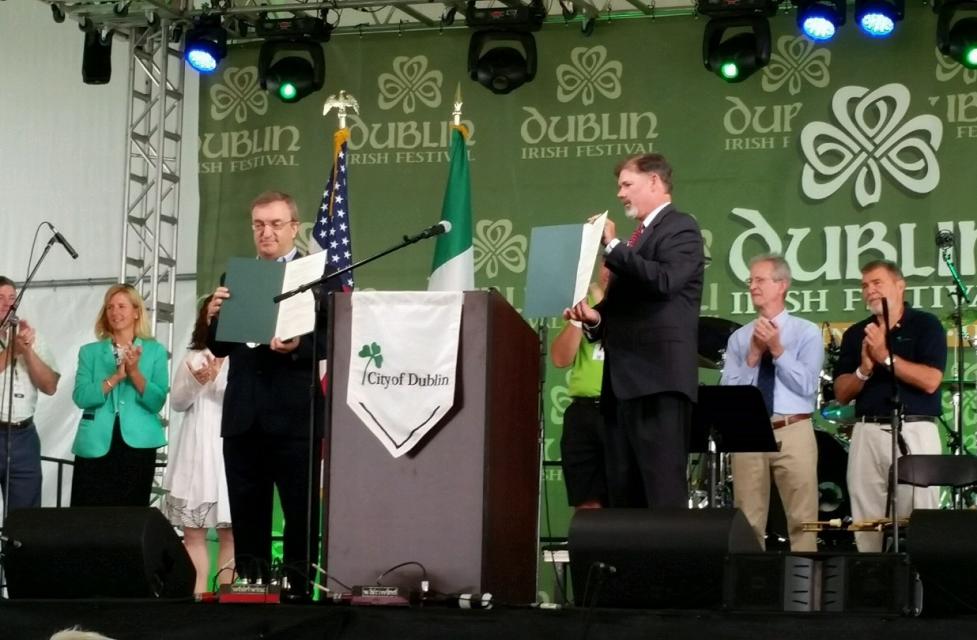 (Dublin, Ohio) Officials from Dublin, Ireland and Dublin, Ohio will formalize a Friendship City agreement Saturday, August 5, 12:45 p.m., on the Dublin Irish Festival's Scotts Miracle-Gro Dublin Stage.
Dublin, Ohio Mayor Greg Peterson and Dublin, Ireland Lord Mayor Mícheál Mac Donncha will sign the Friendship City agreement on the stage during a celebration of the 30th anniversary of the Dublin Irish Festival.
"We are honored to welcome Lord Mayor Mac Donncha and solidify a relationship that has been more than 200 years in the making," said Dublin Mayor Greg Peterson, recognizing the City's Irish roots.
The Friendship City agreement states the two Dublins will participate in at least one exchange annually, in areas such as education, local government, business or the arts. Friendship City relationships are generally less formal than those between Sister Cities, with the potential to evolve to that status.
Recent diplomatic engagements have resulted in strong relationships between the two governments, but the two cities have long been connected.
1810
After surveying John Sells' settlement, Irishman John Shields names the land Dublin after his birthplace of Dublin, Ireland, forever linking the two cities. 
1988
The two Dublins celebrate special birthdays: one year as a city for Dublin, Ohio and 1,000 years for Dublin, Ireland. The 1/1000 Committee was formed to celebrate the milestone, later becoming the Dublin Irish Celebration and finally, the Dublin Irish Festival.
2013
Former Mayor and current Council Member Tim Lecklider represents Dublin, Ohio at a "Gathering of the Dublins" in Dublin, Ireland. Upon his return, he suggests Dublin, Ohio explore a formal cultural partnership with Dublin, Ireland.
2015
Dublin, Ohio forges its first Friendship City agreement with Mashiko, Japan and begins discussions about other cities and countries with which Dublin, Ohio should establish formal relationships.
2016
Then-Consul General of Ireland Orla Mc Breen attends Dublin, Ohio's Dublin Irish Festival, and later Lord Mayor Brendan Carr meets with Dublin, Ohio officials at City Hall.
2017
Minister of Natural Resources Sean Kyne and current Consul General of Ireland Brian O'Brien attend Dublin, Ohio's St. Patrick's Day celebration. O'Brien visits again to honor the Dublin Irish Festival at the Memorial Tournament.
Members of the media can request credentials for the event online at: http://dublinirishfestival.org/media-credential-request-form/
About the Dublin Irish Festival
Set on 38 rolling acres in the heart of Coffman Park in Dublin, Ohio USA, The Dublin Irish Festival is consistently referred to as one of the nation's largest and premier Irish cultural events. More than 100,000 guests are expected to attend the Festival's 30th Anniversary Aug. 4, 5, & 6, 2017. With seven stages, 65 acts and more than 535 performers, there is truly something for everyone. For more information and to buy discount tickets, please visit www.dublinirishfestival.org.
Media Contact:
Sarah McQuaide, Public Information Officer
614.410.4523 – Desk
614.593.9438 – Cell
Newsroom: http://dublinohiousa.gov/newsroom/