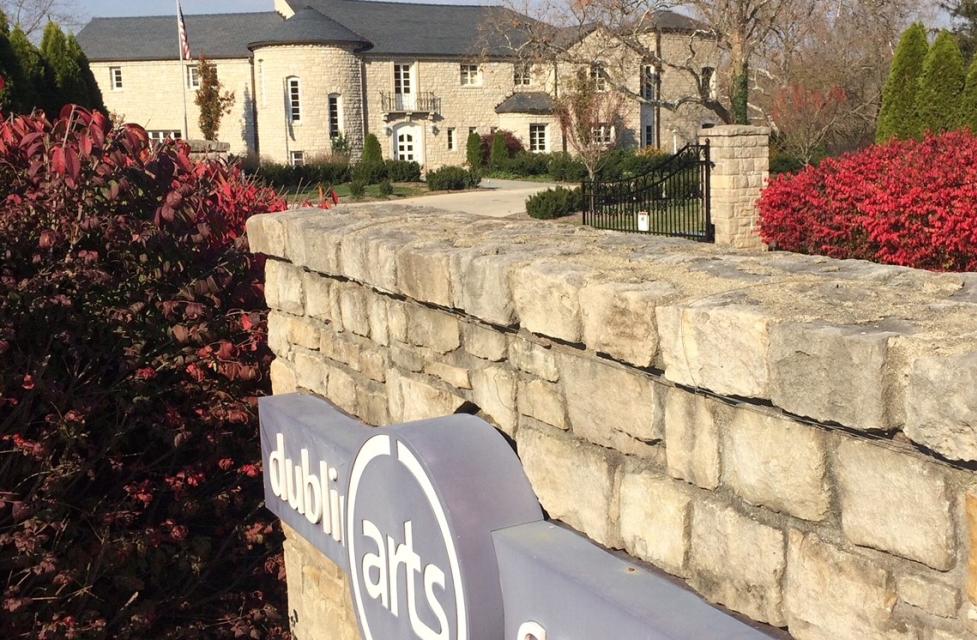 DUBLIN, Ohio– (Aug. 13, 2018) Dublin Arts Council will host a free open house in the historic Dublin Arts Center, 7125 Riverside Dr., Dublin, Ohio, on Monday, Sept. 10 from 4 to 8 p.m. The event features guided and self-guided tours, an interactive photo collage project and more. The open house is being held as part of Ohio History Connections' Ohio Open Doors initiative, created in 2016 to celebrate the 50th anniversary of the National Historic Preservation Act. During 10 days of Ohio Open Doors events, Ohio historic buildings and landmark sites are opened to encourage Ohioans to discover community heritage.
The Dublin Arts Center is located in a historic home listed on the National Register of Historic Places. The stunning French Eclectic styled estate, built in 1941 by Charles and Sarah Krumm, features original art deco tile and fixtures, a circular stone stair tower and field stone wall cladding. The 4,800-square-foot home, sited on more than four acres of sloping riverfront grounds, is perhaps best known as home to the Gelpi family, the founders of Swan Cleaners who lived on the estate from 1947 to 1985, entertaining numerous political leaders and celebrities in their home over the years.
Guests are encouraged to bring artifacts, such as photos, newspaper clippings and memorabilia to share in a community-curated exhibition. Storytelling activities will include creating written accounts and a video recording station.
For more information about the Dublin Arts Center open house and to view the self-guided tour, visit www.dublinarts.org/dublinartscenter. Information about Ohio History Connections' Ohio Open Doors events, which take place Sept. 7 through 16, 2018, can be found at www.ohiohistory.org.