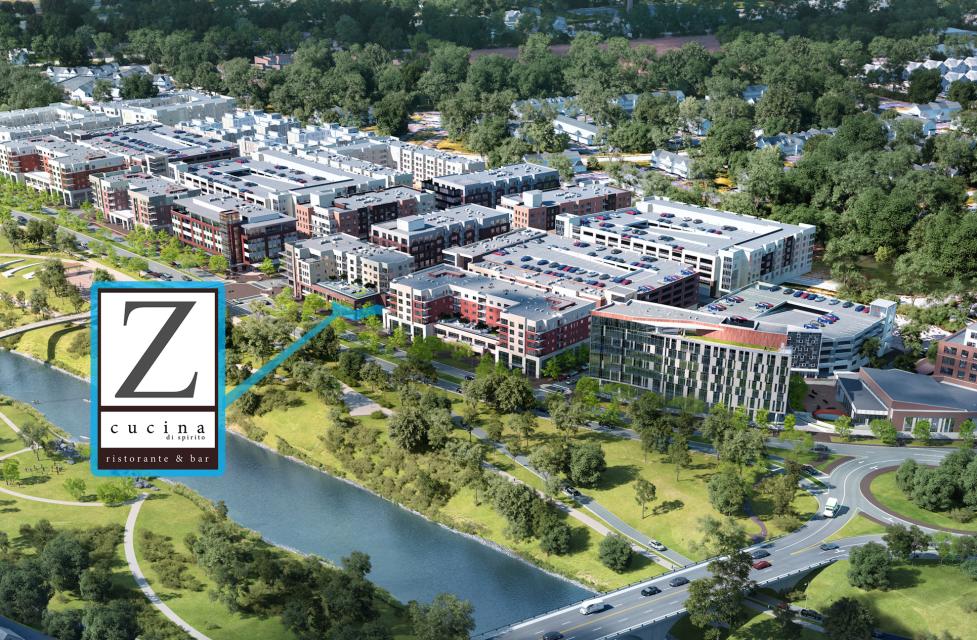 Z Cucina di Spirito is set to open its second location in downtown Dublin in Spring 2018.
DUBLIN, OHIO – Known for its unique Italian flair, Z Cucina di Spirito is bringing its "scratch kitchen" to Bridge Park. Dedicated to making each dish from raw ingredients in-house, Z Cucina serves modern Italian cuisine with a Mediterranean twist. With a projected spring 2018 move-in, the restaurant will occupy 4,800 sq. ft. at 6584 Riverside Drive.
The opening of the first restaurant fulfilled a dream for owner Rick Ziliak of establishing a "neighborhood restaurant" with an "edge." Z Cucina hopes to bring that same edge to Dublin with its second location.
"My goal is to make Z Cucina at Bridge Park a place where the community can connect over great cuisine alongside great people," said Ziliak. "We're excited to add to the flavor and ambiance of Bridge Park and Dublin."
Crawford Hoying President, Brent Crawford said, "With Z Cucina opening at Bridge Park, we've added a new, great central Ohio favorite to Dublin for residents and the surroundingcommunity to enjoy."
To request more information on commercial leasing, visit www.bridge-park.com/work or call 614.333.6415.
About Z Cucina di Spirito
Z Cucina is a modern, white-tablecloth Italian restaurant and bar that serves upscale, seasonal fare. While serving traditional and modern Italian cuisine, they also dive into the realm of Mediterranean flavors. With well seasoned small plates, salads and main courses, Z Cucina is truly a "scratch kitchen" as they make their own ricotta cheese, mozzarella cheese, sausage, breads and desserts. The restaurant features a full bar with specialities, and offer a well crafted, artisan wine list with gems from the various regions of Italy, as well as Spain, France, Australia and the U.S. Z Cucina offers catering for both pick up or drop off. To learn more about Z Cucina,
visit www.zcucina.com or call 614.486.9200.
About Bridge Park
Bridge Park is the newest and only walkable, mixed-use community in downtown Dublin. Spanning 30 acres along the Scioto River, it is the cornerstone of the city's long-term vision for the Bridge Street District. The unique community features luxury condos and apartments, a large-format grocery, restaurants, shops, Class A office space, entertainment venues, a hotel and conference center and multiple green spaces. Bridge Park includes 373,000 square feet of executive Class A office space to meet the needs of small and mid-size businesses. To learn more about Bridge Park, visit www.bridge-park.com. About Crawford Hoying Crawford Hoying is a full service real estate development company, based in Dublin, Ohio. Concentrating in all aspects of acquisition, design, development, construction, management, as well as commercial and residential brokerage. In the past five years alone, they have developed over $1 billion of mixed-use, multifamily, office and retail properties. Crawford Hoying creates a sense of Place; focused on consumer needs from a commerce, culture and community perspective. Bridge Park, www.bridge-park.com and Water Street District, www.livewaterstreet.com are examples of Crawford Hoying's transformational development capabilities. To learn more about Crawford Hoying, visit www.crawfordhoying.com.