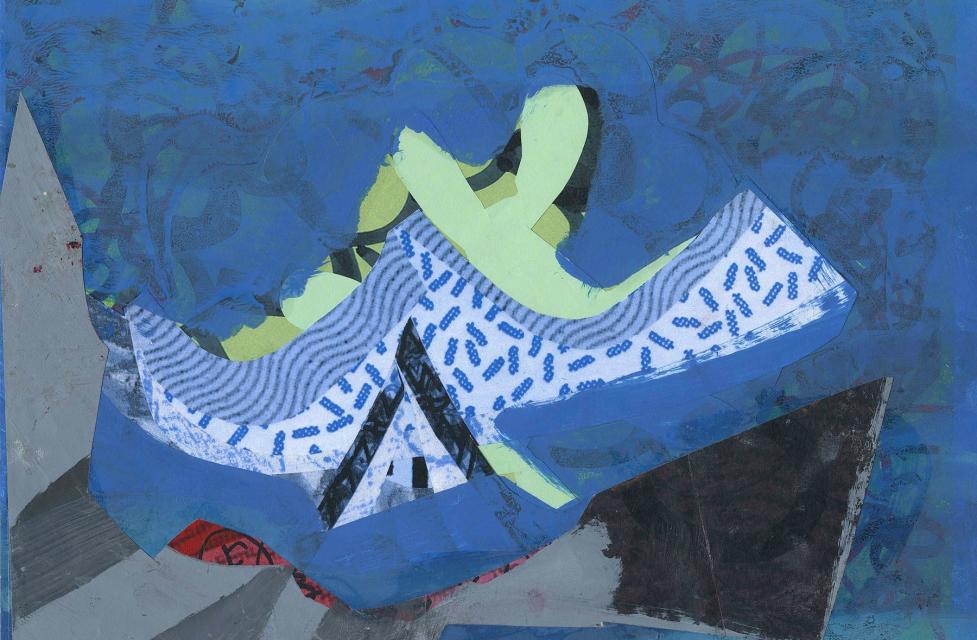 DUBLIN, Ohio– (Oct. 17, 2017) Louise Captein: As Per Usual, an exhibition of abstract collage, will be on view Nov. 14 through Dec. 15 at Dublin Arts Council, 7125 Riverside Dr., in Dublin. The exhibition opens with a reception for the artist Tuesday, Nov. 14 from 6 to 8 p.m. The exhibition and the reception are free of charge. 
Captein values the qualities of spontaneity and directness, which she embraces in her artwork. Through her career, she has been fascinated with the content of abstract and semi-abstract forms and by the effects of arbitrary color. She seeks depth, volume and richness in layers, much the way one layers clothing on the body.
Captein, an associate professor in the Department of Art at Otterbein University in Westerville, Ohio, studied painting and drawing/printmaking over a 10-year period in Amsterdam, the Netherlands. She is currently a Master of Fine Arts student at School of the Art Institute of Chicago.
Gallery hours are Tuesday, 10 a.m. to 7 p.m.; Wednesday through Friday, 10 a.m. to 5 p.m.; and Saturday 11 a.m. to 2 p.m. Additional information can be found at www.dublinarts.org or by calling 614.889.7444. 
Dublin Arts Council (DAC) is a 501(c)(3) nonprofit organization, supported in part by the City of Dublin's hotel/motel tax and the Ohio Arts Council, which helps fund Dublin Arts Council and its programs with state tax dollars to encourage economic growth, educational excellence and cultural enrichment for all Ohioans. DAC is further supported by the National Endowment for the Arts, contributions from individuals, corporations and foundations, fundraising events, classes, gallery sales and in-kind contributions. DAC engages the community, cultivates creativity and fosters life-long learning through the arts.