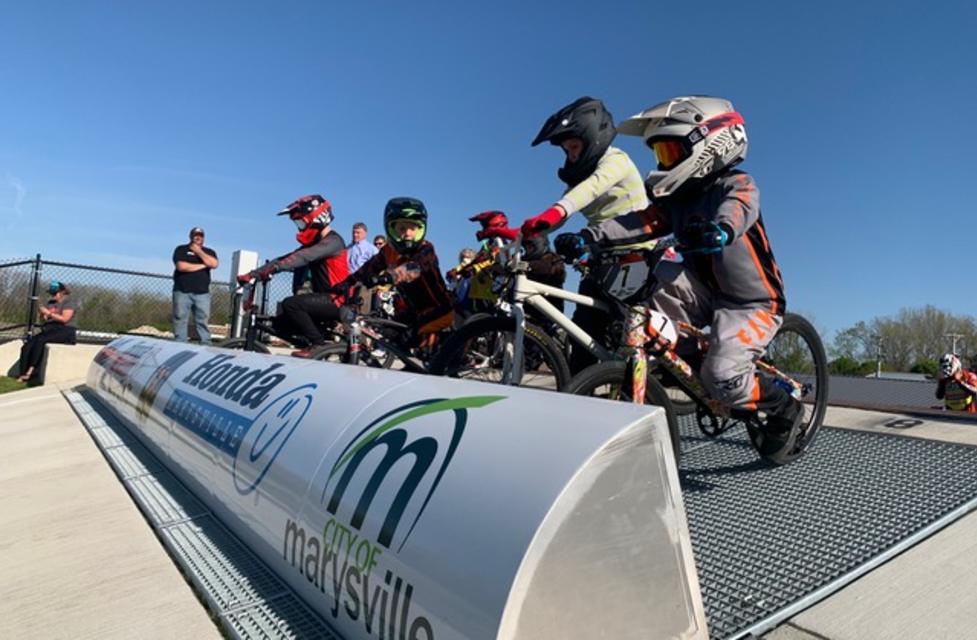 UNION COUNTY – August 2, 2023 – Union County Tourism in partnership with the City of Marysville, Marysville BMX track, and Visit Dublin has been awarded the Buckeye Nationals on August 16-18, 2024, at Marysville BMX.
In June, the team submitted a comprehensive proposal to host a national event, which will be the first time a USA BMX National Event is held at the USA BMX sanctioned, Marysville BMX track.
"We are incredibly proud and honored that USA BMX has selected Marysville to host an event of this magnitude," said Terry Emery, City Manager for the City of Marysville. "The Buckeye Nationals event will bring athletes and spectators from across the U.S., drive economic impact through visitor spending, and expose the Olympic sport to residents and youth in a new way."
The American Bicycle Association owns and operates the USA BMX National Championship Series. A USA BMX National Event is part of an annual 30 race National Series, which attracts competitors from across the U.S. and Canada. The Buckeye Nationals event will take place over the weekend of August 16-18, 2024, running Friday, noon - 9 p.m., Saturday, 7 a.m. - 5 p.m. and Sunday 7 a.m. - 3 p.m. USA BMX has a 45-year history of running quality, family-friendly, memorable races across the nation and with its inclusion in the 2008 Olympics, has seen worldwide growth and exposure to the sport. National events on average have 800 - 2,000 athletes in attendance and a combined total daily attendance of the athletes and spectators of 3,300 -7,500.
"We are grateful for the vision of City leadership to build this world-class USA BMX course in our community," said Tonya Mabry, Union County Tourism president and owner of Dalton Union Winery & Brewery. "This event promises to provide a fitting stage for a weekend of exciting racing and unsurpassed visitation."
According to USA BMX officials, one racer is typically accompanied by at least three other individuals. Based on conservative estimates, the Union County race is expected to generate 2,000 - 5,000 hotel room nights and an average of $3 million in economic impact.
###
Union County welcomes visitors with its signature blend of Midwest hometown hospitality, unique shopping, dining, winery, brewery, history, and agritourism experiences that bring families and groups of friends together to create cherished memories. The official destination marketing organization for the area, Union County Tourism is a division of the Union County Chamber of Commerce focused on helping visitors plan their naturally crafted experiences at UnionCountyOH.com, with in-person visitor services, maps, and visitor guides at Union Station 1820 Welcome Center and Gift Shop in Uptown Marysville and via Instagram and Facebook.