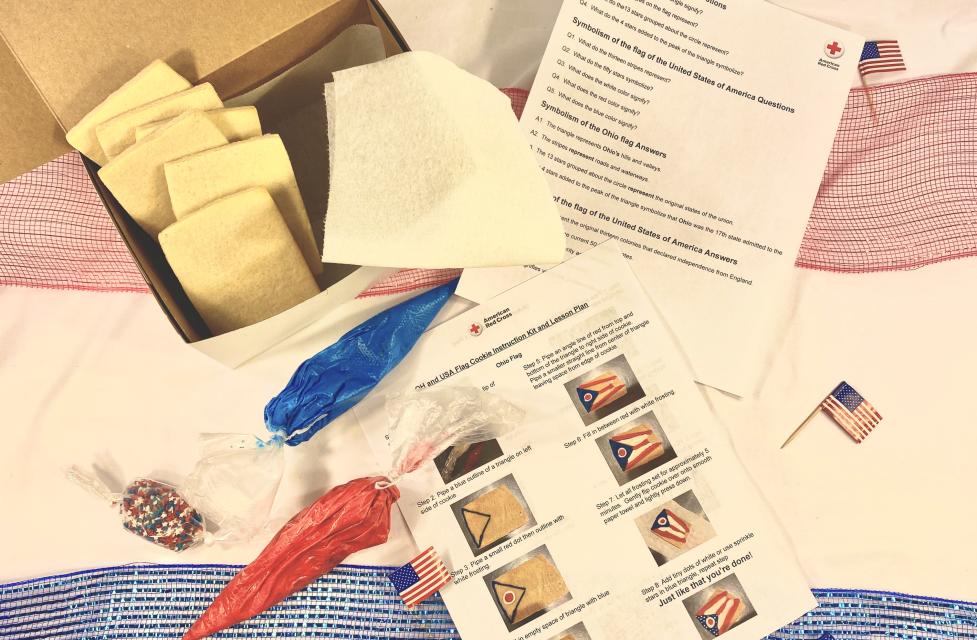 COLUMBUS – Our CupCakery today to announce it would sell a series of educational flag cookie decorating kits to benefit the American Red Cross of Central Ohio in celebration of Flag Day on Sunday, June 14, 2020. The cookie decorating kits are designed as a fun, educational, tasty activity for kids of all ages.  The first kit's theme is to learn more about the history of the State of Ohio's and the United States' flags. Our CupCakery will donate $5 of each kit to the Red Cross, and 100 percent of additional donations will go directly to the Red Cross.
"Our CupCakery's philosophy is rooted in a quote from Pablo Picasso, 'The meaning of life is to find your gift. The purpose of life is to give it away,'" said Linda Kick, owner of Our CupCakery. "We are proud to partner with the American Red Cross of Central Ohio to support our community and families during these difficult times by sharing our gift."
Each kit includes six cookies, three pastry bags of colored buttercream frosting, star sprinkles, a popsicle stick, and a paper towel. A lesson plan includes questions and answers identifying the symbols on the flags for kids to learn more about the flags. Kits are available for $25 and include both flags. An end of summer event is planned for those who complete the entire series.
Anyone interested in purchasing a kit can email info@ourcupcakery.com or call 614-659-1555 at least 48 hours in advance (they are closed Sundays and Mondays) of pickup to place your order and specify the number of kits. Kits can then be picked up at Our CupCakery at 54 S. High Street, Dublin, Ohio 43017.
Our CupCakery has continued operations through the COVID-19 pandemic. This is the second decorating kit the dessert business has released in the past few months to help parents keep their kids entertained while at home. The second week of the stay-at-home order, Our Cupcakery released a Decorate Your Own Cupcake Kit, providing 6 cupcakes, three pastry bags of colored buttercream frosting, and sprinkles in a Unicorn or primary color theme.
As a former elementary school teacher and college professor, the kits are inspired by Our CupCakery's owner Linda Kick's own background. She believes all activities can be an opportunity for kids to learn. This cookie release is especially exciting for the Kick Family, as Linda and her husband Tom celebrate their wedding anniversary on June 14 – Flag Day!
Our CupCakery regularly hosts parties and classes for children and adults at their store. They look forward to welcoming back groups for parties of 10 or less. Their 16th annual summer Future Pastry Chef Camps are on schedule and being held in July and August with an "Out of this World Galaxy" theme. An adult class schedule will be released in the near future.
###