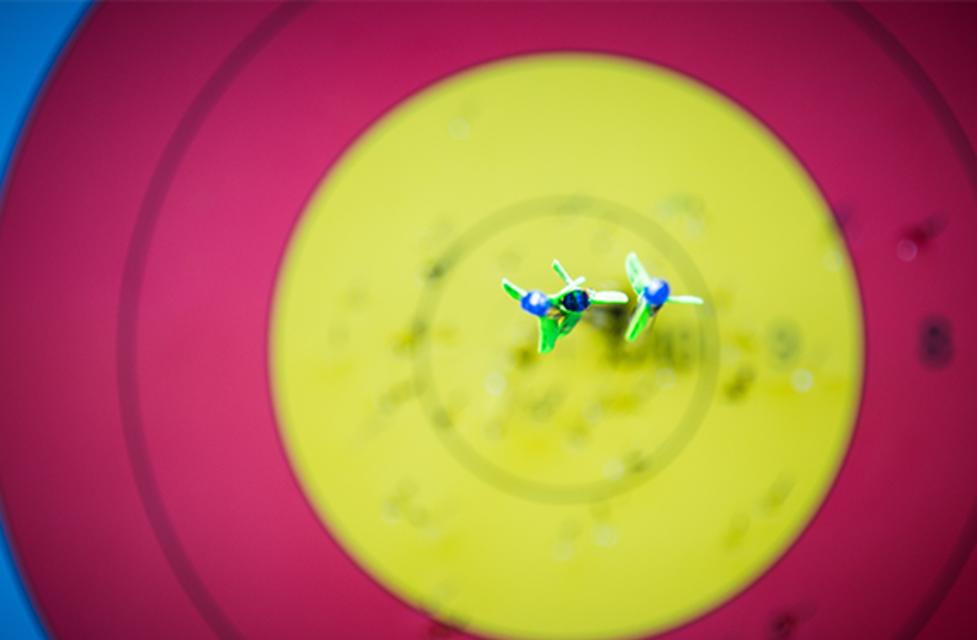 *Update: 12:09pm MT - due to an update in the international events calendar, this schedule is subject to change. We will keep you posted and can't wait to see you on the field next year!
COLORADO SPRINGS, Colorado – The 2018 USA Archery event season will be jam packed with fun and competitive events across the nation. Mark your calendars because you will not want to miss these!
First up, the U.S. and JOAD National Indoor Championships will be contested in thirteen regional locations across five weekends. New this year, the top eight archers in the male and female recurve and compound divisions will compete in an exciting head to head finals event on March 9th in Cincinnati, Ohio. More information on qualification and this Finals event to come.
The Indoor Nationals Schedule is as follows:
•January 19-21: Utah, Florida
•February 2-4: New Mexico
•February 16-18: Sacramento, California
•February 23-25: Georgia, Ohio, Massachusetts, Pennsylvania, Michigan
•March 2-4: Texas, Minnesota, Virginia, and Chula Vista, California
Arizona Cup kicks off the 2018 USAT Event Series again on April 6-8 in Phoenix, followed by Gator Cup in Newberry, Florida on May 25-27. The third event, the SoCal Showdown, will coincide with the Youth Olympic Games – U.S. Team Trials on June 15-17 in Chula Vista, California, with the Trials continuing on June 18th. The season wraps on August 24-26 in Dublin, Ohio for the Buckeye Classic.
In 2018, the Outdoor Nationals, which hit nearly 1,200 participants this year, splits into two events with the U.S. National Target Championships and U.S. Open on August 8-12 in Dublin, Ohio, and the JOAD National Target Championships on July 11-15 in Raleigh, North Carolina.
"We are pleased that USA Archery chose to bring their National Target Championships to Dublin," said Scott Dring, executive director at the Dublin Convention & Visitors Bureau. "It will be exciting for the City of Dublin to host this prestigious event that will showcase our great city to visitors from across the world."
Jason Philbeck, Assistant Director with the Greater Raleigh Sports Alliance, a division of the Greater Raleigh Convention & Visitors Bureau also shared enthusiasm for hosting the JOAD National Target Championships: "Raleigh is absolutely thrilled and honored to host the 2018 JOAD National Outdoor Target Championships and we can't wait to roll out the red carpet for the athletes, families and guests. USA Archery hit the bullseye with selecting the competition venue, WRAL Soccer Park, widely considered one of the top outdoor complexes in the country. We are proud of how our community embraces sporting events, and visitors will feel energized the moment they arrive. Raleigh is the perfect location to compete and explore, with a wide variety of entertainment, attractions and unique dining options. Filled to the brim with Southern hospitality, Raleigh is ready and eager to welcome youth archers from around the world!"
The U.S. National Field Championships and World Archery Field Championships – U.S. Team Trials will return to Darrington, Washington, date TBD. USA Archery will also host the Pan Am Trials later in September.
For the Collegiate Archery Program, there are also many exciting opportunities for competition in 2018. USA Archery will continue to offer collegiate divisions at the Indoor Nationals events, and at all USAT series events. The regional championships will also be contested with the West Regional Outdoor Collegiate Championship (ROCC) on March 30-April 1 in Chula Vista, California, the South-Central and South-East ROCCs both on April 13-15, hosted by University of Texas and Emmanuel College, the East ROCC on April 21-22, hosted by Columbia, University, and Michigan State University will host the North ROCC, date TBD.
The Easton Newberry Sports Complex will be the 2018 home of the U.S. National Outdoor Collegiate Championships on May 17-20 to cap an exciting season with prestigious honors.
For more on National Events, click here.
2018 Events Schedule:
•Indoor Nationals: ◦January 19-21: Utah, Florida
◦February 2-4: New Mexico
◦February 16-18: Sacramento, California
◦February 23-25: Georgia, Ohio, Massachusetts, Pennsylvania, Michigan
◦March 2-4: Texas, Minnesota, Virginia, and Chula Vista, California
•Indoor National Championships Final: March 9 (Cincinnati, Ohio)
•Arizona Cup: April 6-8 (Phoenix, Arizona)
•Regional Outdoor Collegiate Championships ◦West: March 31-April 1 (Chula Vista, California)
◦South Central: April 13-15 (University of Texas)
◦South East: April 13-15 (Emmanuel College)
◦East: April 21-22 (Columbia University)
◦North: TBD (Michigan State University)
•National Outdoor Collegiate Championships: May 17-20 (Newberry, Florida)
•Gator Cup: May 25-27 (Newberry, Florida)
•SoCal Showdown: June 15-17 (Chula Vista, California)
•Youth Olympic Games - U.S. Team Trials: June 18 (Chula Vista, California)
•JOAD National Target Championships: July 11-15 (Raleigh, North Carolina)
•U.S. National Target Championships & U.S. Open: August 8-12 (Dublin, Ohio)
•Buckeye Classic: August 24-26 (Dublin, Ohio)
•U.S. National Field Championships and World Archery Field Championships - U.S. Team Trials - TBD (Darrington, Washington)
•Pan Am Team Trials - TBD