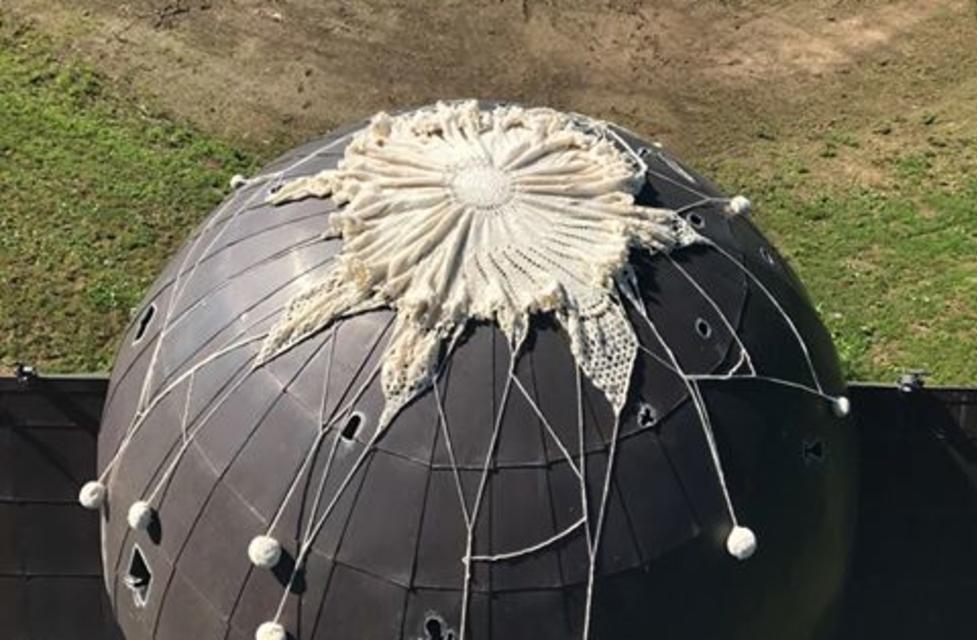 DUBLIN, Ohio– (May 29, 2018) Dublin Arts Council will launch a temporary fiber art public art project, Yarn Over Dublin: Bridge Park, on Saturday, June 9, 2018. The artwork, created by central Ohio senior citizens, will adorn Dublin's Bridge Park development, 6634 Riverside Dr., in Dublin, through July 15.
The installation coincides with International Yarn Bombing Day, a celebration of the non-destructive form of street art that employs colorful yarn or fabric, activating spaces and bringing new life to everyday places and objects. The international project provides an inclusive arts creation forum through an art form that is tactile, accessible, site-specific and thought-provoking.
Senior citizens in eight locations have been creating the fiber artworks since January, working during weekly classes and social gatherings led by Dublin Arts Council's contracted project coordinator/educator Karen Dendiu of Worthington.
Installation, which will be completed by Dublin Arts Council with assistance of City of Dublin staff, will take place the week of June 4.
Dendiu and a number of project participants will gather at the Bridge Park development on June 9 from 11 a.m. to 2 p.m. to celebrate the launch and to participate in Worldwide Knit in Public Day, which also takes place on June 9.
The installation will be on view shortly after Memorial Day and through the Fourth of July, prompting the senior citizen fiber artists to create a number of flag-inspired blankets that will be on view in Bridge Park garage elevator lobbies. When the artworks are removed, they will be donated to central Ohio veterans.
Yarn Over Dublin: Bridge Park is the third iteration of this senior citizen-focused project, designed to celebrate the accomplishments of this growing demographic group and to respond to the findings of a 2014 Dublin community survey which indicated a desire for more art created by the community, art that brings the community together and more temporary or street art projects.
About Dublin Arts Council
Dublin Arts Council (DAC) is a 501(c)(3) nonprofit organization, supported in part by the City of Dublin's hotel/motel tax and by state tax dollars allocated by the Ohio Legislature to the Ohio Arts Council (OAC). The OAC is a state agency that funds and supports quality arts experiences to strengthen Ohio communities culturally, educationally and economically. Dublin Arts Council is also supported by the National Endowment for the Arts, contributions from individuals, corporations and foundations, fundraising events, classes, gallery sales and in-kind contributions. DAC engages the community, cultivates creativity and fosters life-long learning through the arts.