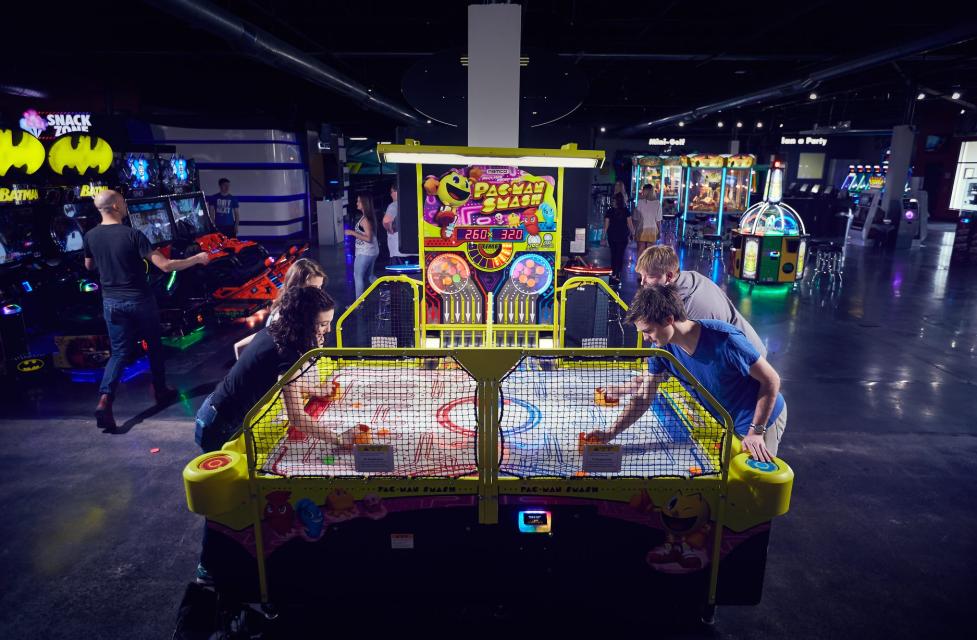 Scene75 is one of Dublin's top indoor entertainment destinations and provides an opportunity for everyone of all ages to get out and have an amazing time in Dublin, Ohio. Recently we had family fly in from Alaska and we took them for an evening of indoor adventure at Scene75. Here are the top 5 reasons you need to visit.
20 Thrilling Attractions
Adults and kids alike are intrigued by the adrenaline thrills and visual entertainment when they walk in the door. My kids were ready to run off to play, fortunately for me, they had to wait for a minute while I purchased their Super Passes. Buying the Super Pass made the evening go smooth and seamless as we experienced all the fun at Scene75.
Super Passes are $39 and offer 1 hour of video games and 5 Thrill Attractions. Thrill attractions include a 4-D Theater, Lazer Maze, Spin Zone, Inflatapark, Blacklight Mini-Golf, Indoor Go-Carts and the 2 thrill rides, Nuclear Rush Coaster and the Drop Tower. Scene 75 does NOT disappoint in the excitement department and the Super Pass made it extremely affordable.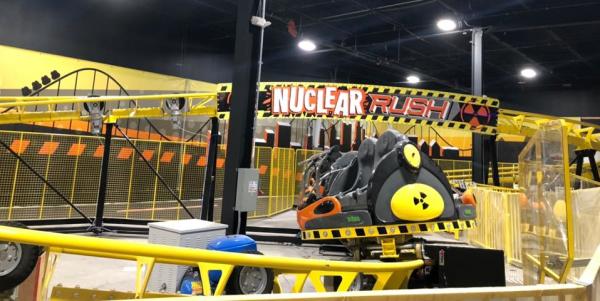 More than 200 Arcade Games
My teenagers had the time of their life playing all the games that they have here at Scene75! The game passcards make it simple for them to go from game to game without having to worry about anything. Swipe, play and go! There are no lost coins or coin jammed machines at this venue.
You won't just find games for only older kids and adults here; our younger kids took off to play the claw games and won as many tickets as possible. This is certainly one of the most multi-generational friendly locations we have been to.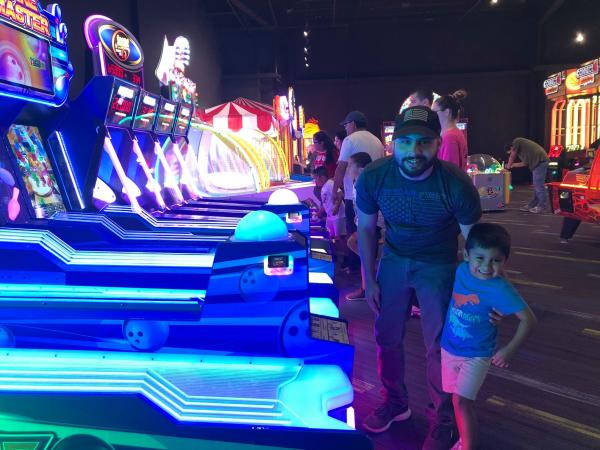 Food for Every Pallet
The onsite restaurant, Illusions, invites you in for a magical and laid-back dining experience, offering delicious burgers or fantastic pizzas. This was the perfect place to sit and recharge before we went out to enjoy more play. If you're not there for a full meal make sure to visit one of the 3 bars or snack areas to stay hydrated while having all your fun.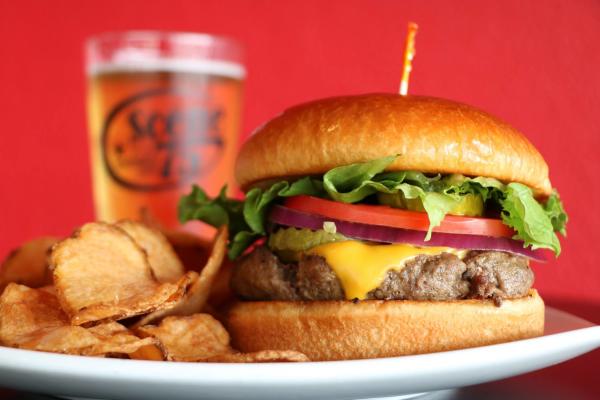 Optimal Fun and Great Experience
Scene75 takes exceptional care in making sure their guests have a wonderful time at their facility. They put hospitality first so that you'll feel safe and welcome in their venues and they provide clean facilities that make focusing on the fun easy.
Gleason Family Adventure is all about getting out and creating adventures. As an adult, one of the benefits of going to Scene75 is that they focus on reconnecting people with play. It was a perfect opportunity for me to let myself experience some adult fun. I was able to join in with everyone else and have the evening of my life.
Great Location
Scene75 is centrally located at 5033 Tuttle Crossing Boulevard, Dublin, OH 43016. You are close to hotels and all the shopping fun at Tuttle Crossing Mall. Parking is easy and finding Scene75 was not difficult! Please make note of the hours here because they are CLOSED on Mondays and Tuesdays.
Hours
· Monday: Closed for Facility Rentals
· Tuesday: Closed for Facility Rentals
· Wednesday: 11 am – 10 pm
· Thursday: 11 am – 10 pm
· Friday: 11am – 12am
· Saturday: 10am – 12am
· Sunday: 11am – 10pm
For more travel inspiration, click here. 
This post was contributed by local blogger and travel expert, Brandy Gleason of Gleason Family Adventure. To read more from Brandy visit her blog here.