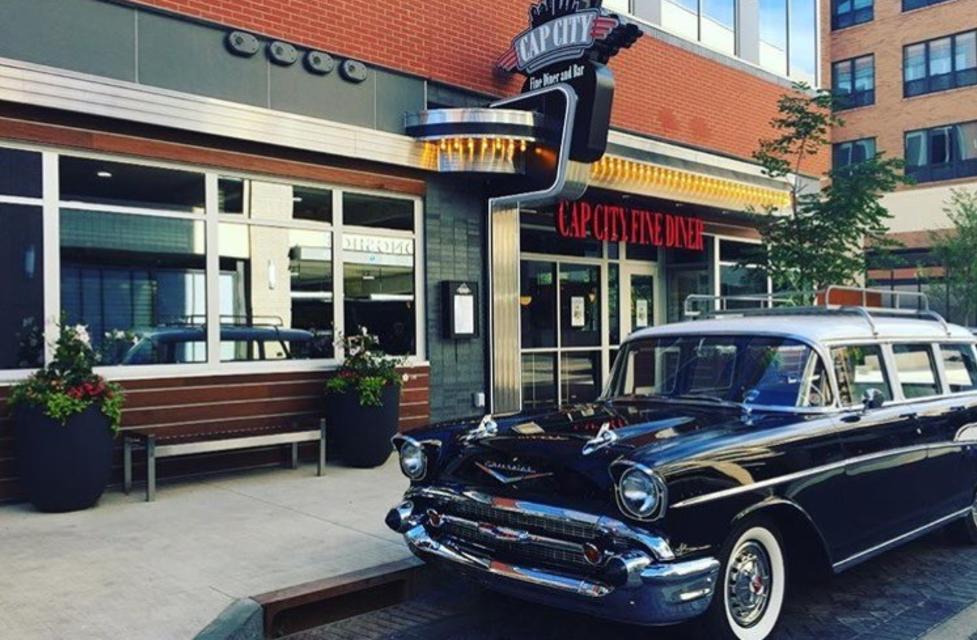 If you're a Central Ohio local, you have certainly heard of the unique dining experience that is Cap City. Local restaurateur, Cameron Mitchell, has masterfully crafted a diner concept into a place that will still give you everything you have come to expect from his other upscale concepts. If you have dined at a Cap City location before, you may have enjoyed Cap City classics like their blue cheese potato chips, diner meatloaf, and famous pies. The Bridge Park location will give you all the traditional diner options that you have grown to love, but we think there are a few things that make the Bridge Park location a little extra special. Here are the 5 reasons we think you will love Cap City at Bridge Park.
Dining
If you have been to a Cap City before, you know that the food is fine diner taken to the next level. Bridge Park offers a list of blue plate features that will have you coming back for more. See the photo below of the daily features board.
Cap City is keeping up with the trend of boozy milkshakes, too! Make a stop at the bar to see their milkshake station and check out what they have to offer. Sure to be fan favorites, are the bacon peanut butter adult milkshake as well as the buckeye milkshake that is made, in part, by blending a piece of their chocolate peanut butter pie.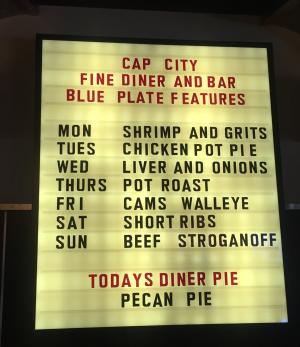 Difference
Of course, every Cap City location offers a unique experience, but there is a little something different about the Bridge Park location that we think you will love. With the opening of this location, the Bridge Park team has expanded their beer and wine offerings. Now, there are more options than ever before! Additionally, all the signature cocktail offerings at the Bridge Park location are unique to their restaurant. Not only that, each one will stay on the menu year-round, but be slightly modified using ingredients to bring you the flavors of the current season.
When you first walk in to the Bridge Park location, you will immediately recognize the smell of fresh baked goodies. This location has their bakery counter set up right in the front of the restaurant, where you can watch your favorite desserts being made! Displays of their famous cakes and pies will have you planning your dessert choice before you even sit down.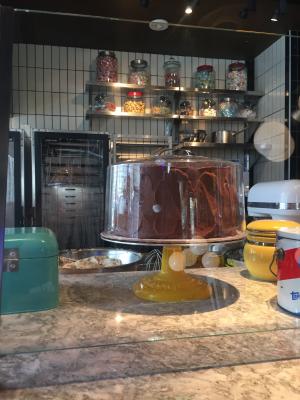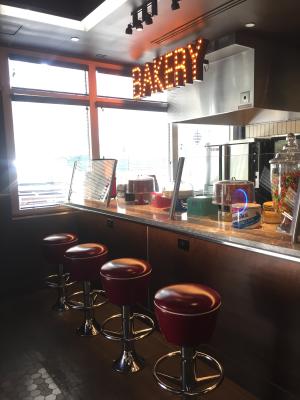 Another unique feature of this location is their private dining room. As of now, they are the only location that offers a private space to host your special event! This room seats 16 people and is complete with two televisions as well as a retro inspired mural to carry the Cap City experience into your private dining event.
Details
We have all heard the expression "it's all in the details" and for this restaurant, it could not be more true. Every detail stays true to the fine diner concept, down to the jars they use at their one of a kind milkshake station and the antique bowling pins displayed as décor throughout the dining room. Of course, you can't miss the gumball machine, a Cap City classic. Large, vintage-inspired, red booths will give you the retro vibe you love and provide a unique place for a business lunch, special occasion, or family meal.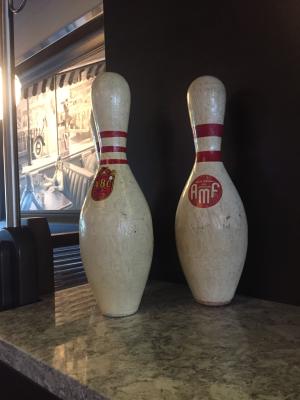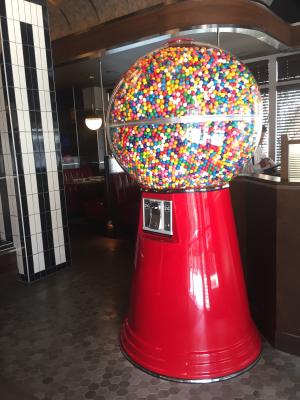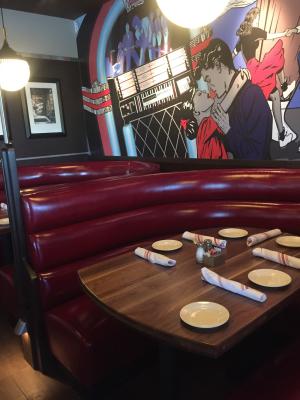 Dedication
For Cap City at Bridge Park, dedication takes on a couple forms.
Their dedication to the Dublin community is evident. A diner classic, of course, is the jukebox. Coming soon, Cap City will be implementing quarter plays on the jukebox, with all the proceeds going to Dublin City Schools.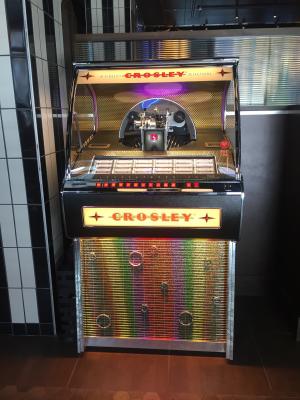 Second, Cap City sources many of their ingredients locally. You will notice drink offerings from local names like North High Brewing Company and Watershed Distillery. What you may not know is that all of their ice cream is from local favorite, Johnson's! Johnson's has two locations, one of which is in Historic Dublin, and Cap City is loving incorporating their authentic, classic taste into their milkshakes and other desserts. Click here to read more about Johnson's Real Ice Cream.
Finally, the Cap City staff is incredibly dedicated to providing the fine diner experience. The management team is passionate about the Cap City concept and that energy is infectious among their staff. Friendly doesn't begin to cover it. They are committed to providing a customer-centric experience that is true to the Cap City brand.
Deals
Happy hour! Do I have your attention? You won't want to miss out on the one of kind deals that Cap City Bridge Park is bringing.
Mondays are for margarita lovers! Every Monday, come in for $7 house margaritas. Don't forget, they are available all year round with seasonal flavorings.
On Tuesdays, stop in for any menu burger and beer for just $10.
And of course, for the wine enthusiast, Wine Wednesdays. All menu bottles are 50% off! Yes, you read that right.
Available in the bar Monday through Friday, from 4pm to 6:30pm, happy hour includes $6 handcrafted cocktails, $5 wine by the glass, $3 domestic beers, and an assortment of discounted appetizers. (Including our personal favorite, the blue cheese chips – just $5!) Take a look at the full happy hour menu, below!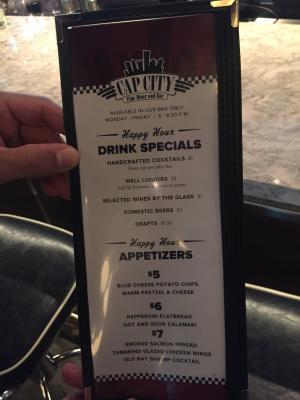 For more Dublin dining, click here!