Dublin's oldest running event is back this year at Coffman Park to showcase an array of amphibious athleticism. This event draws more than 1,000 "frog jockeys", broken up into several different age divisions. Whether you're jockeying a frog or not, there is fun to be had at the Dublin Kiwanis Frog Jump. Spectators can cheer on their favorite frog, win prizes, play on giant inflatables and enjoy some delicious food while spending the day outside with family and friends.
The frog jump takes place in Coffman Park, just past the Coffman Homestead. You will find a series of circles where contestants can race their frogs against one another. The object of the contest is simple - start in the inner circle and get your frog to jump all the way outside the outer circle! Believe it or not, there is an art to making your frog jump. The only rule is that you can't touch your frog once the umpire says go. 
All kinds of tricks of the frog jumping trade are used to usher these little guys to victory - blow on your frog to push him towards the finish or coax him with noises, whatever works. After multiple play off rounds, a winner will be crowned champion.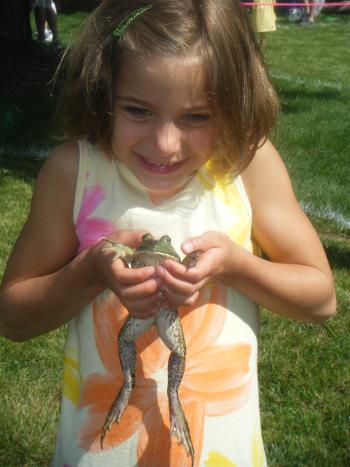 Here are few insider tips to have your best frog jump experience yet!
- Don't race too closely to the creek or your frog might escape
- Take some small bills, as tickets to race are $1 each and sold on-site
- Pick a smaller frog for jumping
- Larger bullfrogs tend to be bit slower than the rest, but blowing on them tends to get them moving best
This year's frog jump will be held on June 23rd and races start at 10am. For more details on the event, click here.