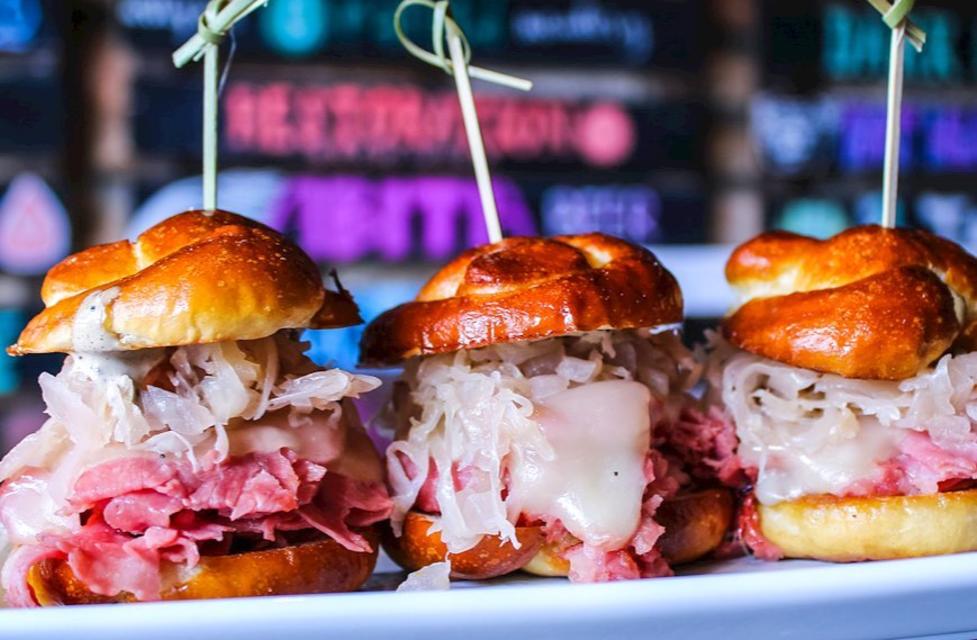 When it comes to a dining experience, it's not only important to have excellent cuisine and an on-point atmosphere but to feel safe and secure as well. We're rounding up a list of Dublin restaurants that diners before you have vetted and given top-notch reviews to ensure your experience is a great one. 
Here' what your fellow foodies are saying on Yelp: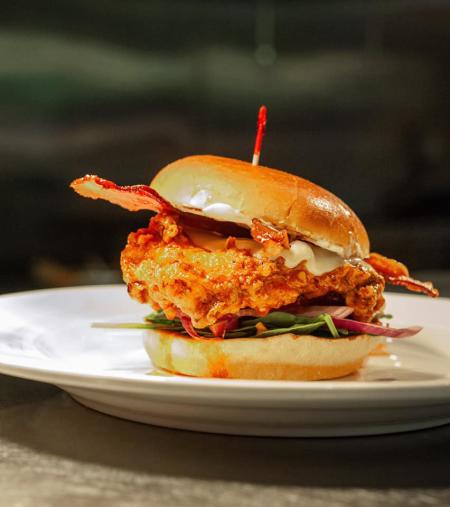 The Rail – Dublin
Type: American
Gourmet Ohio burgers are out in full force at The Rail in Dublin. You'll love their list of local brews and upscale cocktails as well! Foodies can choose from several options including dine-in, patio seating, curbside pickup or no-contact delivery!
"Every single bar, server, host and cook had gloves and a mask on. We all felt very safe and clean in there." – Leah R., Dublin, Ohio. Read the full review, here.
therailburger.com | (614) 725-3200 | 5839 Frantz Rd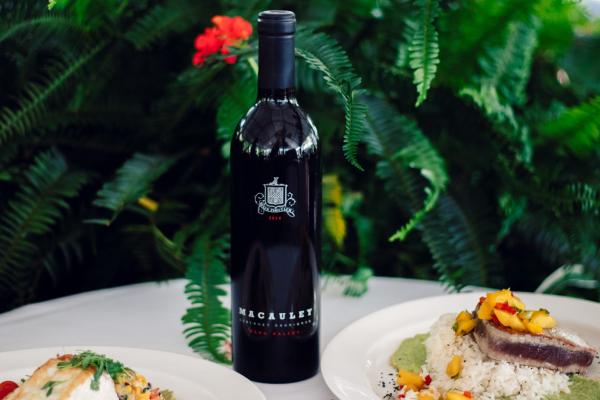 Tucci's
Type: Seafood, Steakhouse
What has steak, seafood, pasta and wine? Tucci's in Historic Dublin! Dine alongside live music and the hustle and bustle of Downtown at this main-stay restaurant you're sure to love. We highly recommend their weekend brunch! Tucci's is offering carryout and delivery through UberEats and DoorDash.
"There are so many classy places that can provide great food, but it is a rare day when you find a quality restaurant that combines that great food with a great experience. Tucci's in Dublin not only does that, but does so in the face of COVID, riots, and other world troubles." – Justin F., Austin, TX. Read the full review, here.
tuccisdublin.com | (614) 792-3466 | 35 N High St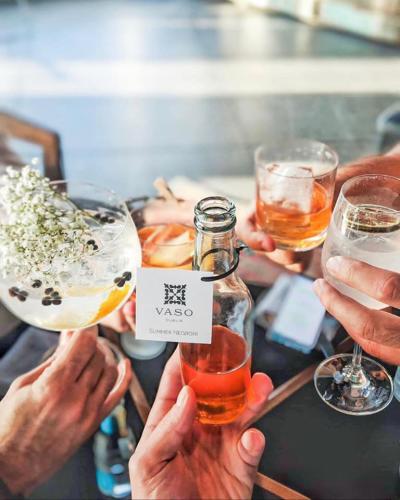 VASO Rooftop Lounge
Type: Modern European, Small Plates
You'll love the Spanish-style tapas that make up the menu at VASO Rooftop Lounge and their cocktails are out of this world. Come back in the winter to dine Eskimo style in their rooftop igloos.
"First off I'll start by saying that this place is beautiful. Very clean and elegant. It definitely gives you the high-class feel, with a very nice view high up. The perfect setting for anything from a date to a get-together." – Aaron M., Columbus, Ohio. Read the full review, here.
vasodublin.com | (614) 698-2525 | 6540 Riverside Dr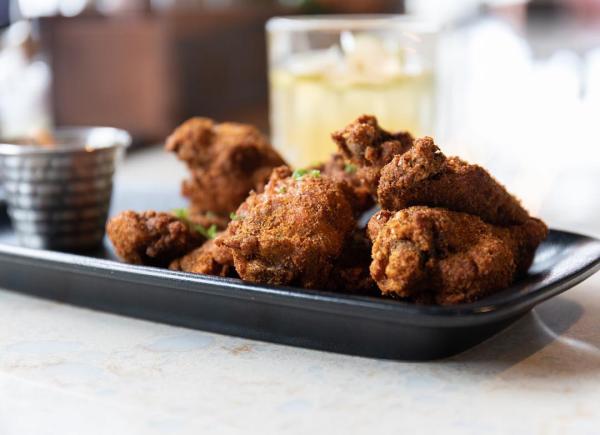 Hen Quarter
Type: Southern
Get a taste of sophisticated southern cuisine at Hen Quarter in Bridge Park. This unique menu isn't the only thing you'll love about Hen Quarter – their hand-crafted cocktails are not to be missed! Be sure to come back on the weekends for some of the best brunch around.
"BIG SHOUT OUT!!! Just finished an amazing meal at Hen Quarter Dublin! We've always loved this restaurant and so happy they've re-opened! (COVID guidelines followed 100%)." – Nicole P., Columbus, Ohio. Read the full review, here.
henquarterdublin.com | (614) 905-1666 | 6628 Riverside Dr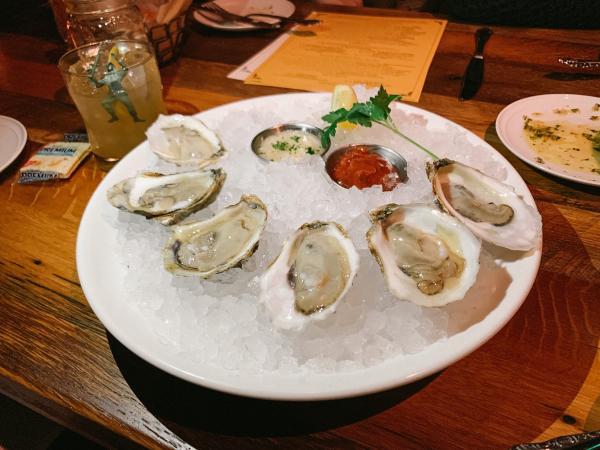 The Pearl
Type: American Gastropub, Oyster Bar
The Pearl is a traditional Gastropub with a modern twist. Serving up made-from-scratch meals like clam chowder and your favorite fish, you'll be coming back again and again. Curbside pickup and patio dining are available at the Dublin location.
"I definitely appreciated the service and looking out over the bridge and the Scioto made for a great atmosphere. Add to that how they're obviously serious about social distancing, and it was truly a five-star brunch experience all around." – Shaun R., Columbus, Ohio. Read the full review, here.
thepearlcolumbus.com | (614) 695-6255 | 88 N High St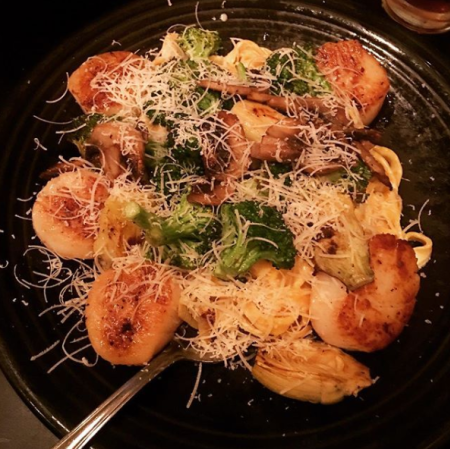 Moretti's
Type: Italian
Moretti's is a token hidden gem in Dublin and a must-visit for all of your Italian foodie cravings. Not comfortable dining in? Order your meal to-go. Ciao Bella!
"Had to order takeout during the stay at home order and what a treat to try this place had the grilled peppers appetizer then ravioli & eggplant parmigiana wow, I would put their food up against anyone anywhere can't believe we never found this place sooner." – Nina P., Mansfield, Ohio. Read the full review, here.
morettisofdublin.com | (614) 717-0400 | 5849 Sawmill Rd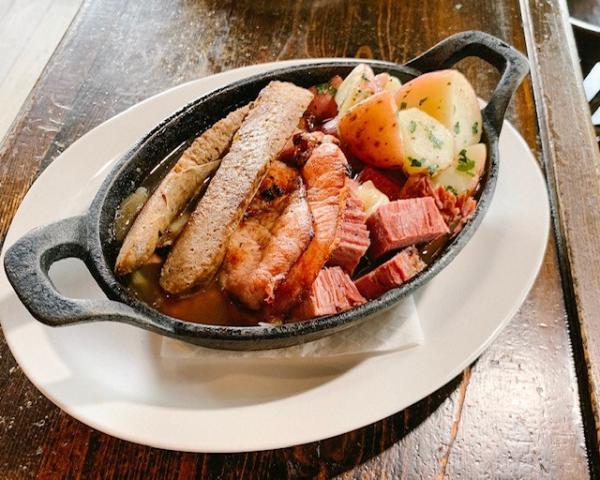 Dublin Village Tavern
Type: Irish Pub
This Downtown Dublin staple is a must-visit for all Irish Pub enthusiasts. Dublin Village Tavern is the Local's Choice serving up items like the Irish Kettle Dinner and an impressive list of Irish beers and whiskeys. Enjoy carryout and curbside pick up!
"Absolutely, bomb burgers here. The beer was great. All employees were wearing masks, you could access your menus on your phones so you didn't need to touch the menus. The patio was spaced out well. Loved the experience here!" – Sarah M., Minneapolis, MN. Read the full review, here.
thedublinvillagetavern.com | (614) 766-6250 | 27 S High St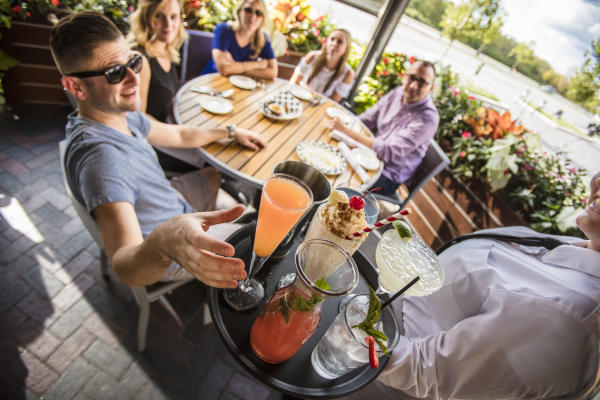 Cap City Fine Diner
Type: Diner, Comfort Food
Comfort food lives up to its name at Cap City Fine Diner in Dublin. Enjoy classic plates like the Meatloaf or the Southern Fried Chicken. Cap City is offering online ordering, curbside pickup and local delivery.
"High booths line the walls and tables are on the floor and some tables have been removed, adding more floor space. The menus are disposable paper." – Debra V., Chagrin Falls, Ohio. Read the full review, here.
capcityfinediner.com | (614) 889-7865 | 6644 Riverside Dr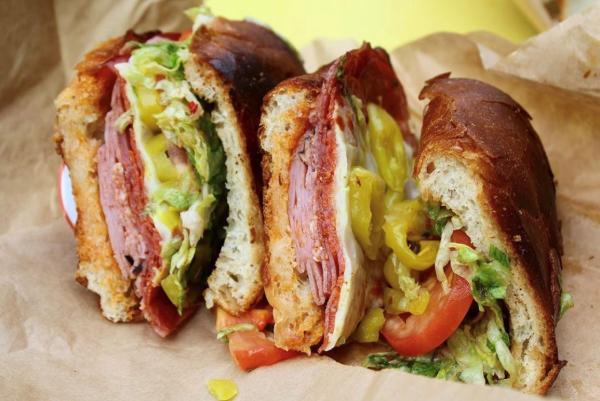 Frank & Carl's
Type: Deli
Sub or bagel? The choice is yours at Frank and Carl's, a gourmet sandwich shop in Bridge Park. Don't sleep on the pimento cheese and bagel chips – they're a fan favorite. Frank and Carl's is offering online ordering and curbside pickup.
"Fast, efficient, contactless ordering and payments during this time." – Ashley P., Columbus, Ohio. Read the full review, here.
frankandcarls.com | (614) 389-2851 | 6558 Longshore St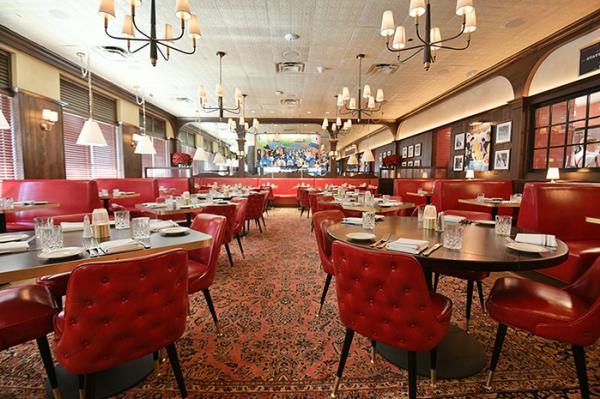 The Avenue
Type: Steakhouse
Fantastic steaks + a great wine selection = dining bliss at The Avenue Steak Tavern in Dublin. Be sure to stop by during happy hour where you can imbibe on $7 craft cocktails and $6 glasses of wine. The Avenue is currently offering patio dining and curbside pickup.
"For those who are concerned with a return to dining during COVID, they seem to have put more than sufficient measures in place. The distance between tables actually made for a more intimate dining experience for an anniversary dinner which was quite nice. While this was our first time here, it certainly will not be our last!" – John C., Columbus, Ohio. Read the full review, here.
theavenuesteaktavern.com | (614) 591-9000 | 94 N High St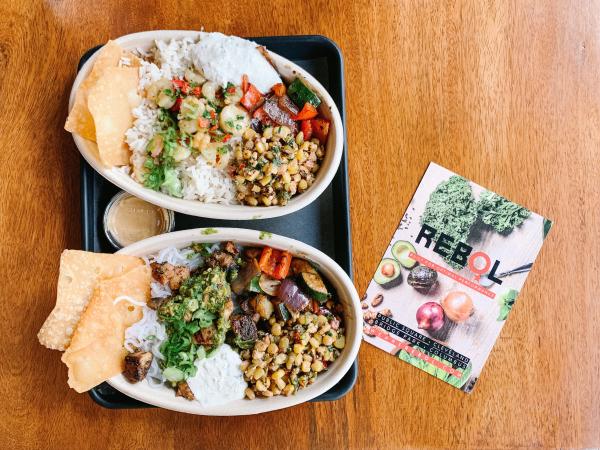 REBol
Type: Fast Casual
Healthy food packed with flavor is what you'll find at REBol in Bridge Park. Choose from their menu or build your own Bol and pair it with a fan favorite Bullet Proof Coffee or bone broth. Rebol is offering online ordering, curbside pick up and zero-contact delivery through UberEats and DoorDash.
"Food was delicious, and the in-house arrangement to accommodate social distancing made us forget about COVID for a bit, highly recommend!" – Theresa K., Dublin, Ohio. Read the full review, here.
wearerebol.com | (614) 389-4751 | 6608 Longshore St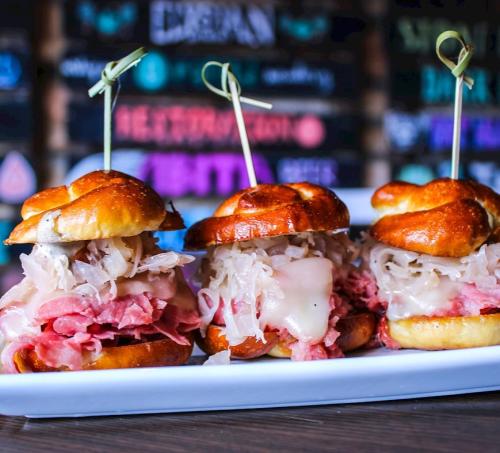 The Pint Room
Type: American Pub
Taste gourmet burgers and elevated bar snacks at The Pint Room in Dublin. Be sure to check out their extensive beer list and patio overlooking the Shoppes at River Ridge. Looking for delivery? You can order via DoorDash.
"Tables are spaced apart everything is CLEAN!  Had one of the best burgers I ever ate. The fries were wonderful, crispy and perfectly salted. I asked for a light beer for the summer weather and was given the perfect recommendation." – Yolanda E., Pataskala, Ohio. Read the full review, here.
pintroomdublin.com | (614) 889-6558 | 4415 W Dublin Granville Rd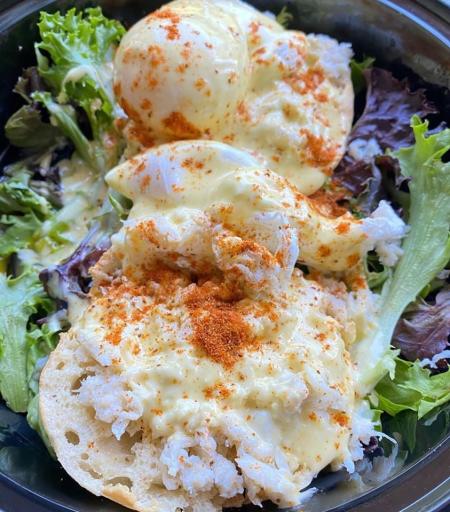 Napa Kitchen + Bar
Type: American/Wine Bar
Get a taste of California right here in Dublin. Napa Kitchen + Bar serves up all of your coastal favorites in a wine bistro atmosphere. Take advantage of their curbside pickup and delivery via UberEats and DoorDash.
"What a wonderful experience. We were very pleased to see all staff properly wearing masks and taking extra effort for cleanliness and social distancing. The service was excellent." – Ariana B., Cincinnati, Ohio. Read the full review, here.
napakitchenandbar.com | (614) 726-9799 | 7148 Muirfield Dr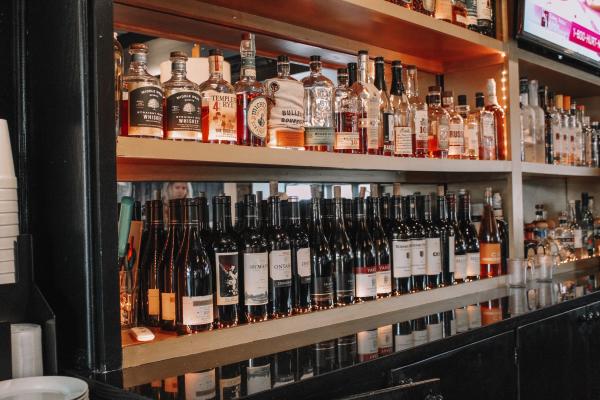 Café Istanbul
Type: Mediterranean
What do kebabs, babaganoush and delicious pita all have in common? They're on the menu at Café Istanbul in Dublin. Enjoy carryout, patio dining and delivery using GrubHub, UberEats, PostMates and DoorDash.
"Very good food.  This restaurant has an outdoor patio with a breeze.  I felt comfortable eating out for the first time in 2020.  Really great experience." – D H., Liberty Township, Ohio. Read the full review, here.
cafeistanbuldublin.com | (614) 792-9190 | 6125 Riverside Dr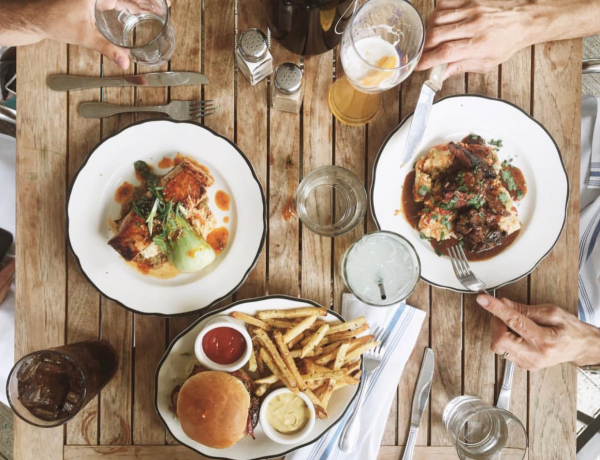 101 Beer Kitchen
Type: American/Gastropub
All your elevated pub food dreams come true at 101 Beer Kitchen. The house-made tater tots come highly recommended. Not comfortable dining in? 101 Beer Kitchen is currently offering online ordering, carryout and delivery.
"We were beyond impressed with how well this company has responded to the COVID pandemic. Menus have been replaced with online menus and there are guidelines posted for your comfort. Beyond the COVID updates, the food was delicious!" – Amanda N., Avon, Ohio. Read the full review, here.
101beerkitchen.com | (614) 210-1010 | 7509 Sawmill Rd
Get out there and enjoy Dublin's dining scene safely. Share your foodie memories with us using #SoDublin.
Find more inspiration, here.