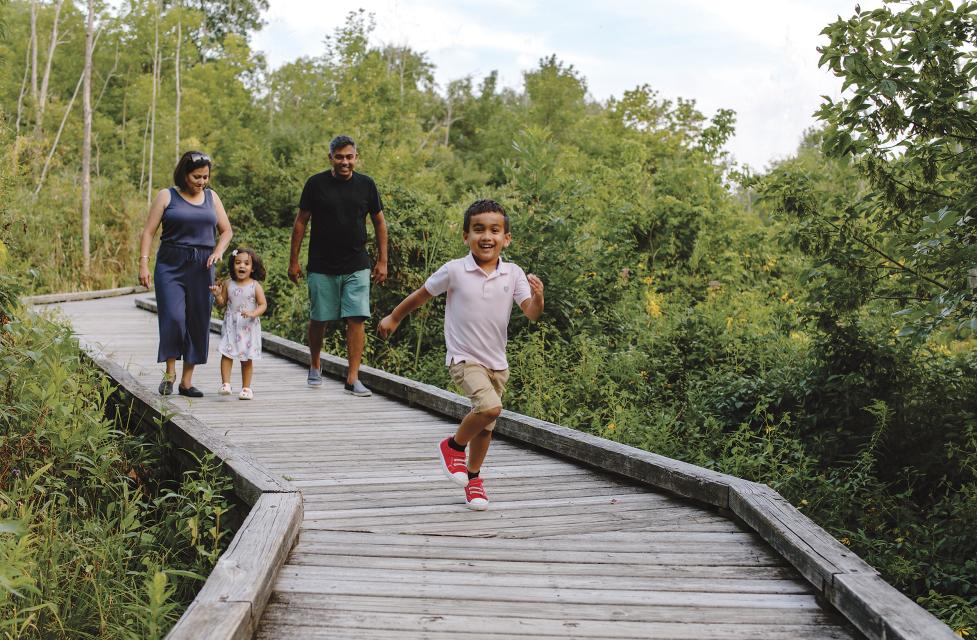 Need a tree change? Jump the fence and join us in our green spaces in Dublin, Ohio. With more than 60 parks, breathtaking waterfalls, one-of-a-kind bridges and Glacier Ridge Metro Park, Dublin provides a much-needed change of scenery that's still close to home. Here are some of our favorite places to get outside, shared by the people who visit them every day!
Friday
After arriving, come on over to Mezzo to catch their amazing happy hour specials from 4 to 6 pm. Locals always love their $10 bottles of wine and half-priced pizzas. Sit back and relax on one of their three sunny patios overlooking Historic Dublin, and don't be surprised if you meet some new friends on your first day here.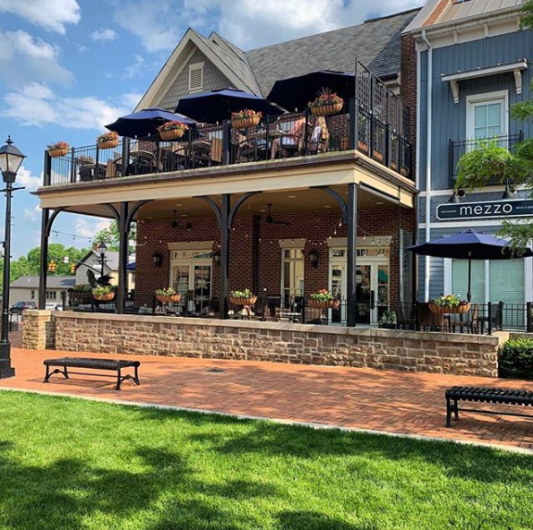 Trip Advisor Review: "This is a great place for a date night or meeting up with some gal pals! I love the amount of outdoor space they have, along with indoor. It seems like the place just keeps going! I would recommend sitting on the side of their outdoor space, as the one right off the back gets a bit distracting with the traffic intersection right there. The food is really good and highly recommend their hanger steak. They have a great wine selection as well." - Cbutown from Dublin, Ohio
Saturday
Join us at The Dublin Market, located at Bridge Park. This outdoor market runs every Saturday in the spring and summer, from 9 - 12 noon (beginning May 7), rain or shine. Here you'll find local vendors selling fresh baked goods, local produce, flowers and unique boutique items from artists and craftsmen. Grab a coffee and a sweet or savory treat for breakfast and enjoy live entertainment at our community market.
After you've filled up on delicious pastries and good Dublin vibes, head to Indian Run Falls, only a few minutes away from Bridge Park. Our locals escape to this outdoor oasis to admire the beautiful waterfalls and calming sounds of nature. Start at the main falls, and then hike along the trail to find the upper falls. Opt to bring a snack or picnic to enjoy at one of the viewing decks or shelters.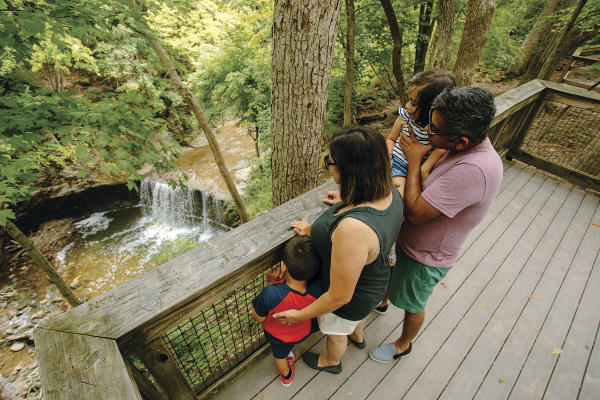 Trip Advisor Review: MayurHiremath from Dublin, Ohio shares: "We always love to be in nature, and this place is so near that we could even go on weekdays after office. It has around a mile of walking trails in the woods which gives the feeling as if you are in nature in the middle of a growing city. The trails are easy and anyone can go. It has few picnic tables for a family outing, or bring a hammock to sleep while swinging in nature. However, please do not hang it across the water let others enjoy the view as well. It has sufficient parking for a weekday visit."
Right here in Dublin, we're proud to have an abundance of beautiful parks that are wonderfully connected by over 100 miles of well-paved trails and bike paths. This afternoon, do as our locals do, and see Dublin by bike. Afterward, head off on a self-guided tour of Dublin's public art installations. Of the 70 installations in town, our locals recommend the Dancing Hares, Chief Leatherlips, the Field of Corn, and Exuvia. Have fun and take some creative photos at each sculpture. Download your free cell phone art tour guide here.
For dinner, book a table at Tucci's, which is always recommended by travelers because of its delicious food, beautiful ambiance, and top-notch service. Our locals love their charming patio, complete with live music. Happy hour is from 3-6 pm, so if you can, get there early to enjoy specials on select appetizers, cocktails, wines by the glass, and draft beers.
*Tip: Due to its popularity, we highly recommend making a dinner reservation in advance.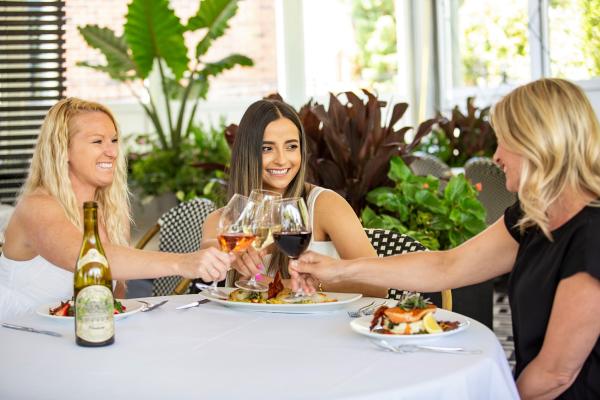 Sunday
Start your Sunday with some of Dublin's best coffee and fresh croissants at a neighborhood favorite, La Chatelaine French Bakery and Bistro. Slow down and enjoy your indulgence on their street-side patio or take your breakfast to go and head to Hayden Falls Park. Hike along the wooden walking path, explore the forested area and revel in this natural wonder that lies right outside your door.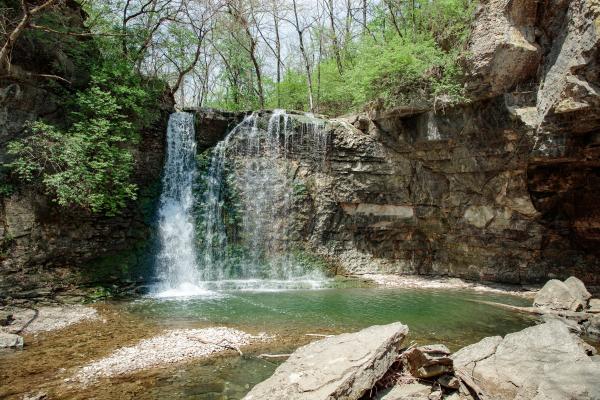 Trip Advisor Review: "Hayden Falls is right across the river on Hayden Road and Riverside Drive but most people drive-by daily and never know it's there. It's hidden away on the southwest corner just passed the bridge and there's only a tiny parking lot to park and walk down the stairs to the falls. Once you're there you'd swear you're in the country 20 miles away. The setting is very serene and peaceful." - Tenantrep from Columbus, Ohio
If you've worked up an appetite and need a boost, drive over to Kona Craft Kitchen, which sources their coffee straight from the Hawaiian Islands and serves breakfast daily until 11 am on weekdays and until 2 pm on the weekends. Our Dublin community recommends the Big Island French Toast or the Chicken Chorizo Hash. If you haven't had enough fresh air, sit on their sun-kissed patio with a pastry from their made fresh daily bakery.
After brunch, we're onto Glacier Ridge Metro Park, which has more than 1,000 acres of open space and wetlands to explore. You'll meet some of our friendly locals running the paved trails or at the top of the 25-foot observation tower looking for wildlife and birds. Real adventurists will love this park's outdoor obstacle course, featuring 12 challenging stations that will test your fitness and agility.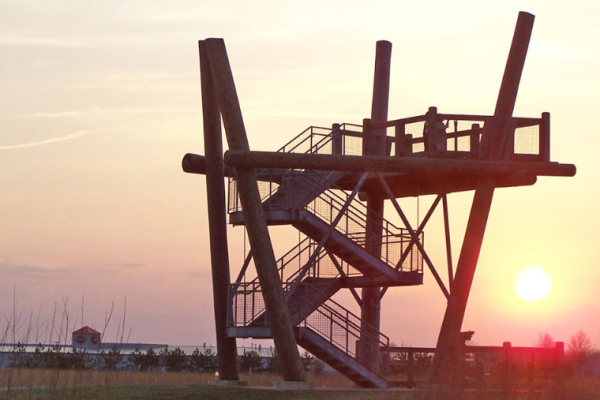 Trip Advisor Review: "This is a great place to go for a walk, bike, skate & enjoy nature, all for free. On a good day, there are many people out there. Many bring their dogs & there is also a bridal trail. There are several paved paths of different lengths to enjoy, which makes it nice to mix up your walks. Restrooms are available, as is a small playground for kids and a frisbee golf course. There is at least one sheltered picnic area." - JStarkey2 from Plain City, Ohio
Next up, indulge in a tasty sweet treat at Johnson's Real Ice Cream and take a stroll around Historic Dublin. Before making your trip back home, take a quick walk down the street to the Dublin Link, the longest single-tower S-shaped suspension bridge in the world that connects all of Downtown Dublin. Across the bridge, you'll be met by Riverside Crossing Park and the best views of the Scioto River.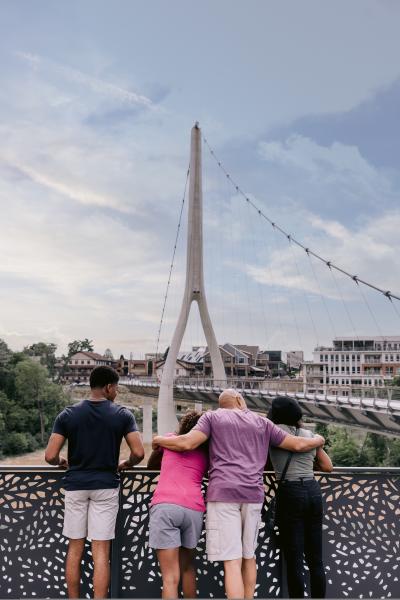 We hope all these local tips and recommendations are useful when planning your next outdoor adventure in Dublin. If you have any questions, feel free to ask them in the comments below, and we hope to see you soon!
Share your memories with us using #SoDublin. 
For more trip outdoor adventure inspiration, click here.