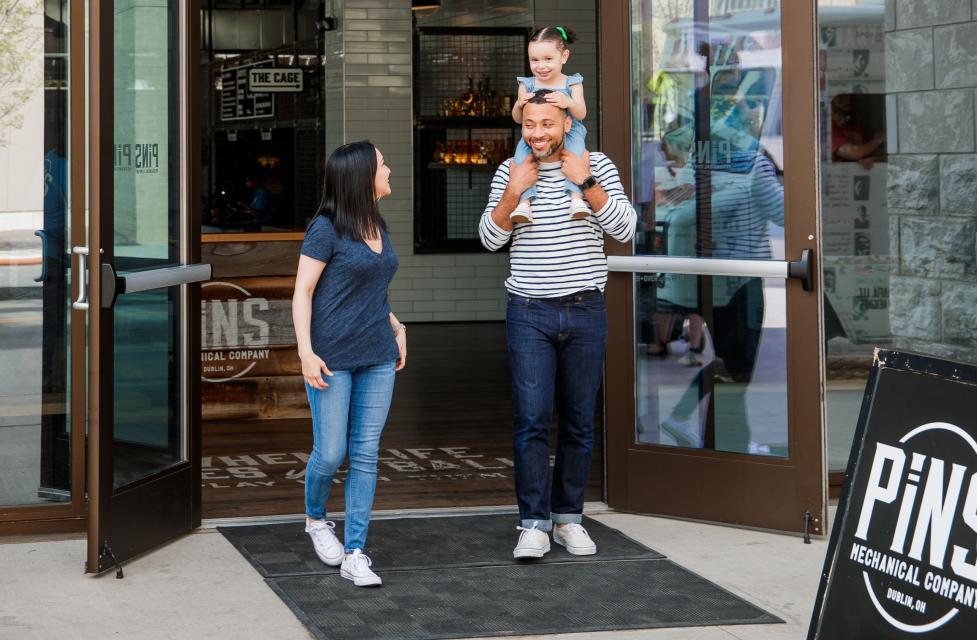 Here is your guide to the newest dine, stay, play, and relaxation offerings here in downtown Dublin, Ohio. 
Dine
Enjoy a new wine bar and retail concept in Historic Dublin. Coast is inspired by the spirit of coastal California and the traditional wine country cafes.
The former Ohio State Buckeye's Head Coach, Urban Meyer, brought TVs broadcasting Ohio sports, a wide variety of craft beer, and made-from-scratch menu items to downtown Dublin.
6608 Longshore Street
This organic, non-GMO cafe in Bridge Park is serving up nutritional bowls, smoothies and breakfast sandwiches. Dine in or carry out at this guilt-free spot.
102 North High Street
This build-your-own taco concept is a Central Ohio favorite with a range of choice ranging from their toppings all the way down to the shell. And what to pair with your very own masterpiece of a taco? You can't miss their famous margaritas or a side of guac.
6584 Riverside Drive
Enjoy a blend of traditional and modern Italian cuisine with a hint of Mediterranean flavor.
6642 Riverside Drive
This Irish Pub specializes in the best of classic Irish dishes made modern and dozens of local and international beers.
6628 Riverside Drive
This Southern style restaurant is famous for their Chicken and Waffles as well as their Bourbon Bar.
4587 Bridge Park Avenue
Offering coffees and teas from all around the world, this unique coffee shop and cafe will open up your taste buds to something new. While we love their global flare, we also love their offerings of locally made cafe and bakery items!
94 N. High Street
This Cameron Mitchell concept is an all-occasion steak tavern offering fine steaks and tavern fare.
6644 Riverside Drive
Cap City is home to classic diner options with a delightful upscale twist.
4540 Bridge Park Drive
Fukuryu is a blend of traditional flavors of ramen and casual Japanese food.
6540 Riverside Drive
As Dublin's first rooftop bar, VASO offers upscale cocktails with a view to match, sitting atop the AC Hotel Columbus Dublin.
4537 Bridge Park Avenue
Local Cantina offers a twist on the classic Tex-mex with handcrafted tacos and craft beers.
4549 Bridge Park Avenue
Kilwins offers the highest quality in chocolates, ice cream, and confections.
Bubbles Tea & Juice:
6678 Riverside Drive
Located inside of Mesh Fitness, Bubbles Tea & Juice serves fresh-pressed juices, smoothies, and bubble teas.
55 S High Street
Vine and Tap craft beer and wine shop offers a selection of the best options to enjoy in the shop and take to-go.
Shop
4548 Bridge Park Ave
This minimalist retailer offers a wide variety of super thin and practical wallets.
28 N. High St.
This toy store offers high quality, mind expanding toys for kids of all ages! It is also a stop on Dublin's Irish Fairy Door Trail.
24 N. High St.
Browse an array of unique gifts, jewelry, home decor and more in this Historic Dublin shop. Extravagifts specializes in custom-made gift baskets for any occasion.
4454 Bridge Park Avenue
Offering performance-based active wear, Bend Active focuses on offering fit fashion and high quality products.  
6564 Longshore St.
Vintage-inspired fan gear for for any college student, alumni or fan looking for quality, unique apparel and accessories to share their values and display their school pride.
6562 Longshore St.
LaDrea offers a beautiful line of all natural bath and body product from amazing oils and natural plant based ingredients. Don't forget to check out their line of gifts and accessories!
4541 Bridge Park Ave.
Apricot Lane is your one-stop-shop for women's apparel and gifts in Bridge Park. This locally owned and operated store believes shopping should be an experiences and adds new items to the store daily.
Stay
6540 Riverside Drive
AC Marriott is one of Dublin's newest hotels located at Bridge Park. This upscale concept is walking distance from several restaurants and shops and offers ease of accessibility to The Exchange Conference Center.
6520 Riverside Drive
This contemporary event space is located in the heart of Bridge Park, allowing customizable events for social or business events of up to 500 guests.
Play
6564 Riverside Drive
Get your game on with all the classics! Play NBA Jam, Ms. Pac-man or Space Invaders while enjoying a beverage from their list of old school, new school and specialty cocktails or a craft draft.
6558 Riverside Drive
Experience a fun night of drinks and old school entertainment with duck bowling, pin ball and ping pong.
6678 Riverside Drive
Enjoy cardio & strength equipment, plus studio class experiences and cutting-edge technology for a one-of-a-kind fitness experience.
June through September, join us at the The Dublin Market on Saturday Mornings from 9 a.m.- 12 p.m. to enjoy all the best that our local farmers, artisans and craftsmen have to offer. For more details on the Dublin Market, click here. 
6605 Longshore Drive, Suite 240
This one-of-a-kind meeting space allows individuals and organizations to rent meeting and co-working spaces.
The updated Dublin branch of the Columbus Metropolitan Library has more than doubled in size from its previous location, with larger children's section, homework help center, and community gathering space.
Relax
4546 Bridge Park Avenue
Enjoy a day of escape at Spavia in a luxe and relaxed environment, with an affordable price point. 
4545 Bridge Park Avenue
Anthony Vince provides an elevated nail spa experience with a wide variety of services and full access to the bar while you relax and unwind.